Troma – Over 45 years of independent cinema
Conducting strange experiments that fuse together sci-fi and horror with a dash of absurd comedy is Troma Entertainment's specialty. Troma is a production and distribution company that literally gives you as much bang for your buck as possible thanks to their sporadically glorious films that truly stand out amongst the rest.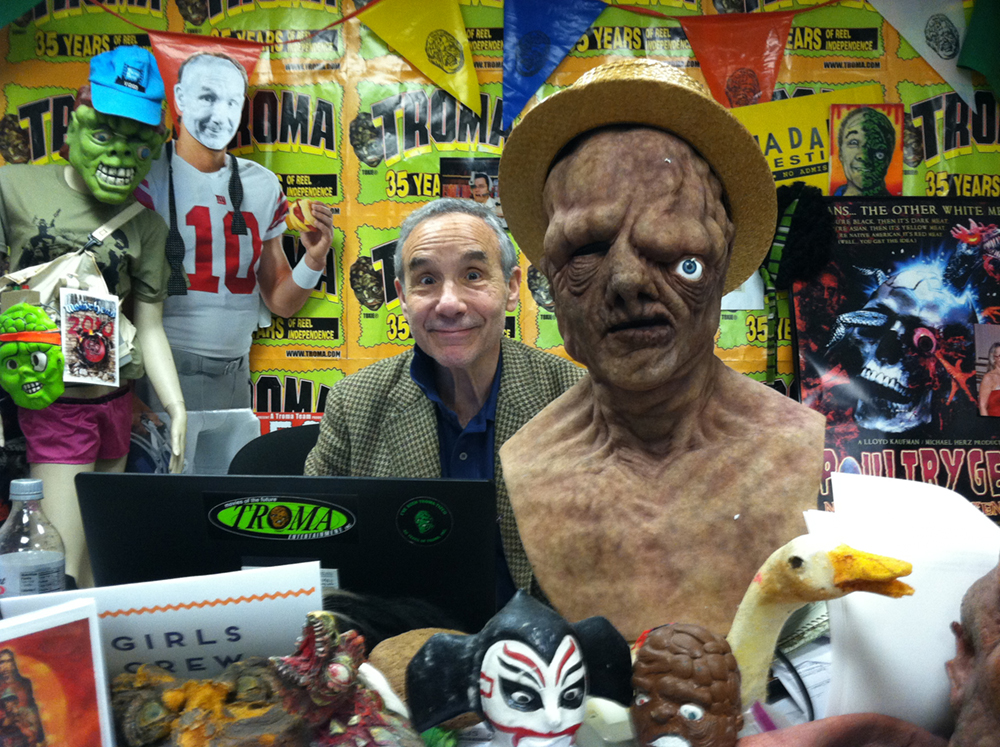 During his time at Yale University, Lloyd Kaufman first dipped into the world of film when he produced his friend Robert Edelstein's micro budget feature Rappaccini before going onto direct his first film titled The Girl Who Returned (1969), a black and white exploratory feature. Kaufman's debut toured the film societies across the likes of Harvard, Yale, and a variety of other universities on the east coast, sparking a keen passion for cinema deep within Kaufman. During his postgraduate years, Kaufman would begin to work for Canon Films, a production company who would later produce hits such as The Hills Have Eyes Part II (1985) and The Texas Chainsaw Massacre 2 (1986). Here, Kaufman would meet John G. Avildsen (Rocky (1976) The Karate Kid (1984)) leading to their collaboration on the 1970 thriller Joe, which would be nominated for Best Original Screenplay at the Academy Awards.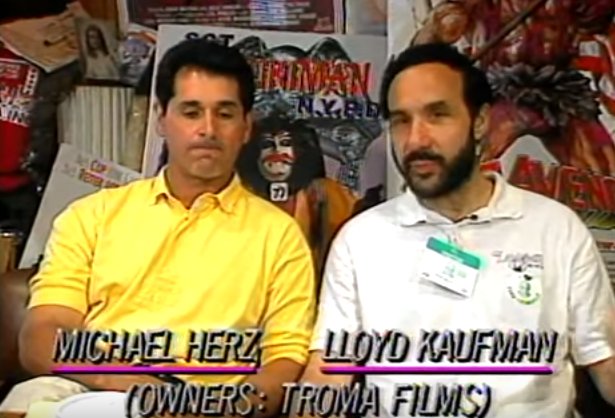 A short while after his introduction to film, Kaufman would direct his second feature Battle of Love's Return (1971), receiving high praise across the board. Whilst Kaufman was setting up a budding future as a filmographer, fellow Yale student Michael Herz would begin to feel his own interest in movies emerging. Although Herz pursued a career in Law, the connection between the two sparked a growing urge to turn their passion into a much bigger venture. Leading them to work together on Sugar Cookies (1973) where Kaufman would co-write and produce, with Herz also serving on the production crew.
This collaboration was certainly a success, but no one could have known that this pairing would lead to one of America's most notorious independent production and distribution companies.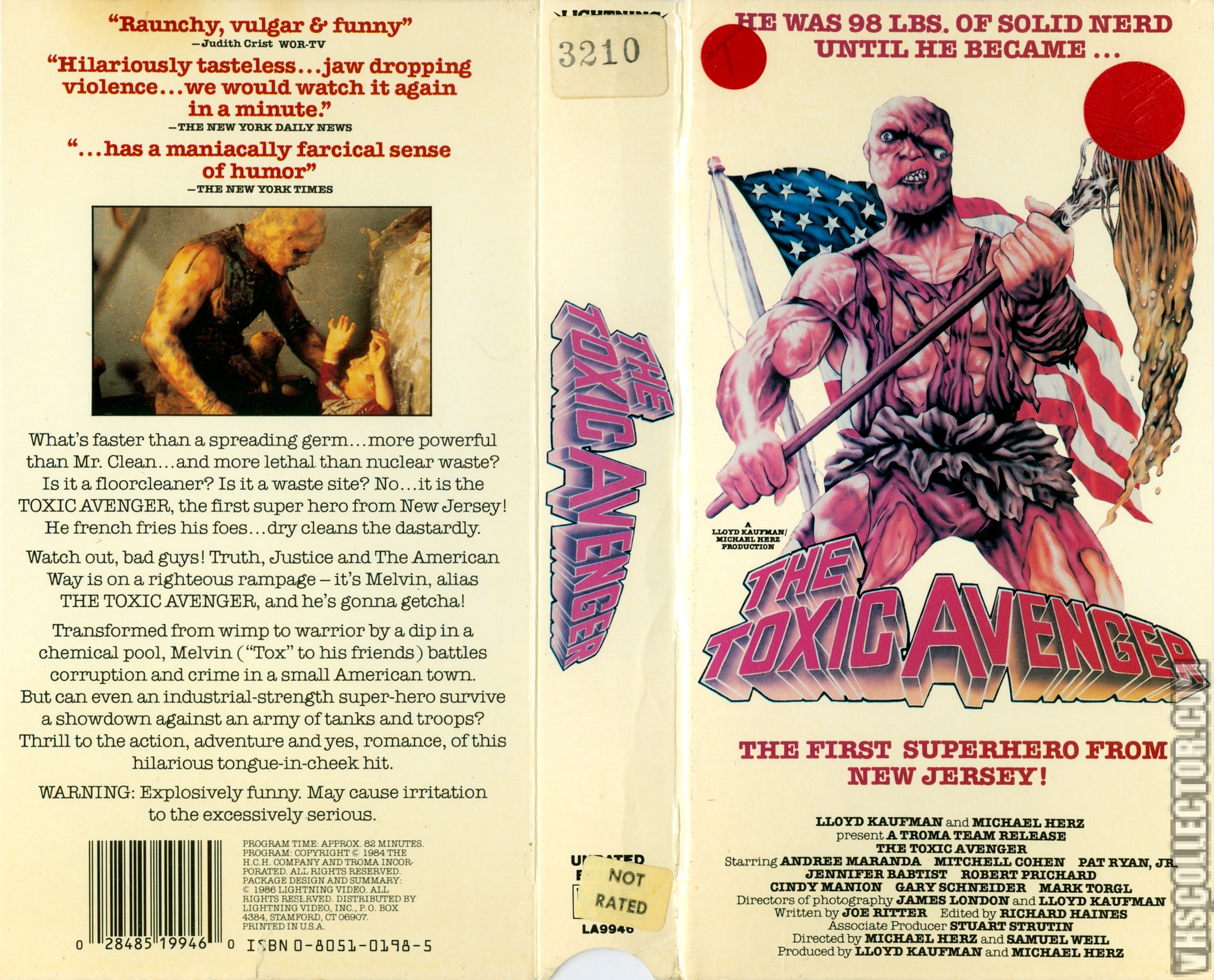 Troma's baby steps on their journey to triumph started off with producing racy comedies including Squeeze Play! (1979), Waitress! (1981), Stuck on You! (1982), and The First Turn-On! (1983), all of which cemented their still solidified b-movie reputation. As the years progressed so did Troma's manifesto. To nobody's surprise the 1980s and horror have a convoluted, but loving connection with one another, thanks to the rise in censorship, home video, and cult cinema. More importantly, the 1980s saw Troma Entertainment reach new bounds with The Toxic Avenger (1984). The film pushed Troma into the forefront with its camp tone, quick witted humour, gross-out gore, and cartoonish horror vibes that were unlike anything else at the time. From this moment on, Troma navigated away from the raunchy specials and led the way for b-movie horror to excel and become a fully fledged subgenre in its own right.
Overtime, The Toxic Avenger has spun an entire mixed media franchise including video games, multiple sequels, a stage production that premiered on Broadway as well as theatres across the globe, various action figures and merchandise, a TV series, and most recently a brand new adaption coming some time next year starring Peter Dinklage, Jacob Tremblay, Kevin Bacon, Elijah Wood, Taylour Paige, and Julia Davis. 
With The Toxic Avenger under their belt, Troma was set! But, their 1984 smash hit was just the beginning in a long line of farce splatterfests. With The Toxic Avenger still fresh on the scene, Troma used the lingering spotlight to crack on with a string of similarly wacky sci-fi's with Class of Nuke 'Em High (1986) being their next feature to reach great heights. This time round the film was centred around the students of Tromaville High after their water supply is infected with toxic waste, causing them to mutate into freakish humanoids.
Within the next couple of years Troma released a string of other films including the obscure Surf Nazis Must Die (1997), Troma's War (1988), Rabid Grannies (1988), and Chopper Chicks in Zombietown (1989). From the titles alone, it's clear to see that Troma had nudged themselves nicely in a niche market of cinema that may get critically blasted as being 'trash', but is undeniably entertaining, devilishly memorable, and a barrel of laughs. With this impossible to categorise cinema comes a level of cult-style appreciation that may not appeal to the masses, but rather those with a taste for defiant works of colloquially misunderstood art.
As time moved on so did Troma, and with this came a quiet period for Troma's production, but all of this changed with the release of the fan favourite Tromeo and Juliet (1975), which unsurprisingly is a very unleashed retelling of the Shakespeare tragedy that thrives less on the endearing battle of romance, hardship, and family values, and more on the 'love' side of the story, as well as causal doses of dismemberment, decapitation, and mutilation for good measure. And just like that, Troma was back with a vengeance. Even major media outlets notoriously difficult to please such as The New York Times and Variety saw the magic that Troma cinema withholds, granting the film with pleasant reviews and a burgeoning reputation. To make matters even more gratuitous, Tromeo and Juliet was screened at the prestigious Cannes Film Festival, the Mar del Plata Film Festival (where it won an award for best film of 1997), and the Fantasporto festival. As the 2000s hit, Troma released another string of outrageous and courageous films including the ever so graciously named Poultrygeist: Night of the Chicken Dead (2006) that followed a batch of zombie chickens unleashing a wrath of hell.
Within the last couple of years, Troma has seen a resurgence in popularity with the remake influx booming a new generation's interest into cinema's most unconventional production company. Going back in time to 1980, Lloyd Kaufman's brother Charles directed and co-wrote Mother's Day, with Lloyd producing. Although during its initial release, the film was banned by the BBFC in the UK as part of the video nasty crusade, a remake was ordered in 2010 starring Rebecca De Mornay, Jaime King, Briana Evigan, Deborah Ann Wolf, Shawn Ashmore, and the Kaufman brothers who made a cameo in homage to the source material. The remake performed well upon its release, even slotting itself in the UK's top ten box office chart.
In Troma's indisputable distinct style, they launched the TromaDance Film Festival that has very, very strict rules- there must be no V.I.P's (everyone is treated equal), there is no entry cost, nor is there an admission fee; it's all about the celebration of filmmaking. The event originally coincided with the esteemed Sundance Festival to even further boast their unique braveness of shedding away from the mainstream time and time again. The festival is open for submissions around the world, with the most creditable entries being released on DVD by Troma. Alongside the event, Kaufman offers workshop-esque lessons to budding filmmakers, providing teaching classes and cameos for those interested in pursuing the dark art of indie cinema.
Troma has become so infiltrated in all things cinema that many do not realise how influential the company really is, or how much of a significant part they play in kick-starting fan favourite performer's and director's careers. Many of their releases aided in the journey for stars such as Samuel L. Jackson in Def By Temptation (1990), James Gunn (Tromeo and Juliet), Marisa Tomei (The Toxic Avenger), and South Park (1997-) creators Trey Parker and Matt Stone via Cannibal! The Musical (1993).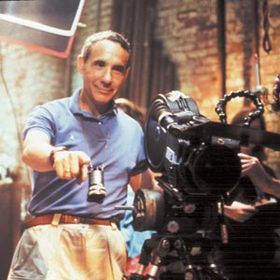 As it stands Troma still thrives in the home video market, encouraging the in-person viewing experience of picking up a tape or a DVD from time to time. But, for the 'tech-heads', Troma has a streaming site service titled Troma Now that provides keen movie-goers with many of the greats from their company. To this day, Troma's influence can be felt amongst the likes of current parody-based theatrics such as the Sharknado and Birdemic franchises that use immensely surreal visuals edging on the comedic side with entirely implausible narratives that will have even the most wondrously minded of viewer's bewildered.
Even though it has been decades since their first feature, Troma shows no signs of stopping their madness just yet, with their latest feature Shakespeare's Shitstorm (2020), a hilariously crude parody of Shakespeare's The Tempest currently making the round at film festivals and conventions. Their ability to still churn out hit after hit just goes to show that Troma is still relishing in its ability to traumatise its viewers, ensuring a memorable experience with every filthy film watched. 
Looking for more top horror lists and reviews? Check out our blog here..
Share this story