Sun, Sea, and Slaughter: Top Ten Horror's to Watch This Summer
1- Midsommar (Directed by Ari Aster, 2019)
Dani (Florence Pugh) travels to Sweden with her anthropology boyfriend (Jack Reynor) and his friends to celebrate the town's annual Midsummer Festival.
Ari Aster may have begun drawing heaps of attention thanks to his incredibly dark short film The Strange Thing About the Johnsons (2011), but it would be nearly a decade until he reached pivotal success with Hereditary (2018), and then the infamous Midsommar, which received praising reviews from both tough to please critics and cinema goers. The film takes its time to unravel, where the horror is delayed to focus the attention of Dani's inner psyche and what it means to feel lost and lonely even though she is surrounded by people. Like its folk predecessors The Wicker Man (1973), and Penda's Fen (1974), Midsommar is rooted both physically and metaphorically within nature and the allure of innocence that secretly hides ancient secrets. The anonymity that Midsommar possesses is one of the many reasons behind its success, with the harmonious town of Hälsingland creating a sense of safety. Akin to the earthy aesthetics that Aster creates, the film takes inspiration from the dark nature that lies within humanity, especially conflicting emotions of grief, desperation, and guilt.
2- The Fear Street Trilogy (Directed by Leigh Janiak, 2021)
The town of Shadyside is terrorised by an infamous evil that has been plaguing the town for centuries.
R. L. Stine's Goosebumps series just may be the igniter that started many horror fan's love of the morbid and macabre. However, Goosebumps wasn't Stine's only creepy venture as his Fear Street novels also garnered plenty of success. And rightly so! In 2021, Netflix dropped the news that Leigh Janiak would be writing and directing an entire trilogy based on the Fear Street books, with every film being released one week after the after. The first entry acts as a solid introductory point where nostalgia is the keen focus all thanks to the slasher-like vibes that run throughout. The sequel goes back in time and utilises the cabin in the woods vibe that dominated 1980s horror, and last but not least the finale acts as an overarching binder that moulds together everything that Fear Street has been working towards, nestling the trilogies place as an absolute must-watch that has a bit of something for everyone.
3- The Lost Boys (Directed by Joel Schumacher, 1987)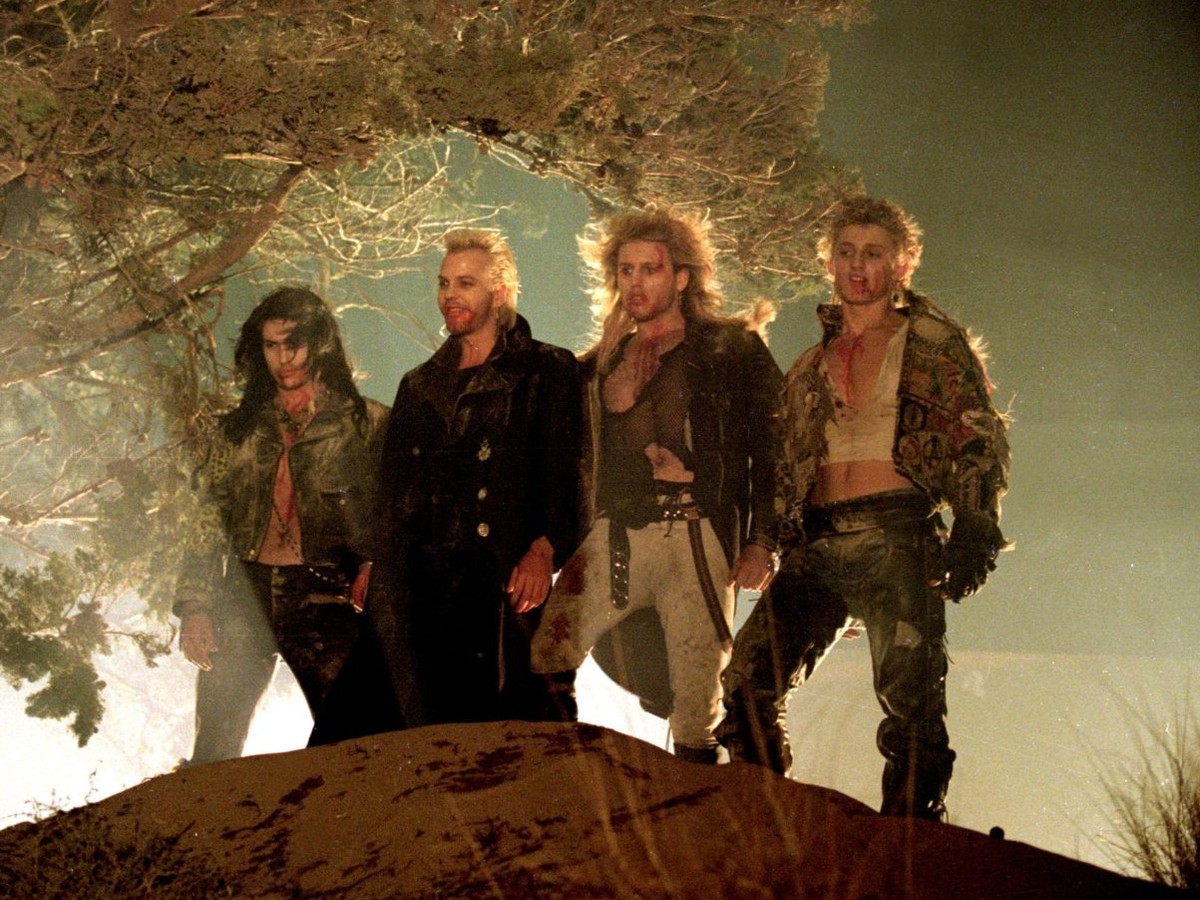 The lively, sunny town of Santa Carla may seem like a haven for the sweet life, but a gang of cruel vampires take over and cause utter mayhem.
The Lost Boys is not an unfamiliar entry on this list for any horror fan, some might even say that Joel Schumacher's vampire flick is one of the most notorious blood-sucking films to come from the 1980s. This praise may seem far fetched from a glance, but The Lost Boys is an unmissable thrilling descent into gory antics and wicked effects. The Santa Carla beach setting lays the path for a tale rife with coming-of-age bonding, beachside parties, and beyond entertaining vampire escapades.
4- Summer of 84 (Directed by François Simard, Anouk Whissell and Yoann-Karl Whissell, 2018)
Set in the summer of 1984, a group of teens suspect that their local police officer may be a serial killer.
Summer of 84 perfectly wraps together what modern audiences loves about 1980s horror; it's the whole aspect of adventure, and a sense of freedom that allows the characters to explore the land of the films narrative, almost akin to beloved throwback films such as The Goonies (1985) and Stand By Me (1986). Keeping up with this theme is Summer of 84's heartfelt basis that lies at the bottom of the grisly horror, just like 2017's IT remake, the film puts friendship at the heart of the journey, meaning that the threat of this murderer on the loose becomes so much more real and menacing, forcing the audience to actually care about what happens to the group.
5- Jaws (Directed by Steven Spielberg, 1975)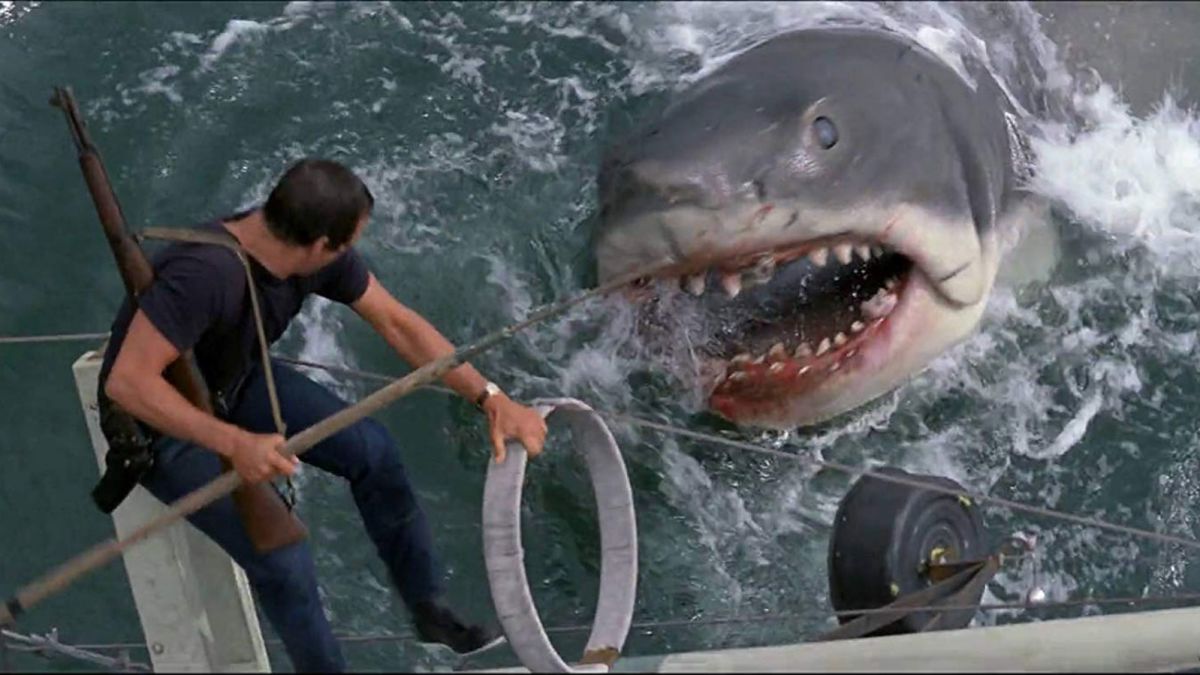 In a bid to stop a killer shark from ruining the tourist buzz in Amity Island, a group head out into the ocean to capture the deadly beast
Summer and horror may seem like a world apart, with gruesome fates and sunny skies contrasting against one another. However, this clash wouldnt last for long thanks to Academy Award winning director Steven Spielberg combining slow burning terror with the creature feature to create one of cinema's favoruite horrors. Set in the beach town of Amity Island is a story that made audiences scared to go out into the ocean for years, fearing that a great white will come along and snap them up. Besides the hysteria that Jaws caused (including the supposed reaction of neurosis in one audience member…), the film offers a tidal wave of good old fashioned fun to be had amidst all the jumpscares and impressive effects, making it one of the most quintessential summer films.
6- Aquaslash (Directed by Renaud Gauthier, 2019)
Wet Valley Water Park becomes the centre for the graduation class of Valley Hills High to celebrate their upcoming futures. However, it's not long until their gratuitous debaucheries are interrupted as a mad killer sets their sights on killing as many of the students as possible.
Keeping in theme with the water-based frights is possibly one of horror's most under-recognised entries in recent years– Aquaslash. Fresh from Fantasia's Film Festival in 2019 is this Canadian gem that unearths a new-found fear for waterparks, with the film's daring third act being grossly horrifying enough to even make professional fright-seekers wince and cover their eyes. In order to ensure audiences' shocked reactions as the film's conclusion hits, we'll keep it brief, however, just know that this irreverent, outrageous film is sure to be a surprise.
7- The Ruins (Directed by Carter Smith, 2008)
Two couples go on a romantic vacation to Mexico, where they are invited on a trip to a Mayan temple where they find themselves entangled within the hungry vines of the Mayan jungle.
The 2000s harboured a reputation as being rather contentious for a while, and whilst over the years this era has received plenty of praise for its slasher-inspired, teen-based, overly cheesy movies, many films from this period still remain fairly undetected by the masses. One of these entries include The Ruins, a sun-soaked, fable-filled, earthy horror that explores the vengeance of the elements. The nature of the film itself allows for brave levels of hysteria and uncertainty of actions to thrive, but what makes the film become really elevated is the surprisingly graphic body horror, whose visuals remain etched in the viewer's mind for long after watching.
8- The Town That Dreaded Sundown (Directed by Charles B. Pierce, 1976)
A fictitious retelling of the 1946 Moonlight Murders, whose perpetrator stalks their prey at night killing them in the most horrific ways possible.
The Town That Dreaded Sundown has remained somewhat timeless, which is a bold statement considering it has been forty-six years since its release. Yet, those decades have not been without controversy for Charles B. Pierce, in fact the film came across as so raw to the true story that a lawsuit was filed against the film's marketing team, as well as Pierce being involved in a court trial after someone involved in the true case tried to sue him for privacy infringements. This highly heated hit has a foreboding atmosphere that fails to quit, as well as crafting such a terror stricken aura that any form of security the viewer may have found is completely jolted, alarming the senses and creating a memorably horrific film.
9- The Burning (Directed by Tom Maylam, 1981)
In upstate New York, Camp Blackfoot becomes the playground for a vengeful serial killer who is hellbent on creating a world of hell for the unlucky campers.
Cabin, camps, and creepy caretakers were at the forefront of horror in the 1980s. One of the film's that started this trend included Friday the 13th (1980), leading to many filmmakers drawing inspiration from the success of Sean S. Cunningham's work, with movies such as Madman (1982), Sleepaway Camp (1983), Cheerleader Camp (1988), and later hits such as Cabin Fever (2002) all becoming staples in the summer horror realm. But one horror that didn't just copy and paste the teen-summer-slasher was Tom Maylam's The Burning. The general concept of a crazed killer targeting a group of unsuspecting victims is a classic method that is destined to provide a fun ride for the viewer, however, where The Burning really shines is within the special effects orchestrated by none other than the legend himself Tom Savini. Throughout, super gnarly gushing wounds and smashed heads feature, leaving no stone unturned when it comes to the gore factor.
10- Turistas (Directed by John Stockwell, 2006)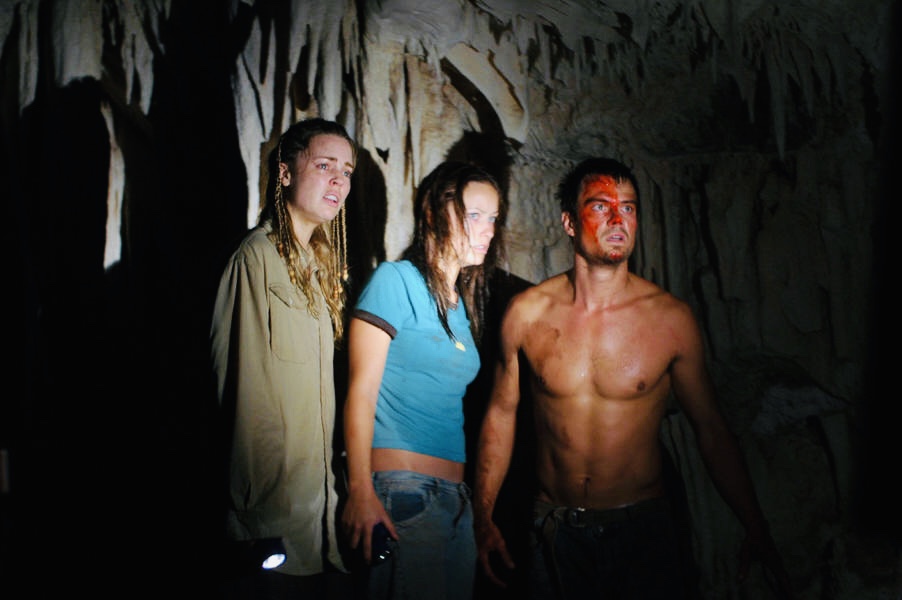 A group of vacationers travel to the Brazilian Coast where the bright nightlife and climate makes the trip seem like a dream, that is until they are unknowingly drugged and find themselves stranded in the middle of nowhere with no belongings left. They eventually travel to a supposed safe haven where imminent rescue is promised, however, they soon realise that it is all a deadly trap.
Holidays are a chance to kick back and relax, leaving inhibitions at the door. But, at the back of everyone's minds there is a lingering worry that being in an unfamiliar land where there are language and cultural barriers can lead to nightmarish consequences. Turistas is aware of exactly that, as it preys on very real worries, leading the viewer anxious to let their guard down abroad ever again. All of this paranoia would not be as effective if it wasn't for the genuinely powerful performances from Melissa Geroge, Olivia Wilde, Josh Duhamel, and Beau Garrett, who all nail that paranicked fear, making Turistas so much more than a cheap thrill.
Looking for more top horror lists and reviews? Check out our blog here..
Share this story