Top British Horror Films of All Time – Part Two
11. Host (Directed by Rob Savage, 2020)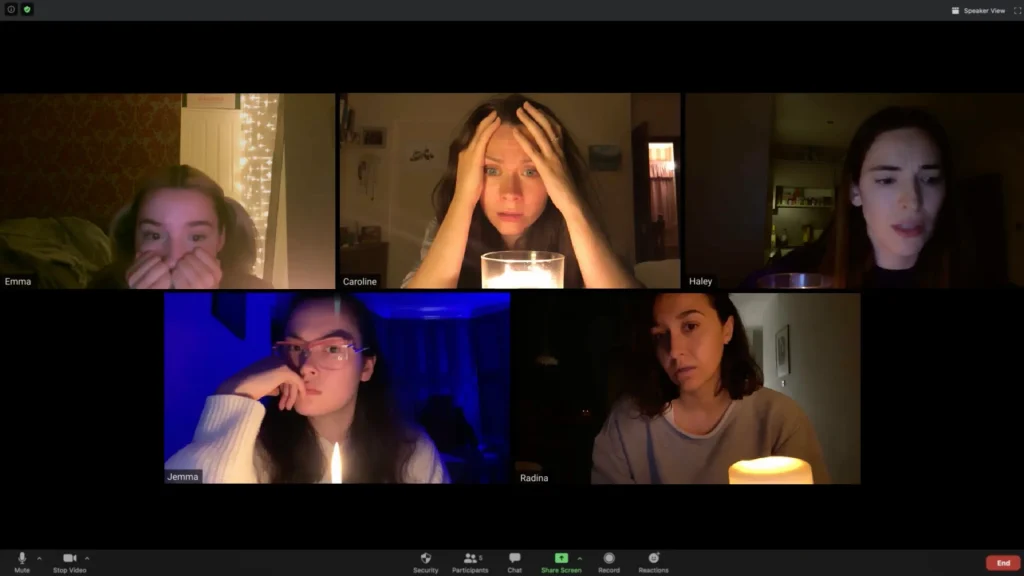 During an online seance, six friends unintentionally invite the presence of a sinister demonic force into their call, leading to fatal consequences.
Host will definitely be appearing in cinema textbooks in years to come, thanks to Rob Savage's groundbreaking, record-shattering, and award winning horror that took the entire world of cinema and beyond by utter surprise. Co-written by Savage, Gemma Hurley, and Jed Shepherd is a modern tale of what can go wrong when you mess with the dead. Right from the bat Host's method of execution is such a vital contributing factor to its success.
The film was entirely filmed during the pandemic using Savage's real life friends as the cast, creating a breeding ground for genuine chemistry to appear and radiating a realistic quality that blurs the barrier between reality and fiction, giving the impression that the viewer is properly stuck in with the action. Joining the meeting of blurred lines is the Zoom-like staging, which for pretty much everyone was a massive part of 2020. With workplaces closed and gatherings cancelled during the pandemic, society had to interact on virtual platforms, like one big facetime. And although it is crucial to state that Host is not a pandemic-based film, the online telling of events is a key component in how the story unfolds, with the psychically distanced characters exaggerating the harrowing sense of isolation. 
12. Don't Look Now (Directed by Nicolas Roeg, 1973)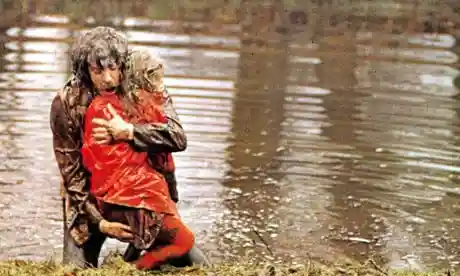 After suddenly losing their daughter Christine (Sharon Williams), Laura (Julie Christie) and John Baxter (Donald Sutherland) travel to Venice, Italy, where John is overseeing his commission to rebuild an old church. Whilst dining Laura meets two mysterious sisters (Clelia Matania & Hilary Mason) who tell Laura that they can see the deceased Christine. Despite being skeptical, John begins to see Christine wandering around the streets of Venice.
The entirety of Don't Look Now can be encapsulated within the opening sequence. This scene is composed of over 100 shots and lasts seven minutes. It may not seem crucial to the whole film, but the imagery of damp weather, water, the colour red, reflections, doorways, close-up of eyes, and nature echoes the true connotations of Nicolas Roeg's observations of agony through loss. Such substantial depth is given to the characters of  Laura and John through their striking portrayals of parents suffering from the worst of tragedies.
Yet, they do not overplay their roles, avoiding any caricature claims and creating this bonded connection between the two, mingling Don't Look Now's ability to get under the skin of the viewer. Don't Look Now forces us to come to terms with our own impending doom, no one is safe from the all being and all knowing presence of death. And whilst the threat in Don't Look Now plays more on the character's mental strength, a sense of psychical danger constantly looms, but we never know where from…
13. The Omen (Directed by Richard Donner, 1976)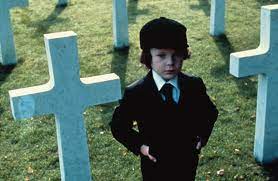 The newly-adopted Damien (Harvey Stephens) raises his parent's (Gregory Peck & Lee Remick) suspicions when strange occurrences begin to happen at the hands of Damien's evil ways, leading them to the disturbing truth that their adopted son might be the Antichrist.
Supernatural horror played a large role within 1970s horror, with Richard Donner's The Omen lining up with the likes of The Exorcist (1973). Allowing the film to remain recognisable after all these years later is the impeccable naturalness that Donner works with, even when the subject matter is woven with mysticism. Through this cosmic underlay comes a film rife with disturbing imagery that toys with societal fears of evil defeating the 'good'. And thanks to the moralistic tone the horror is enveloped through an abundance of psychological terror and suspense.
This is mainly explored via a supposedly innocent subject, an actual child; making the viewer fearful of the most innocent of topics. Accompanying The Omen's slow, creepy exposition is the pioneering achievements that were made in pushing horror out of its shell and into a commemorated piece of art (which was rare for the time). The film won an Academy Award for Best Original Score, which is no surprise as Jerry Goldsmith's haunting composition combines atmospheric choir tones with Latin chants which remain chilling no matter how many times you hear the chime. 
14. Censor (Directed by Prano Bailey-Bond, 2021)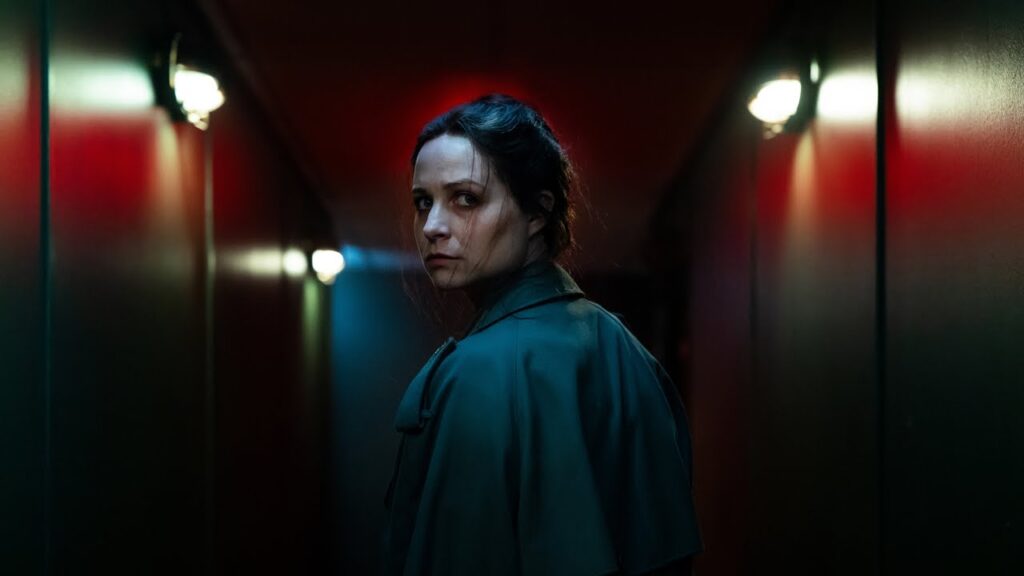 Enid (Niamh Algar), an uptight film censor at the height of the video nasty panic, watches a film that parallels the events surrounding her missing sister's disappearance, leading Enid on a quest to uncover the truth.
Nothing screams British traditionalist attitudes towards horror than the video nasty scandal. The 1980s saw a rise in home video recorders, introducing an influx of mainly Italian and American exploitation films and supposedly "corrupting" the minds of the country, due to the sick filth that these films displayed. Whilst this era of film censorship has not been lost on the history of cinema, not a single film has covered and used the scandal as a tool like Prano Bailey-Bond's incredible hit Censor. Enid's career as a film censor is a mechanical device that aids the story very nicely, with the metaphorical message of the video nasties being 'an invasion of the mind', mimicking Enid's descent into a chaotic spiral where she is unable to differentiate fact from fiction. Censor is clearly food for the mind and soul, but for good measure Bailey-Bond also visually hypnotises the viewer through the vivid colour palette that has a 1980s aesthetic without being overly flashy and electric.
15. Dracula (Directed by Terence Fisher, 1958)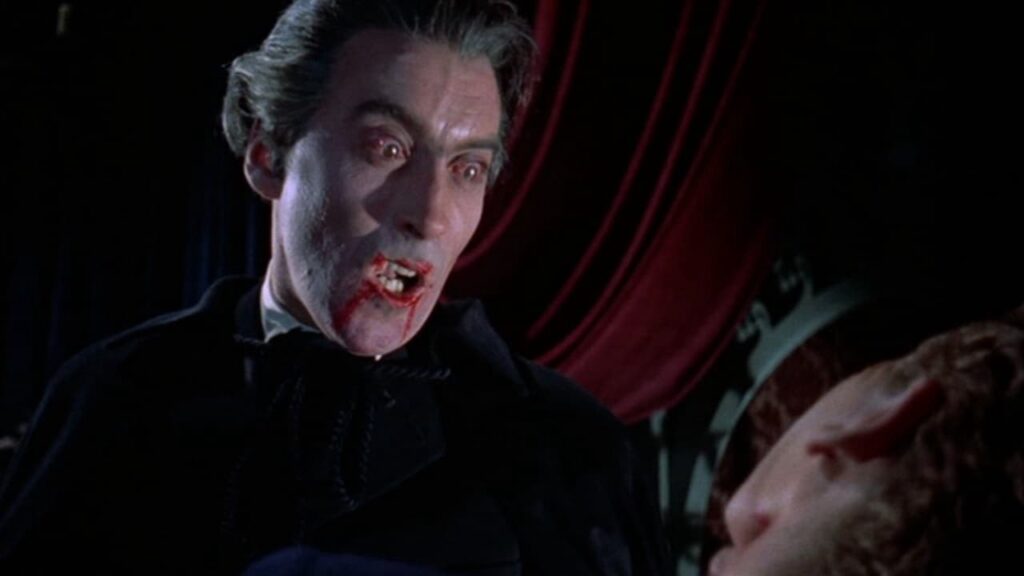 Jonathan Harker (John Van Eyssen) takes up a post as a librarian at Count Dracula's (Christopher Lee) castle. After a lack of contact from Harker, vampire hunter Dr. Van Helsing (Peter Cushing) goes to the Count's lair only to discover Harker has been turned into a vampire, leaving Van Helsing racing against Dracula to get to Harker's fiancée Lucy before it's too late.
Hammer Horror has reigned as a booming success within cinema for decades, making a name for themselves by bringing classic monsters from literature to a technicolour screen, including Frankenstein, The Mummy, and the one and only Dracula. Legendary auteur Terence Fisher took on history's most significant vampire, and his execution was certainly monumental in creating the creature that audiences all know and love today. Christopher Lee is open about his inspiration for this role, having not seen any previous Dracula-based films prior to filming, but he did read the original Bram Stoker novel (1897).
Lee recognised the unusual romanticised portrayal of an undead man, leading him to play his role with an air of subtle eroticness and a shade of elusiveness. What Dracula essentially did for the genre was create an extravagant boost in making the image of the vampire one of high class, a wealthy being who oozes aristocracy and freedom to do what one likes. Lee makes Dracula unstoppable in his wrath, forcing us to be both highly intrigued and fearful of this mysterious bloodsucker. 
16. The Girl with All the Gifts (Directed by Colm McCarthy, 2016)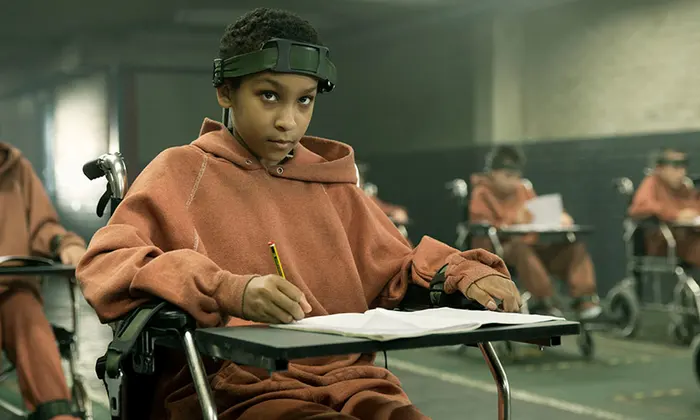 A deadly disease has abolished free will and essentially turned those infected into zombies. Melanie (Sennia Nanua), is one of the few immune to the breakout and is confined to a research facility. After a lab breach, Melanie escapes along with her teacher (Gemma Arterton) and two soldiers on a quest to evade the infected, and potentially guide the rest of humankind's survival.
The Girl with All the Gifts champions a bravely talented cast composed by the likes of Glenn Close, Gemma Arterton, Paddy Considine, and the girl with all the gifts herself, Sennia Nanua. The film is a literal breath of fresh air, especially considering the heavily flooded sub-genre, but Colm McCarthy's treatment of the original source material, M. R. Carey's book (2014) of the same name, is an enlightening prospectus that tackles human ideologies and how the mistakes society makes shouldn't always be pardoned. Coupling up with the entangled web of consciousness is the starkly dramatic set designs and use of setting to convey a musty land that has perished due to the lack of societal efforts, almost furthering this message that people are the cause of the devastation, not necessarily the infected 'zombies'.
17. Saint Maud (Directed by Rose Glass, 2019)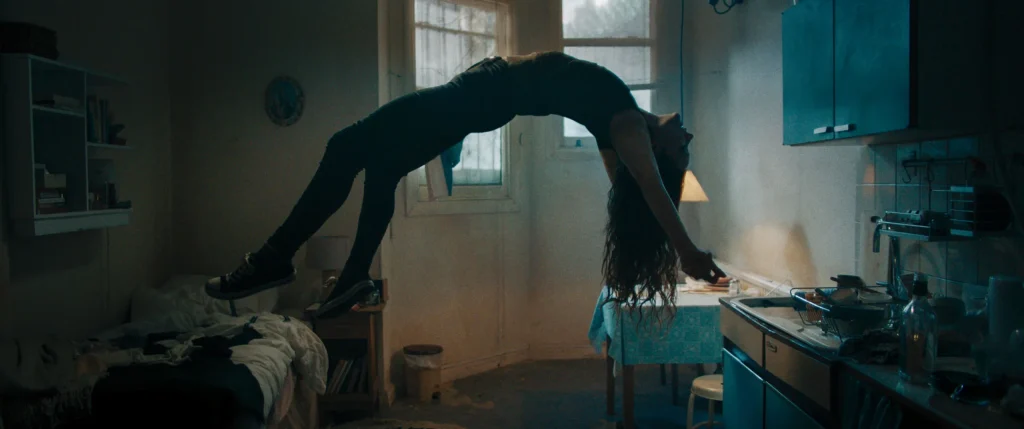 Maud (Morfydd Clark) is a young nurse who leads a simple life based on reclusivity, routine, and devout catholicism. After an undisclosed incident at her previous job, she takes on the role of hospice carer for Amanda (Jennifer Ehle), an eccentric retired dancer riddled with terminal cancer. Maud's religious nature transcends into obsession, leaving her to believe that she can save Amanda's soul from damnation no matter what the cost.
Saint Maud became one of the most talked about films in recent years, with the buzz promising an unorthodox descent into female chaos and the shattering effects of falsified devotion. The film is an intimate depiction of a carer's unravelment into an alluring yet dangerous territory as she weaves her way in and out of consciousness to show the true extent that the psyche is willing to go through to achieve inner peace. Escorting Saint Maud's spiritual temperament is the inherently British setting that grounds the reality of the film, allowing it to not become too whimsical and in return establishing a realistic uneasy environment that rings too close to home. The North Yorkshire coast acts as Maud's playground where the dazzling vibrancy of the seaside arcades and packed pubs contrast against her empty and dark sense of mind. Through both the emotive tones and atmospheric setting, a world of uncertainty is grounded where we never know what to expect.
18. Peeping Tom (Directed by Michael Powell, 1960)
Mark Lewis (Carl Boehm) is a psychopathic serial killer who takes it upon himself to film his victim's murders.
Peeping Tom may have a bountiful reputation as being an absolute classic, and that is very much true, however, upon the film's release, a consensus arose that regarded Michael Powell's work as too perverted, leading it to be pulled from some cinemas and damaging Powell's reputation as a filmmaker. Powell's brave notion of fixating a message between voyeurism on screen and real-life has been an inspiration for leading directors for years including the 'Master of Suspense', Alfred Hitchcock. Most notably Peeping Tom was an influential point in Psycho (1960) and retrospectively has a subtle impact on the origins of meta-cinema. Besides the innovative take on prying eyes, the film clearly is a visual celebration that revels in starkly lit rooms with stunning shadows that emulated the previous decade's passion for noir cinema and mysterious figures.
19. Ghostwatch (Directed by Lesley Manning, 1992)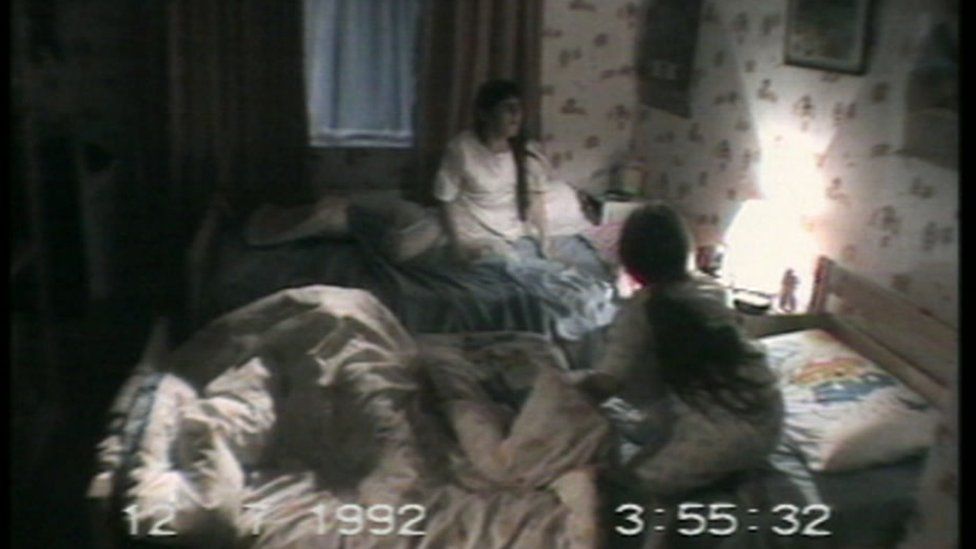 A documentary camera crew is invited into Britain's most haunted house, leading to a night of chaos and terror.
If there's one thing that British people love, it's paranormal 'reality' television. Shows such as Most Haunted and Celebrity Ghost Stories have kept the curious entertained for years, but there's one programme that went above and beyond and gave audiences the fright of their lives. Ghostwatch was a pseudo-reality made-for-TV special that aired on Halloween, 1992. BBC1 advertised the special as a live broadcast with the presented events being 'real' and the reactions being genuine. Little did the public know that the scripted show was recorded weeks before.
None of it was real, but as no one watching knew, the BBC switchboard received over 1,000,000 phone calls from concerned audiences detailing their fears over actual ghosts being presented. Considering that the respected Michael Parkinson was involved, many were furious over this hoax. Over the years Ghostwatch has acted as an inspiration point for countless television mediums including Derren Brown. More significantly, the creators behind Host (2020) have gone on to state that Ghostwatch was a point of reference for them, even going as far as to include subtle hints within the film. For example, in Host a Zoom caller ID reads 31101992, the same date as Ghostwatch's broadcast. 
20. The Woman in Black (Directed by James Watkins, 2012)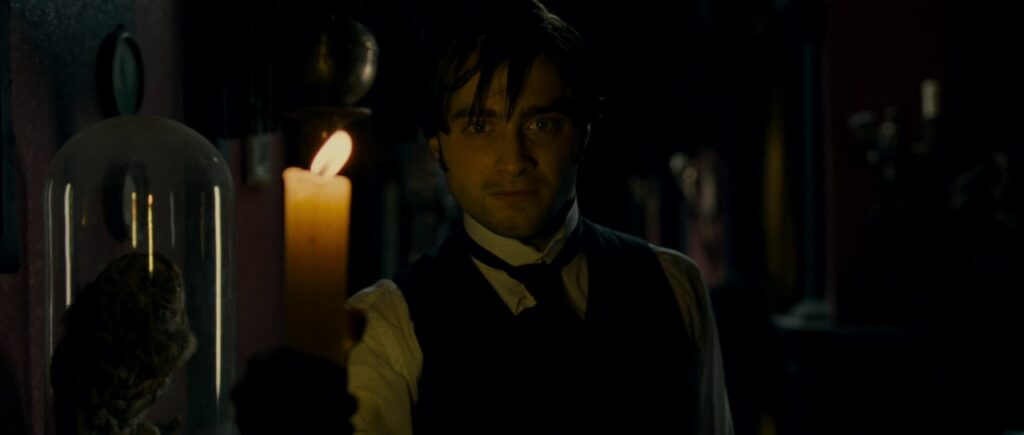 Arthur Kipps (Daniel Radcliffe) is a young lawyer working in 20th-century England. Following his wife's death he travels to a remote village for work, however, he soon discovers that his late client's house is terrorised by a vengeful ghost. 
Based on Susan Hill's 1983 novel of the same name is one of Britain's most terrifying ghost stories as the emotionally bound film is a white-knuckled terror fest from start to finish. This gothic horror is a modern Hammer Horror film, with their familiar grand story elements being immediately recognisable. But rather than feel like a classic film that we've all seen before, James Watkins uses Daniel Radcliffe's incredible talent to showcase a vengeance-fuelled film in a romanticised light where both style and substance equally collaborate to create a highly effective horror.
The film works on two levels, one being the familiarity of the narrative, and the other being the eerie gothic setting that is reminiscent of films such as The Haunting (1963). The almost castle-like environment surrounded by dark water and foggy skies immediately set up an environment that feels unsafe and beyond uneasy. The Woman in Black also understands its need to create something refreshing. Even though Hill's work has been developed previously, the film throws in effective jumpscares when necessary to surprise the viewer, whilst also working on creating tension through simple atmospheric measures.
Looking for more top horror lists and reviews? Check out our blog here..
Share this story