Ten must-see movies for Halloween
1- Haunt (Directed by Scott Beck & Bryan Woods, 2019)
On a Halloween night out, a group of friends attend an immersive haunt. Little do they know that the spooky theatricals hold a deadly threat.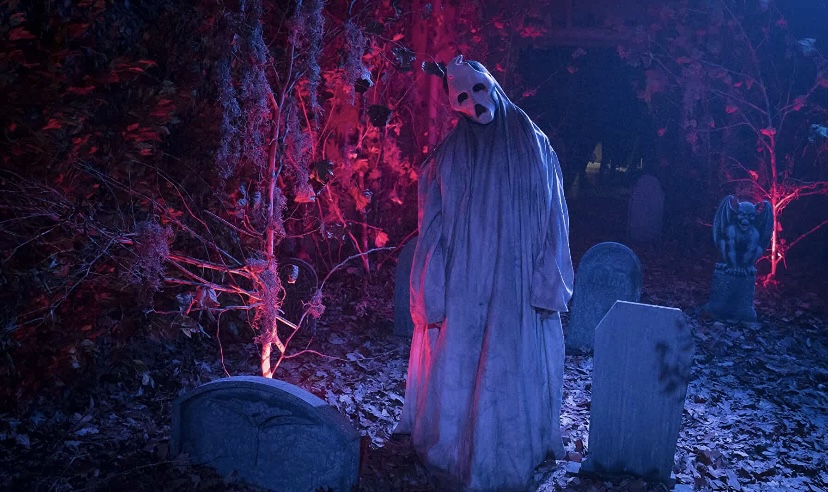 Over the years, innocent pumpkin carving traditions and trick-or-treating have been overshadowed by the budding extreme 'haunts' experience; promising bone-chilling frights in a controlled environment. However, amongst the rise of these attractions, there has been an ongoing conspiracy regarding the limits these haunts will exceed. Beck and Woods deliver possibly one of the most frightening and uncomfortably realistic takes on a 'house of horrors' narrative. With an ambiguous motive and nightmarish boogeymen wreaking havoc on the ragtag group, Haunt ensures that no audience member will be left unscathed after 90 minutes of electric, intense scares.
2- Night of the Demons (Directed by Kevin S. Tenney, 1988)
A team of high school students host a seance inside an abandoned funeral parlour as part of a Halloween party.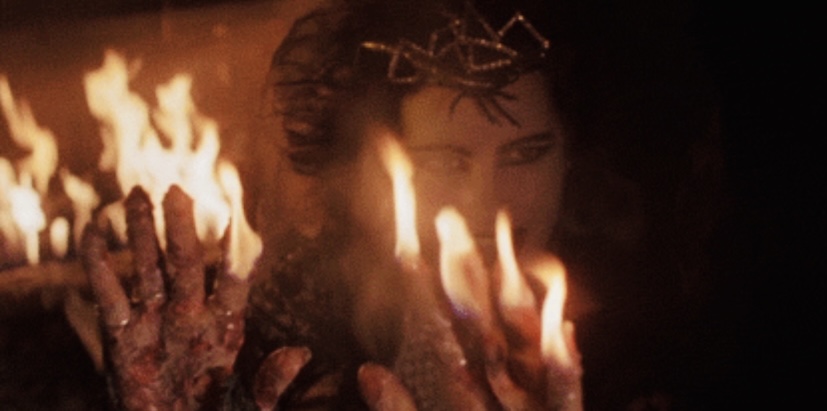 Teens finding themselves trapped in a cursed, isolated location is not unfamiliar territory for any viewer, yet Night of the Demons manages to subvert that sense of familiarity to distract and tease with already formed expectations before delivering one hell of a disturbing third act. The instigator of the terror, Angela Franklin (Amelia Kinkade), has become a staple for 1980s horror, with her eccentric antics embodying the film's zaniness and natural ability to launch a tidal wave of gory fun. All of the animated absurdity is balanced with the madly creative practical effects that range from grossly infected skin to graphic eye gouging.
3- Hell Fest (Directed by Gregory Plotkin, 2018)
The travelling theme park 'Hell Fest' promises the ultimate ghoulish experience, however, all hell breaks loose when a masked killer transforms the carnival into their own murderous playground.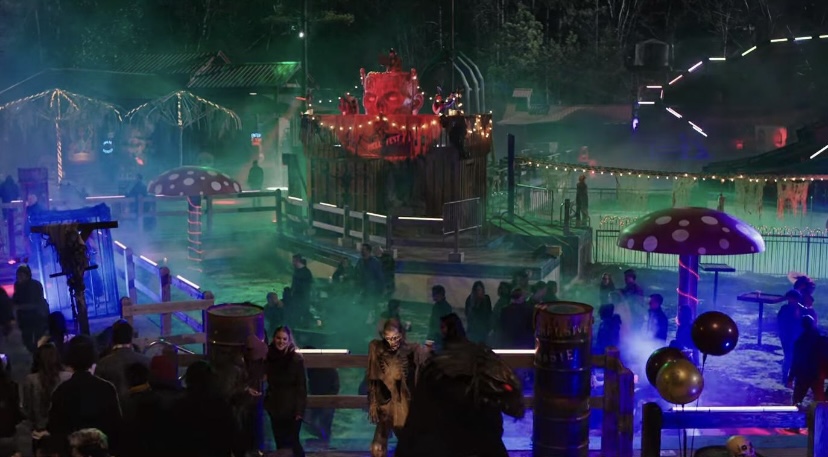 The adrenaline-pumping nature of theme parks during fright nights is enough to summon a scare-ridden horror on its own, however, rather than Hell Fest simply relying upon the innate creepiness, Plotkin adds in immersive set designs, gloriously disturbing kills, and an almighty, ominous force behind the lead antagonist (known as The Other). The sheer ferocity of Hell Fest thrives on the pedal to the metal detailing that refuses to slow down or ease off at any point.
4- Trick (Directed by Patrick Lussier, 2019)
On one fateful Halloween night, Patrick 'Trick' Weaver manages to escape from the police after massacring his classmates at a party. Despite Trick's 'deadly' wounds, a masked killer continuously reappears every Halloween. Has Trick somehow survived or is there something much more sinister at play?


Like a nostalgic driven 1990s thriller, Trick continuously convolutes with its cryptic plot that will have the viewer in an eerie mind spin decoding the mystery within. Lussier, known for editing the Scream franchise (1-3) and directing the 2009 remake My Bloody Valentine, comes his take on a Halloween-centred horror. Akin to the judicial background of a Saw thriller is Trick's richly entwined story that doesn't just wallow in vicious kills, it also delves into the rocky territory that follows with the horrific aftermath of massacres. Joining all that fleshy exposition are the intense Halloween elements that refuse to let you forget that Trick is a film dedicated purely to the allure of spooky season itself.
5- Halloween II (Directed by Rick Rosenthal, 1981)
In the aftermath of Michael Myers (Jonathan Prince) and Laurie Strode's (Jamie Lee Curtis) bloody battle it is revealed that Myers escaped, leading Dr. Loomis (Donald Pleasence) and Strode to kill The Shape for good.


With the original Halloween creators Debra Hill and John Carpenter taking on the writing duties, and first time feature director Rosenthal's eagerness for the film to be dedicated to its predecessor, Halloween II has become somewhat of an absolute staple amidst the franchise's thirteen films. Halloween II is where Myer's long and dense evolvement starts, with the film bashing apart his banality through injecting an interesting and at times contentious backstory for his motives; nevertheless, this sequel is brimming with creative kills and immensely tense chases that seem to take the unpredictable route at all times.
6- Hell House LLC (Directed by Stephen Cognetti)
On a quest to create the most terrifying Halloween house experience, a group of professional 'haunters' take over the Abaddon Hotel, known for its horrifying incident that occurred many years prior.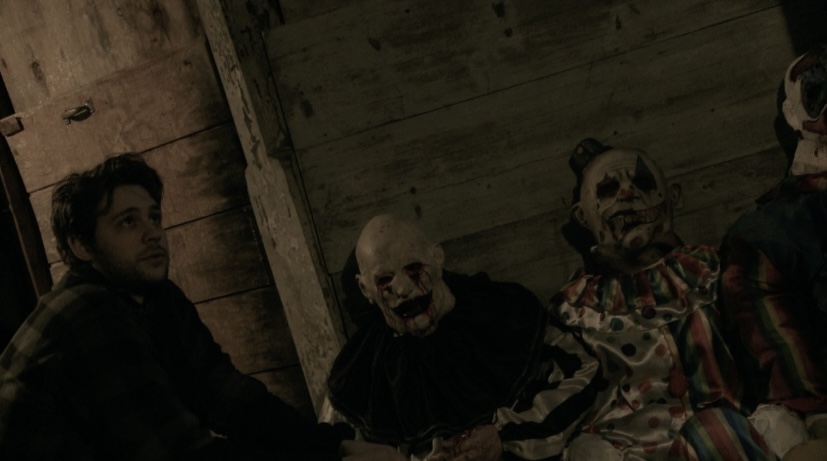 With Halloween being the time of year where horror-hounds seem to be the most at home, it can be difficult to watch a film that continues to scare even after multiple watches- This is where Hell House comes into focus. Cognetti's concoction of bitterly cold, spine tingling terrors will have even the most habituated horror fans sitting on the edge of their seats. The premise of a haunt gone wrong is now a classic trope, that when done well can make for a remarkably memorable film. Hell House takes the classic idea of ghostly apparitions and dark hallways to conjure awfully realistic scares that make for an unforgettable finale.
7- Trick 'r Treat (Directed by Michael Dougherty, 2007)
Four Halloween-themed connected stories show the consequences of breaking Halloween traditions.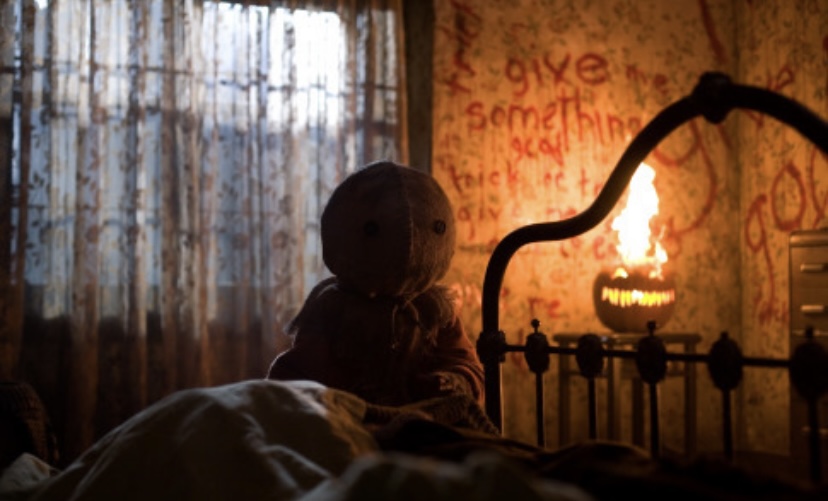 All Hallows' Eve would not be complete without a screening of Trick 'r Treat, possibly one of horror's most infamous cult films in recent years. Every little detail within Dougherty's spooky extravaganza is doused with ghostly, autumnal motif's, whether that be pumpkins and fall leaves dressing every street, auburn lighting glowing throughout the set, or the film's central character, Sam (Quinn Lord), who is sure to put tradition breakers in their place. The seasonal decorations are infectious, even putting Halloween Scrooge's in the haunting mood.
8- Terrifier (Damien Leone, 2016)
The sinisterly minded Art the Clown (David Howard Thornton) terrorises a group of people on Halloween night.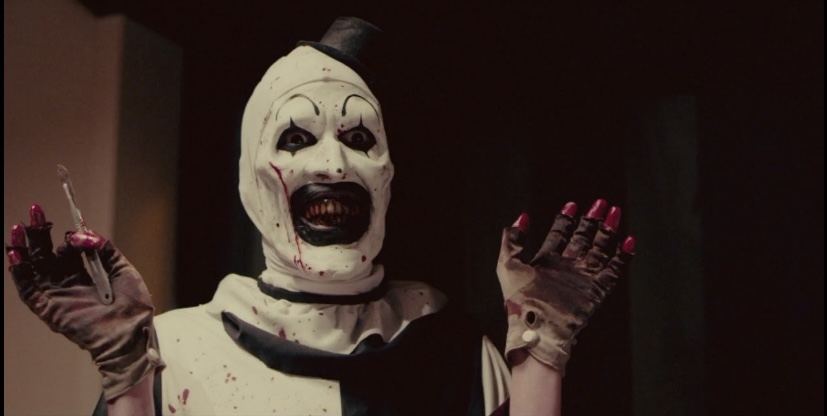 Art's history goes way back to the short film 'The 9th Circle' (2008). Fourteen years later, horror's most vicious clown has become one of the most notorious villains in modern horror. Terrifier both perfectly captures the chaotic brilliance of Art and tests how far he is willing to go to create ultimate destruction. Healthy doses of sawing into hanging bodies, face eating, and mutilation take over the screen making it clear from the beginning that Terrifier is not here to tease. If abundances of gore and a maniacally twisted time is what you're after, Terrifier has to take the crown at your Halloween movie marathon.
9- 31 (Directed by Rob Zombie, 2016)
A ragtag group of carnival workers are taken hostage before having to fight tooth and nail to survive the night.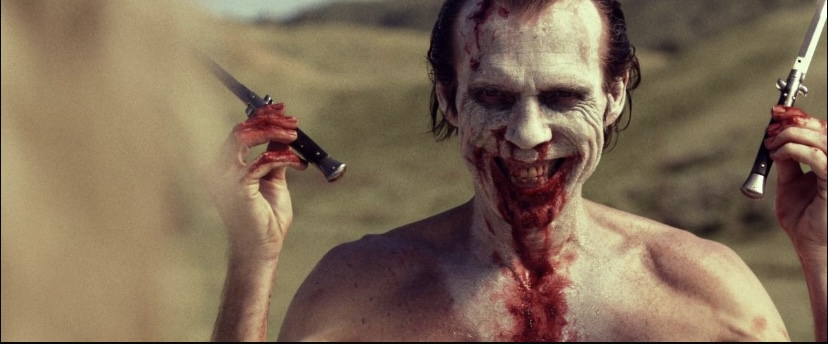 Rob Zombie is no stranger to the horror scene whatsoever, with his barbarically minded films such as House of 1000 Corpses (2003) and The Devil's Rejects (2005) creating incredibly detailed worlds for the vivaciously cruel characters to thrive in. 31 takes the audience through bloody and awfully offensive grounds like a filmic rollercoaster to deliver a fright to remember. The film puts the abducted group through various battles with a motley crew of slighting antagonists including Doom-Head (Richard Brake), who makes Zombie's Captain Spaulding (Sid Haig) and Otis Driftwood (Bill Moseley) seem PG-13!
10- Tales of Halloween
(Directed by Darren Lynn Bousman, Axelle Carolyn, Adam Gierasch, Andrew Kasch, Neil Marshall, Mike Mendez, Dave Parker, Ryan Schifrin, John Skipp and Paul Solet, 2015) 

Ten interwoven stories focusing on ghoulish monsters, devils, aliens, urban legends, and mad men band together to create a creepy anthology tale.
Tales of Halloween manages to cram ten grisly stories into a 97 minute time frame, all whilst remaining original, exciting, and most importantly scary. Anthologies have an innate way of having something for everyone, leaving Tales of Halloween to thrive in its own variety. Accompanied by a self-aware comedic atmosphere, the film utilises the short runtime of every story to create a quick to the point punch that results in equal levels of laughs and eerie vibes. 
Looking for more top horror lists and reviews? Check out our blog here..
Share this story