Review- Psycho Goreman
Psycho Goreman certainly lives up to its name, awash with vivacious color and bouncy characters ready to show you just how iconic a true to heart monster mashup is!
Director Steven Kostanski is known for his horror filmography, with awesome films racking up his eccentric genre authorship, including The Void, Leprechaun Returns and a segment in ABC's of Death 2. Psycho Goreman truly encapsulates what Kostanski does best, showing normalized chaos in a fantastical world where the story shines just as much as the visuals. 
The film follows brother sister duo Mimi (Nita-Josee Hanna) and Luke (Owen Myre), as they unearth a mysterious glowing gem. At first nothing is too out of the ordinary, but later that night an extraterrestrial overlord is resurrected, who Mimi gleefully nicknames PG for short. Psycho Goreman reads just like a rad 1980s video game, equipped with shameless absurdity, an epic screenplay and a whopping great big creature to tie things up.
Without oversimplifying, the film at the heart is straightforward allowing for the amazing performances to shine with both Hanna and Myre's sibling antics coming across as both hilarious and warming at the roots. This is what made the film stand out to me; too many love letters to obscure cinema of the 1980s eventually become muddled and confused in an attempt to create an entire cinematic universe in a 90 minute time frame. Psycho Goreman on the other hand is fully aware of its adventurous path and it fully explores that dark fantasy element that continuously appeals to viewers, without becoming too lengthy. 
Accompanying this soon to be cult classic is Kostanski's treatment of what is notoriously difficult to master in filmmaking, using kids as your main character in a horror film. The rule of 'never work with children or animals' seems to ring true for most, with child actors in horror being hard to perfect', but the juxtaposition of a bestial creature aiming to take over the world whilst being controlled by menacing youths make for a delightfully ambitious watch.
The character of Mimi is unbelievably well written and embodies the role of a cheeky 12 year old with immense genuinity. Hanna is certainly set for an exciting career ahead. At one point we even see PG join Mimi and Luke in a rocking garage band session. And that's my exact point, the entire film is fun, sporadic and completely ridiculous (but in a genius way). The thrashing dismissal to conform only furthers the charm, with Kostanski not falling into the typicality's of these genre films. We usually see a towering destructive creature gradually evolve into their surroundings and lose their murderous urges; in short, do not expect the ordinary when it comes to Psycho Goreman. 
The film reminded me of classic B-movies, prominently The Toxic Avenger, Class of Nuke 'Em High and Xtro, with a good dose of Rawhead Rex thrown into the mix. It's action packed, booming with nostalgia and most importantly, the effects are dynamic and striking. PG's appearance resembles almost anyone's worst nightmare as he dons a molten coat, hiding effervescent cracks of glaring crimson. The creature design is impeccable, and most importantly they look like they came straight out of a wild game of Dungeons and Dragons; the whole regime of monster hierarchy mimics similarities to Hellraiser's Cenobites (another favorite of mine!).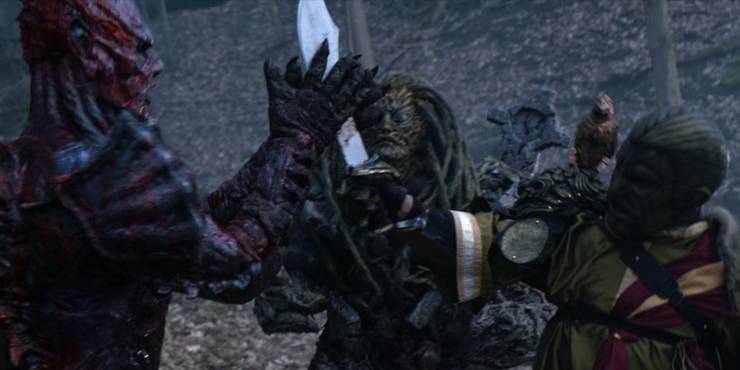 The disavowment of high-brow entertainment basks in its ludicrousness, with Kostanski crafting a well formed comedic timing. Not only is this one of the most outlandish films I've seen this year, it's also one of the most impressive, marking itself as an official hidden gem that I completely recommend.
Psycho Goreman is available now exclusively on Shudder.
This weeks article comes via Grace from Film Overload, you can check out more of her work here.
Share this story