Review: Fear Street Part One: 1994
The slasher subgenre has done for horror what Shakespeare did for playwriting. It's that precise allure that accompanies the stalk and kill system, whilst revelling in motive, victim strategies, and exposing the cathartic sense of relief when a fatal conclusion is met, although the joyous reaction could be towards the killer just as much as the victim.
There's a reason as to why the 1980s and early 1990s were indoctrinated with splatters, slashers, and schlock, it was exhilarating and constant, and now from a retrospective point these frameworks still exist, but it has become even more prevalent on the extension of tributes and commemoration. 
The Fear Street trilogy displays exactly that, a keen sense of nostalgia whilst still maintaining a fresh balance of new tactics and modern archetypes.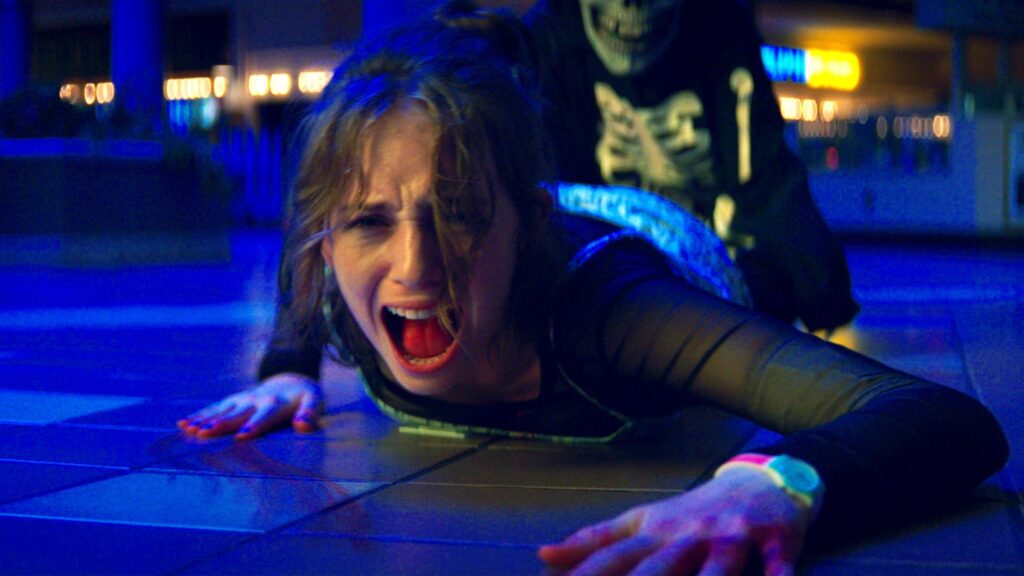 Based on R.L. Stine's Fear Street novels is Leigh Janiak's 'Fear Street Part One: 1994' which follows an amalgamation of various books from the series to create one giant story that will be historically linked in the next two films. The basic premise follows a group of adolescents who must battle off Sarah Fier (Elizabeth Scopel), a 'deceased' witch who has put a damning curse on the town of Shadyside prior to being executed during the witch trials.
Although the collective outline relies upon an ancient curse placed in the 1660s, Fear Street: 1994 is very much alive and thriving. Beginning the film is a sequence that can describe the film as a whole. The opening shot sets up the atmosphere nicely, as we see book store employee Heather (Maya Hawke), working late one night in an eerily empty mall, with the only sense of life coming from beaming neon lights strewn across the food court (immediately reminding me of Stranger Things). In typical fashion, her loneliness is soon met with an alarmingly loud phone ringing, a fake jumpscare, shadows lurking, and then finally a masked killer wearing a Ghostface-esque gown appears and murders who we believed was going to be our final girl. If you thought that this sounded overly familiar to Casey Becker's (Drew Barrymore) fatal opening scene in Scream (1996) then you'd be correct!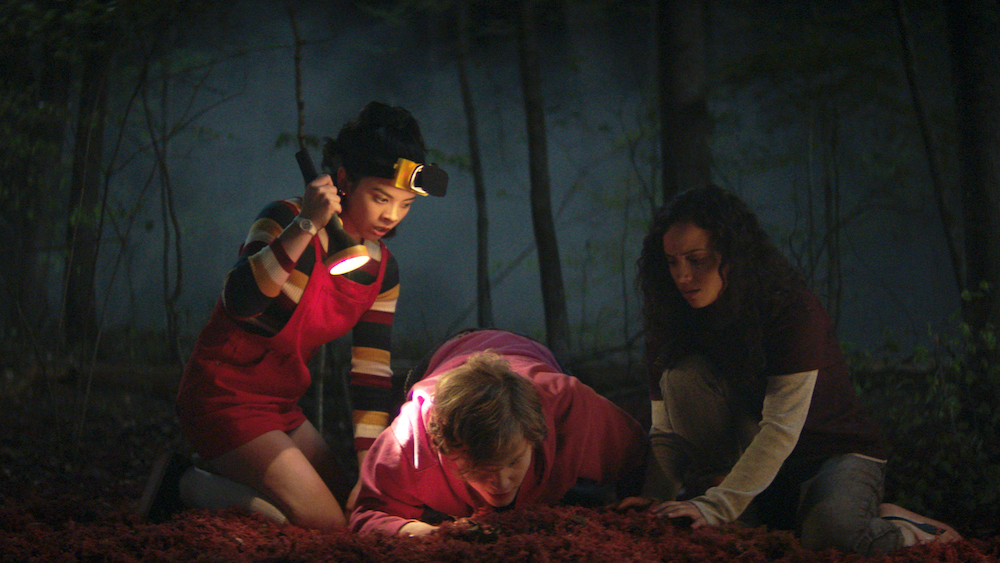 Feeding off of horror's most tactful tropes is Janiak's somehow unique crafting of frankly overdone clichés, allowing for optimal attention-grabbing moments. Combine this rose-tinted nostalgia with exhilarating characters then we really have a go-getter of a film. It's with this that I'll move onto my next point, the cracking twists and turns. Without spoiling any sordid details I do have to admit that I was seriously impressed with the relationships amongst the characters, with Janiak not becoming too complacent in saving who the audience is naturally drawn to, nothing is sacred and no one is off-limits.
Our motley crew of teens consists of Deena (Kiana Madeira), and her brother Josh (Benjamin Flores Jr.), alongside her two friends Kate (Julia Rehwald) and Simon (Fred Hechinger) who must battle Sarah Fier and her army of killers to save Deena's estranged girlfriend Sam (Olivia Scott Welch) from a dreadful fate. Together they make a mishmash group where none of them fall into the place of the jock, the blonde, the smart one, the skeptic, or the final girl. Yes, the tween Josh does have more criminal knowledge than the normal boy, and Deena does have some inner ruthlessness that embodies 'the last one left alive' emblem, but all in all, there is a clear and successful attempt at rustling up the unexpected and allowing everyone to shine, not just the 'lead'.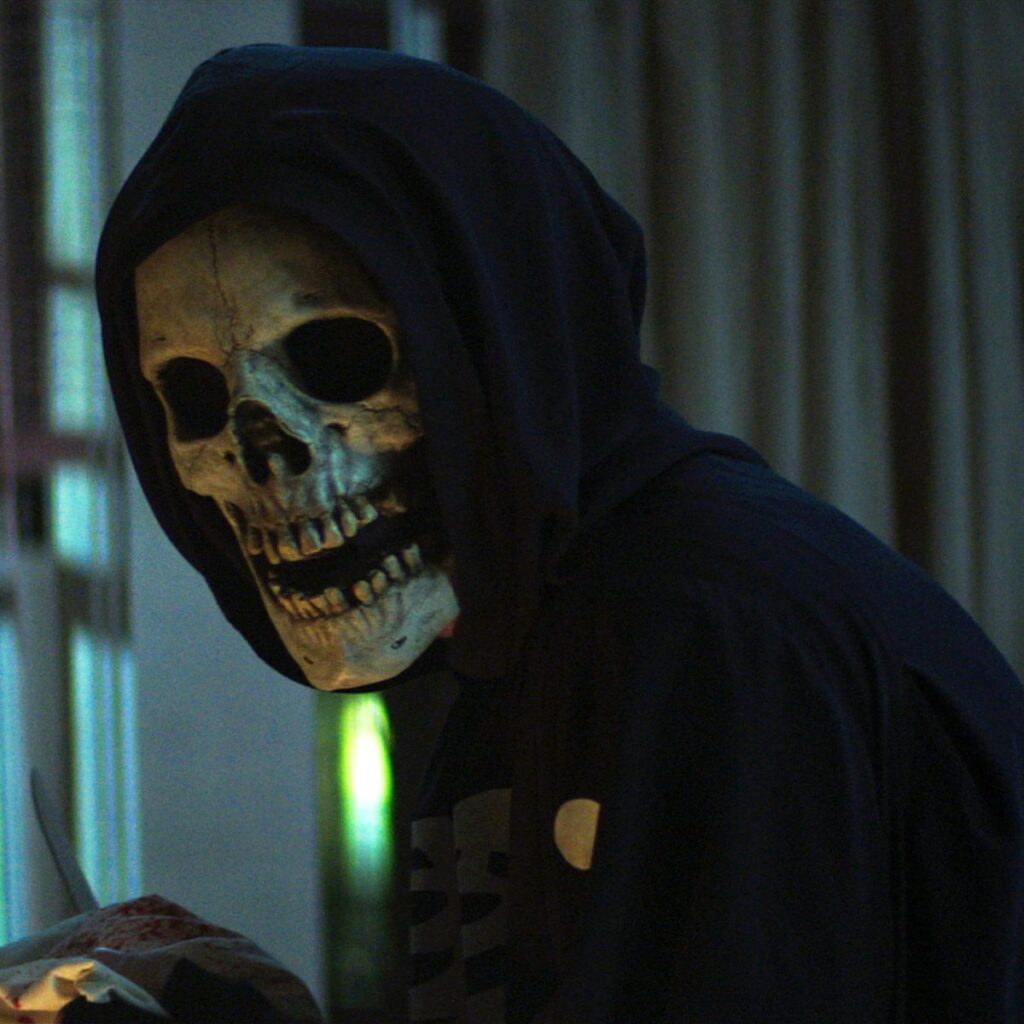 Fear Street: 1994 understands it's alterations to the classic slasher, but it also comprehends what makes the film stand out from current 'blockbusters', which consequently originates in the harsh gore exposed throughout. I for one have a neutral outlook on the graphicness in a horror film, there are a plethora of tense films that only sparsely rely on bloodshed to affect the viewer, and then there are outstanding films that secrete slaughter from start to finish. However, Fear Street: 1994 definitely took the visually mature path, with Janiak dismissing any prior beliefs that this would be tame in any shape or form.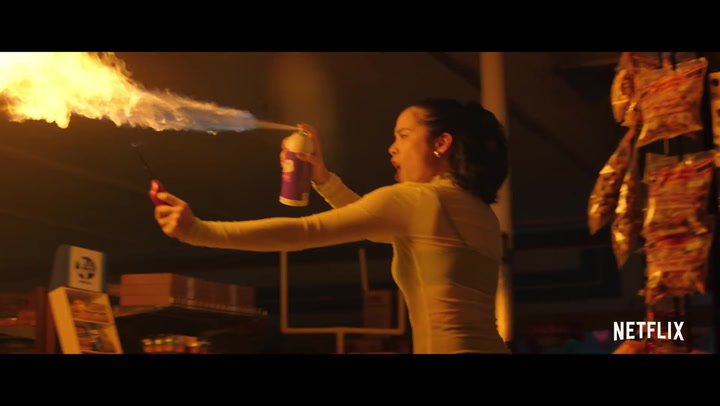 The killers presented in this first entry are the Skull Mask Killer, The Camp Nightwing Killer, and Ruby Lane, all of who deliver noteworthy scares throughout. The cult-like culmination of very different antagonists could be messy if in the wrong hands, yet there's that slight animosity that accompanies their very brief backstory that allows for their quick-paced appearances to be short and snappy, with the focus constantly remaining on the Deena and the gang.
As much as I've discussed this slasher aspect, especially in terms of the film's inextricable character-based narrative, an unorthodox element that pushes Fear Street to feed off of the flexibility of horror is the inclusion of the occult. Shadyside has been jinxed by Fier's wickedness and with that comes an interesting backstory that is nicely touched upon, but not fully delved into. However, instead of being irate over the briefness, we only end up more excited for the following two films. 

Fear Street Part Two: 1978 and Fear Street Part Three: 1666 will both be released one week after another, promising much more carnage, curveballs, and adrenaline-pumping scares.
This weeks article comes via Grace from Film Overload, you can check out more of her work here.
Share this story