Review – Dark Whispers (Volume 1)
Anthology horror can force a hellish crusade of amalgamated visions to ultimately create a blended film artfully formed to deliver a starkly dark piece. Although this seems like a complex myriad to achieve, Dark Whispers (Volume 1) smoothly executes a faultless entry into the anthology horror terrain.
The Australian film consists of ten chilling chapters from across the entire country. With an anthology framework it can be difficult to capture an entire short story from beginning to end without being too brief, yet Dark Whispers (Vol 1) overarching framework allows for each story to shine equally, regardless of its length and overall strength as a standalone piece.
This framing has a simple premise, but it's an age old tale that works seamlessly. Creator and director Megan Riakos presents 'The Book of Dark Whispers'. When Clara unearths her mothers secret 'Book of Dark Whispers' she discovers that each page contains a cryptically twisted story that promises the most chilling scares.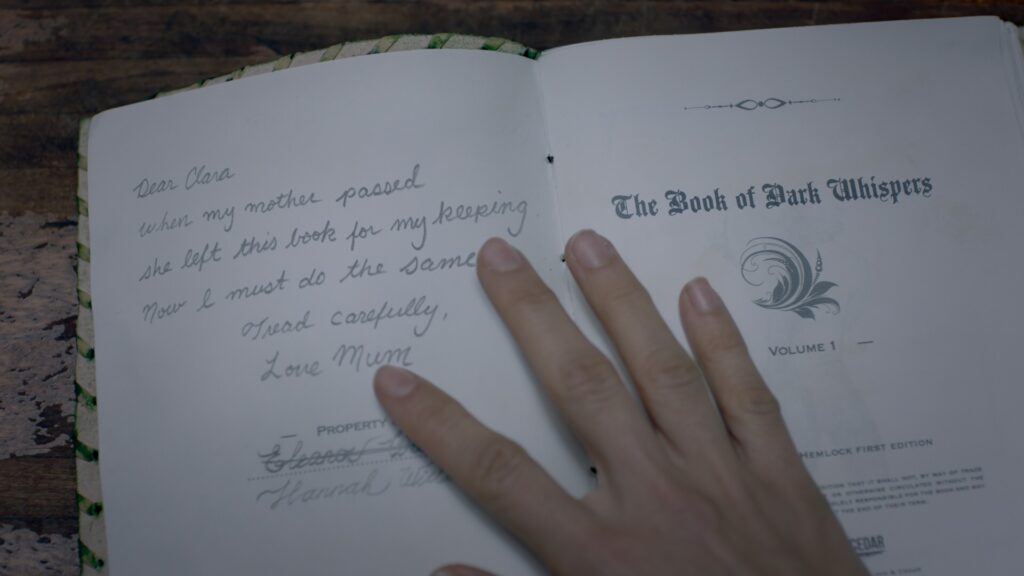 One of the most noteworthy components across the entire premise is that each and every segment is directed by a female filmmaker. Of course this fact holds bountiful promises within its own right, but to have this revolutionary concept be brought into the world of horror holds a whole achievement on an impressive accord.
Amongst the cast are Ed Speleers (Downton Abbey) and Anthony LaPaglia (Without a Trace) who feature in the segment 'The Ride', a darkly comic thriller which was backed by the BBC and Asher Keddie (X-Men Origins: Wolverine) who is terrorised by a stalker in the chapter 'The Intruder'.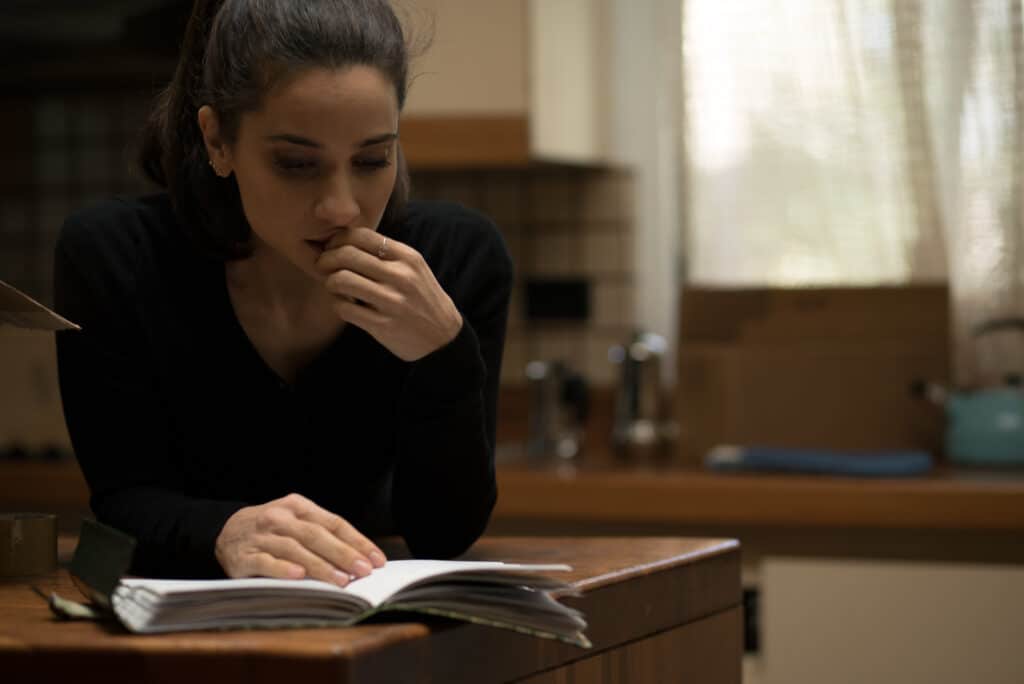 Each haunting chapter is woven to express equal measures of devilish hope, delusions and grief, all tied together in a horrific labyrinth. In one particular segment 'Birthday Girl' (Angie Black), we see a nervous woman enter into an elevator from hell. Her nerves are only heightened when a somewhat innocent young girl enters the lift with her, however as each floor descends, a parade of questions are thrown upon the woman until she is left in a bumbling mess of mysterious guilt and grief.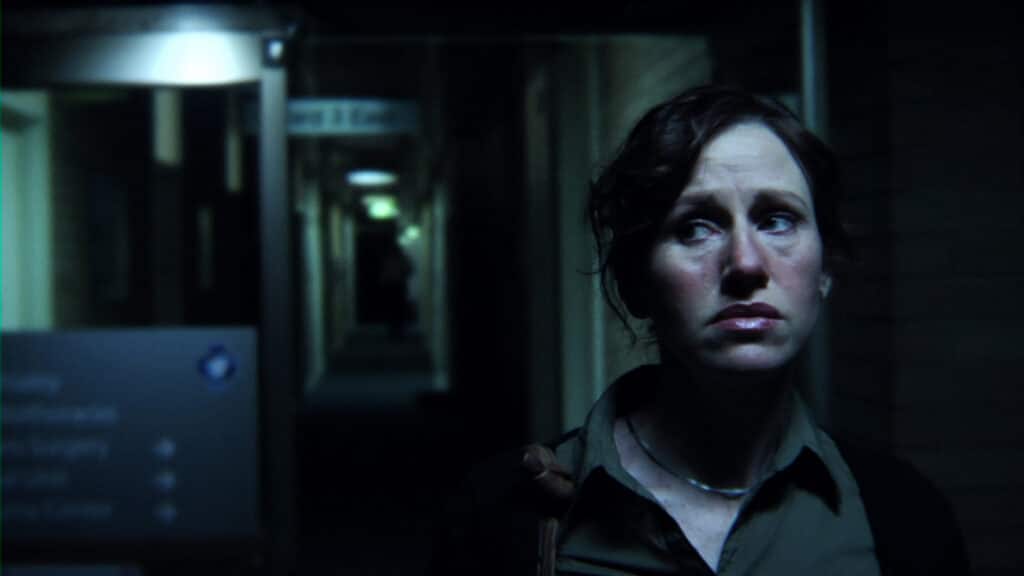 The second segment 'The Man Who Caught a Mermaid' (Kaitlin Tinker) is possibly one of the most interesting chapters to originate from the entire film. The short film follows a middle aged man with an unorthodox obsession over supposed mermaids. The mockery from fellow townsmen and his wife do not bother him in the slightest as he is entirely convinced that he will be the first person to capture a living breathing mermaid… or so he thinks?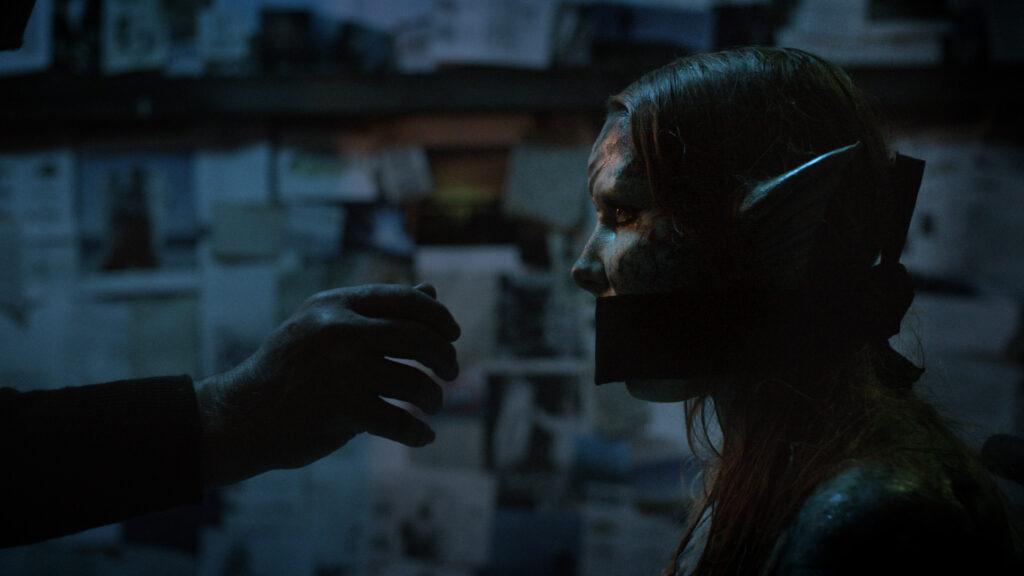 Each chapter not only explores a different topic, some even delve into alternative forms of filmmaking. Gloomy Valentine (Isabel Peppard) uses stop motion animation to portray a rather emotive story following a lost soul attempting to remould her broken heart. Stop motion is not necessarily an unfamiliar technique within horror, but it is rare and more importantly it is very difficult to achieve a strong sense of horror when the audience cannot make that physical connection to the characters. Nevertheless, Gloomy Valentine manages to both tug on the heartstrings all the whilst maintaining a steady sense of creeping unease throughout.
Quite impressively Dark Whispers (Vol 1) was selected for a plethora of festivals, including Berlin Final Girls Film Festival and Cinefest Oz. And it's no wonder why.
Dark Whispers (Vol 1) is a unique take on the anthology sub-genre that excitedly keeps audiences on the edge of their seat. An eclectic mix of short stories with something for all tastes, as long as those tastes are twisted!.
DARK WHISPERS (Volume 1), releasing on all major digital platforms across the UK and Australia on 25th January 2021.
This weeks article comes via Grace from Film Overload, you can check out more of her work here, including our 10 must see anthology horrors.
Share this story