Harrogate Ghost Walk – An interview with Paul Forster
We love Ghost here at Dead Northern and when we found out that our hometown of Harrogate now had its very own Ghost tour we had to find out more. So we tracked down the guide of the Harrogate Ghost walk Paul Forster, and took him out for a pint, because, who doesn't like a local beer and a good old chinwag about the paranormal.
Q. You're an entertainer by trade and the Harrogate Ghost walk isn't your only performance can you give our readers some more details on who you are and what you do?
P. I trained as an actor and worked professionally as one on stage and for the radio for years. I also dabbled in close-up magic but I always found it to feel like a bunch of 'tricks'. Then I found out about mind-reading which I believe is more personal and engaging as a performance. I started working as a mind reader out of my pure love of entertaining others. I have been making people smile and laugh at weddings, parties, and corporate events all across the UK. It's always a thrill for me to leave people knowing I gave them a unique and entertaining experience at an event.
On a darker note, I also perform Victorian seances at some of the most haunted places around the UK. This recreation of a traditional parlour show aims to educate, entertain and scare the hell out of you in equal measure. My shows are all heavily researched, well-written, and rehearsed. I always attempt to take a real moment from history, something tragic, sinister, or simply interesting and use the story and characters to create a truly unique dark piece of theatre.
So creating a ghost walk felt like a natural progression. Combining my training as an actor, my research and writing skills along with my love for the paranormal.
__________________________
Q. Harrogate is more known for afternoon Tea and Spa water rather than Ghosts and the otherworldly, what inspired you to produce a Ghost walk?
P. I grew up in a haunted house, strange things often happened and I couldn't explain them away. I would always seek out a rational explanation but when I often couldn't I assumed something else was going on. When I visit another town, city, or country, I always seek out a ghost walk. I find it is a fascinating way of getting to know the area as well as the history, plus they're mostly always a bit of fun and very engaging.
When I moved to Harrogate I found there to be no ghost walk. I thought that perhaps Harrogate wasn't that haunted, but I was very wrong. It has taken me 6 years to get myself into a position whereby I could launch my ghost walk. I wasn't working on it the whole time, other projects got in the way and the COVID hit me just as I was about to launch it.
__________________________
Q. The ghost walk takes you on a fantastic tour of Harrogate, and provides as much historical insight into the town as it does the paranormal, where did you find all of your information?
P. I have worked in the museum sector for a number of years and as such, I have a love for history and am a skilled researcher. I bought and read a lot of local history books, this allowed me to seek out some of the oldest buildings, or discover the former usage of some of them. I found a lot of the hotels were requisitioned by the army during World War II to be used as field hospitals, so naturally one can assume that these places could potentially be haunted. I spoke to staff and the locals and found that I was right. I started digging and interviewing people to find a wealth of spooky tales.
I put an advert out on Facebook and the local paper ran an article asking for people to come forward with their own ghost stories and I was inundated with a lot of haunted happenings. I have the local people of Harrogate to thank for a lot of my stories.
__________________________
Q. What sort of reactions do you get when conducting research about a location?
P. I mainly get two reactions, the first is that businesses do not want to be associated with ghosts. This could be for a number of reasons like personal views on the subject matter, or that they don't want to scare customers away. Secondly and mostly I get a lot of people sharing some wonderful tales of creepy stories and hauntings.
__________________________
Q. The tour is entirely outdoors, have you spoken to any owners of the locations about doing an indoor event?
P. The original intention was to finish the walk inside a haunted location but due to the pandemic, I decided against this. I don't think you need to be inside a building to fully immerse yourself in the story. The aim of my ghost walk is to provide a great story and some history in an entertaining fashion whilst encouraging people to visit the places in question in their own time. I get. A lot of local people exclaim that they've not been in half of the pubs, bars, or hotels we discuss on the walk. So I would hope that these people not only learn something new about their town but also visit some of the new locations we discover on the walk.
__________________________
Q. Have you or any of your audience experienced anything paranormal whilst on the Ghost Walk?
P. This is an interesting question, as I believe that only the individual can answer that. What is paranormal to you may have a rational explanation to someone else. However… there was a photograph taken by a guest on one walk whereby it looks as though the light cast from a street lamp creates a face in some sort of mist which is hanging in the air. I assume the mist is caused by someone's breath as it was a cold night but I cannot explain the face.
There was a young lady and her mum who were staying in the incredibly beautiful and incredibly haunted Crown Hotel who posted a review of the walk the next day. Along with some kind words about the walk, she went on to say that during the night, their suitcases were knocked over in the dead of night, with no explanation of how it could have happened.
Finally, at the end of every walk, we conducted a spirit bell session. This is an old Victorian method of communing with the dead. You ask a spirit a question and hope to receive one ring for a 'YES' answer and two rings for a 'NO'. We carry out this experiment outside of the famously haunted Harrogate Theatre and we have had mixed reactions. On some occasions, the bell has rung and provided answers for every question, on some nights nothing at all happens and although this is disappointing it does demonstrate that the spirits are in control.
__________________________
Q. When Dead Northern joined you on the Ghost walk, we also experienced storm Arwen, and the joys of ice-cold torrential rain, wind, and sleet. We think that just added to the atmosphere, but it's obviously not everyone's cup of tea. When is your favourite time to do the tour?
P. Having only run the Harrogate ghost walk since October 2020, I haven't had much experience of performing it at other times of the year. However, I would say that a cold, dark evening (with no rain) would be the best time for any ghost walk. I am looking forward to hosting the walk during the summer months as the weather will be much improved but I do wonder if the lighter nights may affect the spooky atmosphere, we shall have to wait and see.
__________________________
Q. Harrogate's a big town are there any places that you would have liked to get on the walk but had to leave out?
P. There are loads of stories from further afield. I include three of my favourite on the tour which includes the former Granby hotel, The Cedar Court Hotel, and Ripley Castle, the latter of the three having the most ghost stories. But there are some great tales which have taken place on the moors, such as a couple of farmers who were working late one night on the tops at Blubber houses. It was a dark night and a low mist descended without warning. Their field of view went down to a mere few feet. They decided to stay put where they were rather than risk injury walking in the dense fog. A few minutes passed when they heard what sounded like footsteps marching. Then from out of the mist came an army, a literal army of men dressed in old-fashioned clothing and armor marching over the moors. The two men stood on and watched as the soldiers marched along paying them no heed, their legs below the knee were beneath the ground. The army along with horse-mounted soldiers disappeared into the dark night air. I don't include this story in the walk but I intend on changing the stories on the walk so that people who have already experienced the walk can come back again for some new tales.
__________________________
Q. You've mentioned some of your other performances, what have you got coming up in the future?
P. I have a few Victorian séance evenings planned throughout next year which utilise real hauntiques, or haunted antiques. An object which has a spirit attached to them and a spooky tale to tell. I am really looking forward to an event with you guys, 'My Bloody Valentine, The Seance.' I have something really special lined up for this, a tale of true love lasting beyond the grave! I have tracked down a couple of incredibly haunted pieces and can't wait to see what happens on the night. With the event taking place at The Crown Hotel, I am sure that we will experience some unexplainable events. The hotel is very haunted and the room we are hosting the event is known to have some ghostly activity from time to time.
__________________________
Dead Northern has been on the Harrogate ghost walk, and we can confirm it is awesome.
For our full take on the ghost, walk click here
We recommend experiencing the Harrogate Ghost Walk for yourselves.
For more information about the Harrogate Ghost Walk go to https://www.harrogateghostwalk.com/
Get Tickets for Haunted Harrogate's Ghost Walk at https://www.ticketsource.co.uk/harrogate-ghost-walk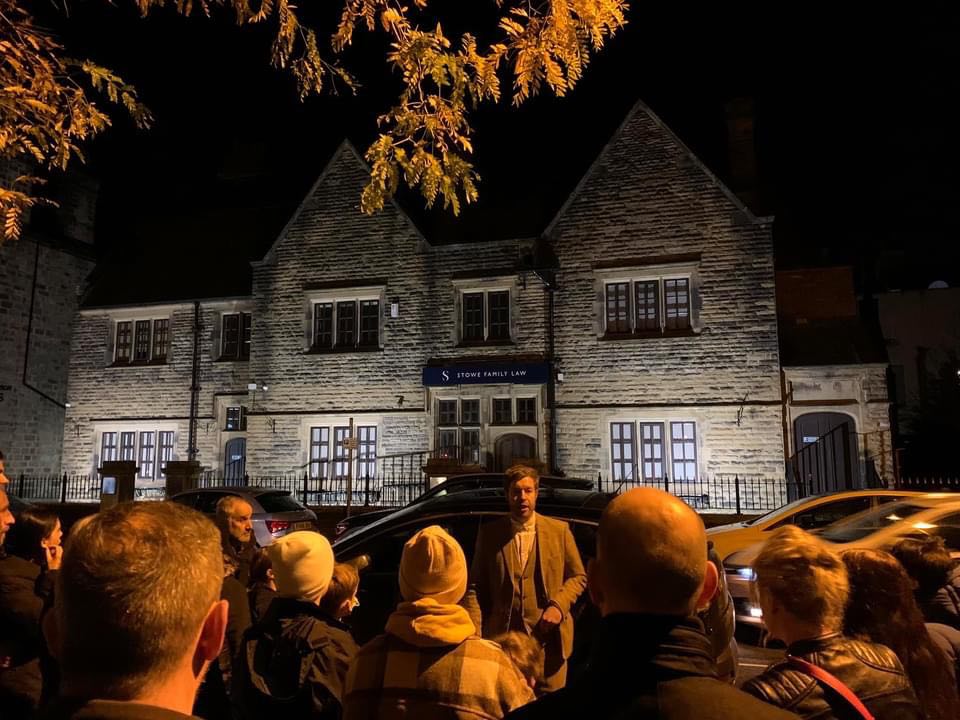 Share this story