10 must see 'Anthology Horrors'
Anthology cinema can be described as a linking of shorter separate films via an overall framework. These types of films work in a way that keeps audience's attention focused and drawn into the appeal of quick multiple stories.
With horror somewhat originating from short folk tales and fables being told by multiple individuals to create one giant mysterious story it is no surprise that the genre commonly works in partnership with an anthology structural composition. In speaking with how anthology horror works on a varietal standpoint rather than a solo platform it can be said that the miscellaneous splintered nature can at times become muddled and non-concurrent. So, to divulge into this stellar sub-genre, here is our list of ten must-see anthology horrors…
1. Dead of Night (1945)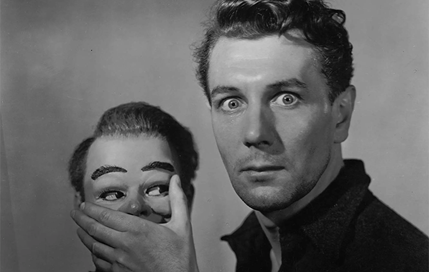 Directors: Alberto Cavalcanti, Basil Dearden, Charles Crichton and Robert Hamer
It has been said that this absolute horror classic is possibly the first anthology horror film. With the Golden Age of Hollywood looming in the background many alternative films were made in counteraction. These films opted for gruesome ghouls and haunting villains, with Dead of Night being one of the classic films from the 1940s. The film follows Walter Craig (Mervyn Johns) as he finds himself in a cryptic house in the English countryside where the guests seem all too familiar to him, despite never having met them.
Dead of Night dips into the originator of horror: dreams. As the film drifts from nightmare to nightmare we witness a series of horrible stories ranging from car accidents to haunted mirrors, but the most iconic and familiar story is the tale directed by Alberto Cavalcanti. The Ventriloquist's Dummy is the prototype of terrifying dolls and dummy's that filmmakers would be influenced by for years to come. Nothing lingers longer than that unnerving image of Hugo the dummy (Michael Redgrave) staring straight down the camera lens towards the viewer.
2. Creepshow (1982)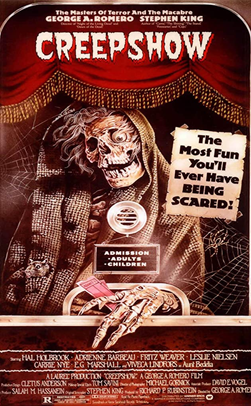 Director: George A. Romero.
In continuing with the cardinals of horror anthologies, we have the legendary George A. Romero attempt at anthologies with Creepshow. What makes this film such a paradigm of the genre is its rich knowledge and treatment of horror; every film is laden with frightening iconography and chilling villains. These aspects are mainly thanks to Romero's evident homage to classic horror comics from EC of the 1950s including 'The Vault of horror' and 'Tales from the Crypt'.
However, Romero was not alone in creating a horror to remember as the renowned Stephen King was heavily involved in the production as well as being the screenplay writer. Alongside King and Romero was also the godfather of special effects, Tom Savini. Savini was responsible for the extraordinarily comic book-like effects throughout the film. Creepshow speaks for itself, but one segment to definitely keep an eye out for is The Crate.
3. V/H/S (2012)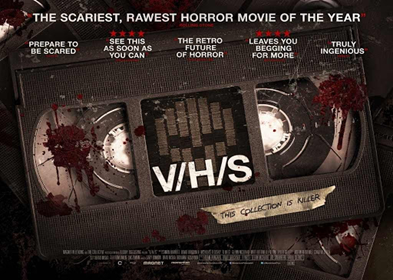 Directors: Adam Wingard, David Bruckner, Ti West, Glenn McQuaid, Joe Swanberg, and the filmmaking collective Radio Silence.
V/H/S is one of the newer additions on this list, with the film storming onto the scene in 2012 with a generally positive consensus. Alongside this the film has become one of three, with V/H/S/2 (2013) and V/H/S Viral (2014) soon following. The narrative is loosely tied by an overarching story of a group of criminals who break into a house to find a mysterious VHS tape, however upon entering they find a dead man in front of a static TV as well as hundreds of anonymous tapes. The terror truly begins when they start to make their way through the videos with each segment being one of the tapes being played. V/H/S cleverly uses the found footage technique to present each of the 5 segments.
As with all anthologies some segments take the limelight and carry the film, this is the case especially with both Amateur Night (David Bruckner) and The Sick Thing That Happened to Emily When She Was Younger (Joe Swanberg). Amateur Night is the first segment and one of the most memorable. It seems that this success continued as the short was made into a feature film in 2016 called Siren (Gregg Bishop). Although Swanberg's short has not expanded outside of V/H/S, it is possibly the most terrifying and unique segment out of the series; it was filmed as a desktop horror via a webcam setup that positions the viewer closely with the events.

If the idea of desktop horror interests you, check out our previous article all about this latest sub-genre.
4. Three… Extremes (2004)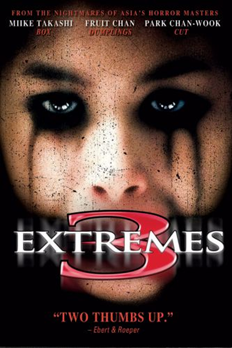 Directors: Chan-wook Park, Fruit Chan, Takashi Miike.
Three… Extremes does not shy away from disturbing content, with each segment giving equal treatment to both startling visuals and harrowing narratives. The film does not have little or any entire framework where connections between the three sequences are made, instead the shorts are dedicated to celebrating filmmakers from East Asia, with Miike being from Japan, Chan-Wook being from South Korea, and Chan being from China. What this allows is an amalgamation of different cultures coming together in creating a superbly effective horror.
Three…Extremes is entirely memorable, with Chan's segment being highly significant and even progressing into a feature film with the same cast and story. Dumplings is in fact the most unsettling of the three. However, to allow for the ultimate payoff, it is best to avoid any prior knowledge. But just know that once you realise what is going on, it is too late to ever forget the lingering realisation that Chan so disturbingly achieves,
5. Ghost Stories (2017)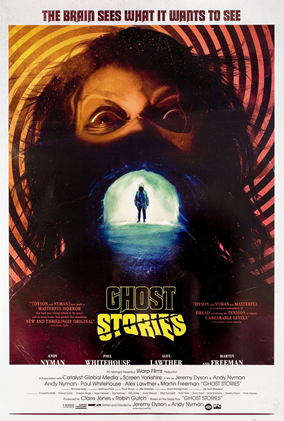 Directors: Andy Nyman, Jeremy Dyson
Dyson and Nyman are no strangers to British horror as Ghost Stories originated from their incredibly successful stage play, alongside this Dyson is the co-creator and writer of the hilarious yet eerie British television series, The League of Gentlemen. Their collaboration makes for an utterly terrifying watch as they explore the inner workings of psychological trauma through a series of dream-like sequences.
The performances by Martin Freeman, Paul Whitehouse, and Alex Lawther, and of course Nyman himself bring the production to life, with their gripping portrayals of individuals on the edge. The stellar acting brings a level of realistic frantic chaos to the table. As with Three… Extremes the less that is said the better, but one detail that can be assured is the tense atmospheric tone will haunt the viewer long after viewing.
6. Tales from the Crypt (1972)
Director: Freddie Francis
Similar to how Creepshow was based upon horror comics, Tales from the Crypt took inspirations from a variety of EC Comics. The film has become a cult classic, with its reputation experiencing continuous growth, and it is apparent as to why. The devilishly macabre tones combined with the remorseless execution allows for an unsettling envelope of dread to be cast over the film.
Alongside this is the impressive cast line-up including Joan Collins and horror legend Peter Cushing. Instead of Francis relying upon these big names to give the film a long-lasting reputation, the stories were adapted to allow for more than just one-dimensional characters, leading to short, yet detailed studies. Tales from the Crypt achieves a perfectly horrid tension that only brews richer with each segment. As these union of shorts combine at the end, a truly dreadful fate for the characters is finally revealed by the Crypt Keeper himself.
7. Cat's Eye (1985)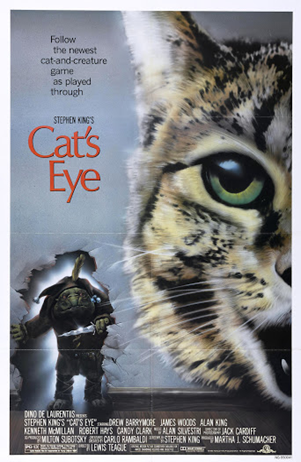 Cat's Eye is Stephen King's second entry onto this list, with him being the writer of this underrated 1980s classic. The tales are loosely tied together, with an ominous travelling cat being the glue for the three stories. Each segment almost plays out quite realistic with less flamboyant fables than King's earlier efforts.
Due to this we experience harsher horror where the premise is rather real and effective in gauging a reaction from the audience. But what shines through the most in Cat's Eye is the morbidly lit humour that peaks in and out, with King heavily playing on the humorous anecdotes that worked so flawlessly in Creepshow.
8- The ABC's of Death (2012)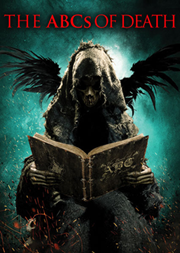 Directors: Nacho Vigalondo, Adrian Garcia Bogliano, Ernesto Diaz Espinoza, Marcel Sarmiento, Angela Bettis, Noboru Iguchi, Andrew Traucki, Thomas Malling, Jorge Michel Grau, Yûdai Yamaguchi, Anders Morgenthaler, Timo Tjahjanto, Ti West, Banjong Pisanthanakun, Hélène Cattet and Bruno Forzani, Simon Rumley, Adam Wingard and Simon Barrett, Srđan Spasojević, Jake West, Lee Hardcastle, Ben Wheatley, Kaare Andrews, Jon Schnepp, Xavier Gens, Jason Eisener, and Yoshihiro Nishimura.
The ABC's of Death is possibly one of the most unique films on this list as it boasts a total of 28 directors for 26 segments. The premise is simple, each letter of the alphabet is given its own short story, with director Ben Wheatley being assigned the letter U for Unearthed and so and so forth. What this creative concoction results in is a complete barrage of the grisliest tales where a medley of topics and techniques are explored including, Claymation, POV footage, vampires, zombie clowns, body horror and humanoid animals.
The film was released with wide acclaim due to the sheer creativity and atypical composition. This reputation has only continued to grow with two films following the first, both aptly titled ABC's of Death 2 and ABC's of Death 2.5. With a variety as wide as The ABC's of Death there is bound to be something for everyone.
9. Black Sabbath (1963)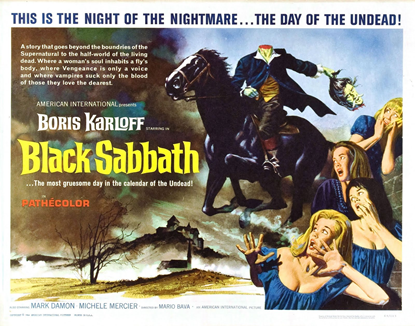 Director: Mario Bava
Mario Bava had held his acclaimed reputation as an infamous master of horror, with films such as Blood and Black Lace (1964) and A Bay of Blood (1971) heavily defining his long career. However, a film that has slipped under the radar as time has passed is Black Sabbath. Each of the three segments are all heavily focused on creating a stingingly dark, yet visually pleasing look.
Of course, the film features an array of atmospheres as the characters positions alter within the story. The segment to keep an eye out for the most is the second instalment, The Wurdulak. This section famously features Boris Karloff, who played Universal Pictures original Frankenstein.
10. The Mortuary Collection (2019)
To finish this list is the most recent feature, with it being released only last year. However, within its short time of being released it has soared in popularity with its premiere at the 2019 Fantastic Fest receiving rave reviews. The Mortuary Collection's overarching framework is substantially present throughout, with each segment tying into the riveting ending.
The film works by interweaving a mix of classic and lesser known urban legends to tell its story. But what truly allows the film to stand out is its vintage overtone that runs throughout, with the main story being acted out in a burgundy and mahogany toned mortuary that emulates a classic haunted vibe straight out of the manors held famous in classic horrors.
This weeks article comes via Grace from Film Overload, you can check out more of her work here.
Share this story