Unmissable horror films and television coming to 2022
Scream (Directed by Matt Bettinelli-Olpin and Tyler Gilett)
Release date: 14th January
Kicking off this exciting year for horror is Scream. If there was any film that ignited a wave of excitement amongst movie-goers last year then it was the news of Ready or Not (2019) directors Matt Bettinelli-Olpin and Tyler Gilett bringing back Ghostface once again. The upcoming fifth instalment in the beloved franchise, created by horror icons Wes Craven and Kevin Williamson brings the series back in a new light, with Sidney Prescott, Dewey Riley, and Gale Weathers all returning to Woodsboro once again. Just like its predecessors, the plot details of the new Scream have been kept quietly under wraps, but the poster does give us a sordid tease at who the new villain is thanks to the witty tagline- "The Killer is on this Poster"…
Don't Worry Darling (Directed by Olivia Wilde)
Release date: 23rd September
Olivia Wilde made quite the impression with her hilarious coming of age comedy Booksmart back in 2019, and now she is bound to 'wow viewers yet again with her upcoming psychological film detailing the tale of a bored housewife in 1950s America as she unveils a dark secret, whilst her husband harbours a disturbing truth of his own. Starring in Don't Worry Darling is Florence Pugh, Harry Styles, Chris Pine, Douglas Smith, and Gemma Chan. The teaser trailer has already got devoted Styles fans hysterical, especially when you take into consideration those rumours about the steamy scenes between him and Pugh (whose phenomenal performance in Midsommar [2019] will go down in history).
You Won't Be Alone (Directed by Goran Stolevski)
Release date: 22nd January
You Won't Be Alone sets the scene of a young witch who lives abandoned and feral in the woods. The isolated mountain setting ensures her secrecy, but curiosity strikes when she accidentally kills a peasant in a nearby village. The witch then shapeshifts into her victim's body to quench her thirst for a human experience. However, events turn sinister when she begins to take the form of other bodies, leading to a riveting path of human discovery. The Macedonian set film will premiere at the upcoming Sundance film festival later this month, with high hopes already blossoming amongst future viewers all in ode to the spectacular trailer released late last year. Across the film an experience is provided, with the powerful themes not being afraid to cross emotional boundaries as stunning visuals and intense performances unite to simultaneously conjure shock and allure.
Nope (Directed by Jordan Peele)
Release date: 22nd July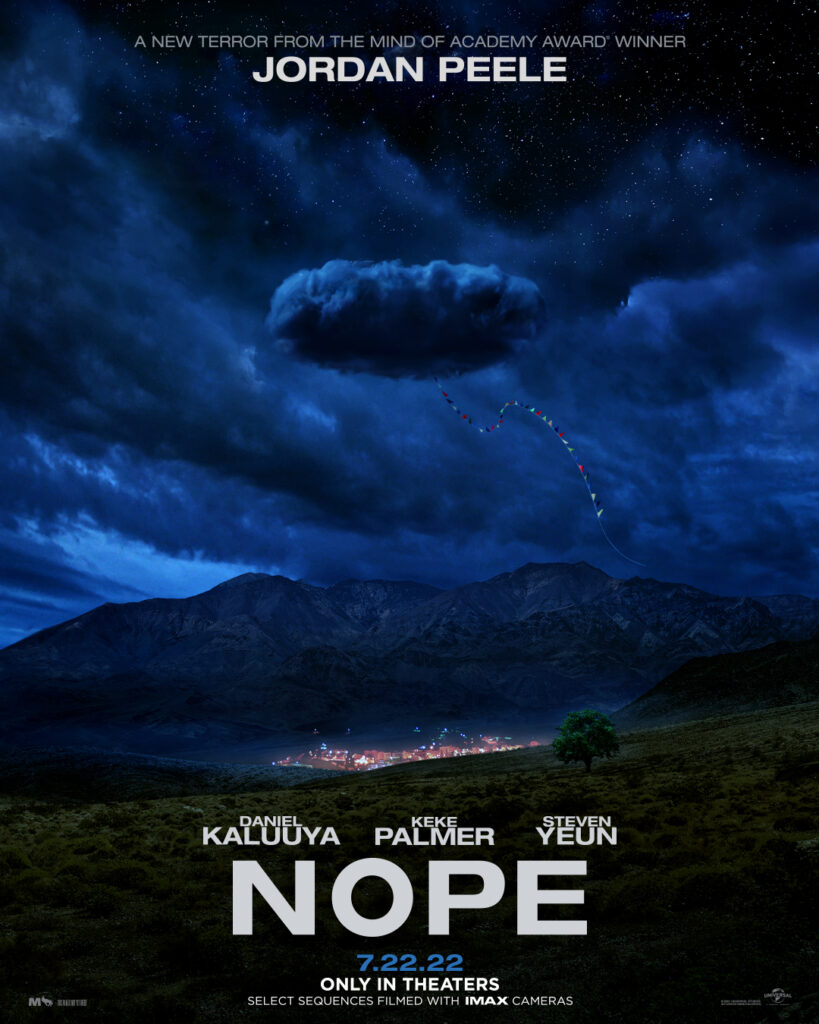 Jordan Peele's first film Get Out released in 2017 completely stole the limelight from the get go, it even did something that horror movies rarely get the opportunity to do, win an Academy Award. Soon after his debut, Peele released Us (2019), another first class film whose legacy will continue for years. It's safe to say that audiences have been holding out for his next project. Luckily enough, we won't have to wait long as Peele's latest venture, mysteriously titled 'Nope' is set to be released this summer! Not a single ounce of information has been released about what the film entails besides the cast and the gripping poster. Leading the compelling lineup is KeKe Palmer, Daniel Kaluuya, Michael Wincott, Steven Yeun, and Barbie Ferreira. Although we do not know much, the aforementioned poster does make your thoughts run wild as to what Peele has got up his sleeves; could the carnival-esque setting pictured be hinting at a circus based setting? or could it just be throwing us off the scent? Only time will tell…
Orphan: First Kill (Directed by William Brent Bell)
Release date: TBC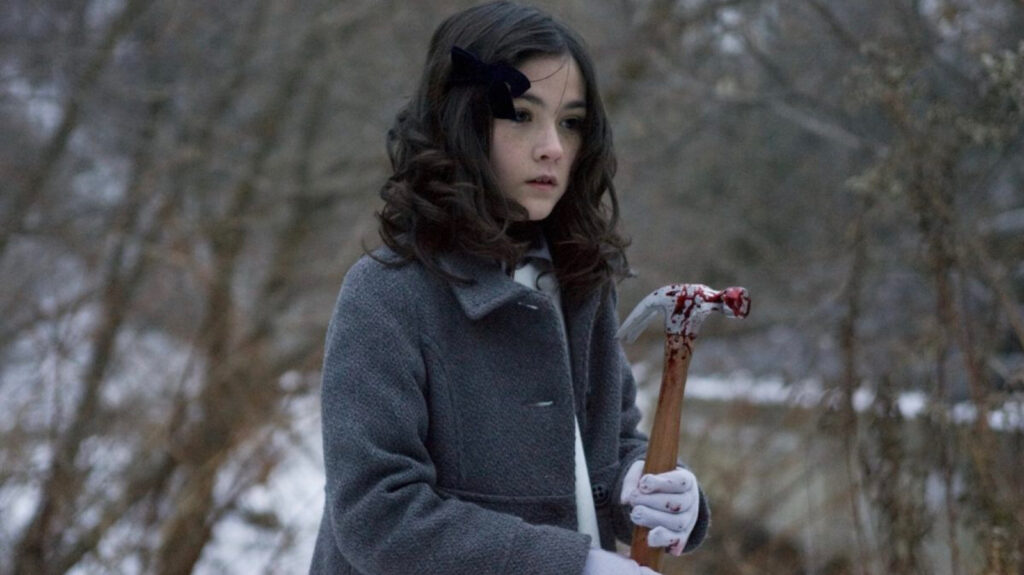 Isabelle Fuhrman gave one of the most haunting performances modern horror has witnessed in Jaume Collet-Serra's 2009 smash-hit, Orphan. Over a decade later director William Brent Bell brings the terrifying 'Esther' back to the screen as we follow her origin story. This upcoming horror is designed to be a prequel to the events in the first film and how Esther's maliciousness was molded. The plot is set to begin with her escaping from an Estonian asylum, and then taking on the identity of a family's missing daughter, but Esther's childlike impression is not fooling everybody. Orphan: First Kill utilised creative filmmaking, such as forced perspectives and body doubles to ensure that Fuhrman pulls off that same doe-eyed performance that she mastered all those years ago. Joining Fuhrman are Julia Stiles and Rossif Sutherland, who will play the unsuspecting family that Esther digs her claws into.
Bed Rest (Directed by Lori Evans Taylor)
Release date: 15th July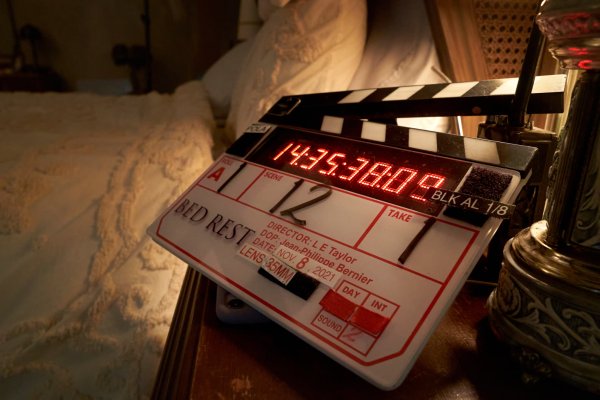 Bed Rest is certainly a standout indie horror due to come out this year. The script is an original story, the cast is more than promising, and the plot is beyond intriguing. Bed Rest comes from writer and director Lori Evans Taylor, who has written the latest upcoming instalment of the Final Destination franchise. Bed Rest will follow Julie Rivers (Melissa Barrera), an expecting mother who moves into a new home with her husband to get a fresh start. Soon after she is ordered to bed rest, causing her to become frustrated through the monotonous routines of her now day-to-day life. However, boredom will be the least of her troubles as she begins to experience ghostly events within her home, leaving her to question her own sanity and safety. Amongst a year crowded with reboots, remakes, and revivals, Bed Rest will certainly be a rejuvenating injection for the genre.
Hellraiser (Directed by David Bruckner)
Release date: TBC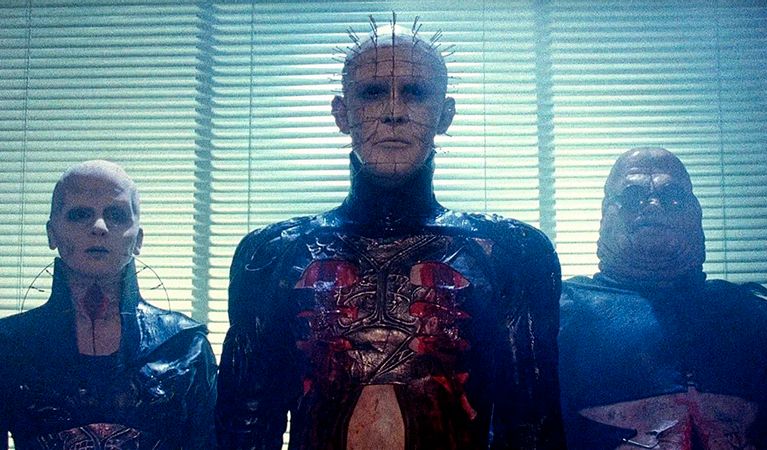 The Hellraiser franchise has long garnered massive amounts of praise ever since Clive Barker's intense visions was adapted for screen in 1987, encouraging an embrace for darker horror with taboo themes. Continuing the ever expanding Hellraiser universe is David Bruckner's reboot, which will closely adhere to the original source material from Barker, The Hellbound Heart (1986). The news of this installment has been floating around for years now, with constant back and forths and creative disagreements causing the project to fall through. However, with the likes of David Gordon Green's Halloween (2018) blossoming in popularity and generating an interest in horror classics, Hellraiser finally got the green light.
Horror reimaginings over the years have adapted and remolded their iconic villains, and now the infamous Pinhead, leader of the mighty Cenobites, will be played by the incredibly talented Jamie Clayton, the series first female Pinhead.
The Black Phone (Directed by Scott Derickson)
Release date: 24th June
Blumhouse Productions is set for another very successful year, particularly in ode to Scott Derrickson's The Black Phone amassing a lot of buzz. The film is an adaptation of the 2004 short story from Joe Hill, that will take the viewer on a journey back in time to the 1970s where a string of abductions are plaguing a small suburban town in Colorado. Mason Thames will star as Finney Shaw, a young boy who gets kidnapped by a spiteful serial killer, resulting in him being trapped inside a completely soundproof basement. It seems that all hope of discovery is gone, but Finney discovers a disconnected phone that has the ability to feedback voices of the killer's previous victims. Ethan Hawke makes his return back to horror through playing 'The Grabber', the sinister man responsible for the disappearances. As seen in the trailer, The Black Phone has something for everyone, whether it's a creepy mask, haunted basements, a dash of psychological horror, or a vicious fight for survival.
Bones & All (Directed by Luca Guadagnino)
Release date: TBC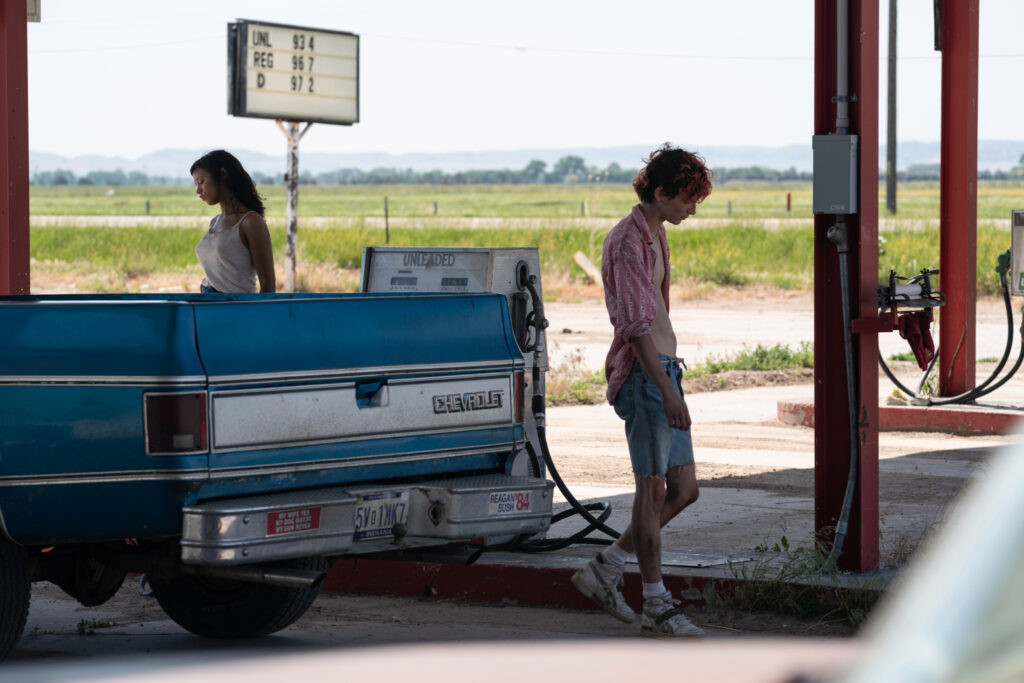 Bones & All is one of the most promising films to be released later this year across every single genre. The film stars Timothèe Chalamet and Taylor Russell, accompanied by Luca Guadagnino as director. Bones & All is based on Camille DeAngelis's novel of the same name. Throughout the book, copious themes surrounding loneliness and angst, all encased within a dramatic, romanticized frame are explored. Although these elements are already weighty subject matters, what Bones & All exposes above all is the relationship between cannibalism and self discovery, as we follow Maren (Russell) and Lee (Chalamet) whilst on a treacherous road trip across America where a craving for flesh lays bare more than they can handle.
With Guadagnino behind the camera, the film is sure to join previous masterpieces exploring such hypersensitive material, such as Ravenous (1999) Trouble Every Day (2001), and Raw (2016).
Halloween Ends (Directed by David Gordon Green)
Release date: 14th October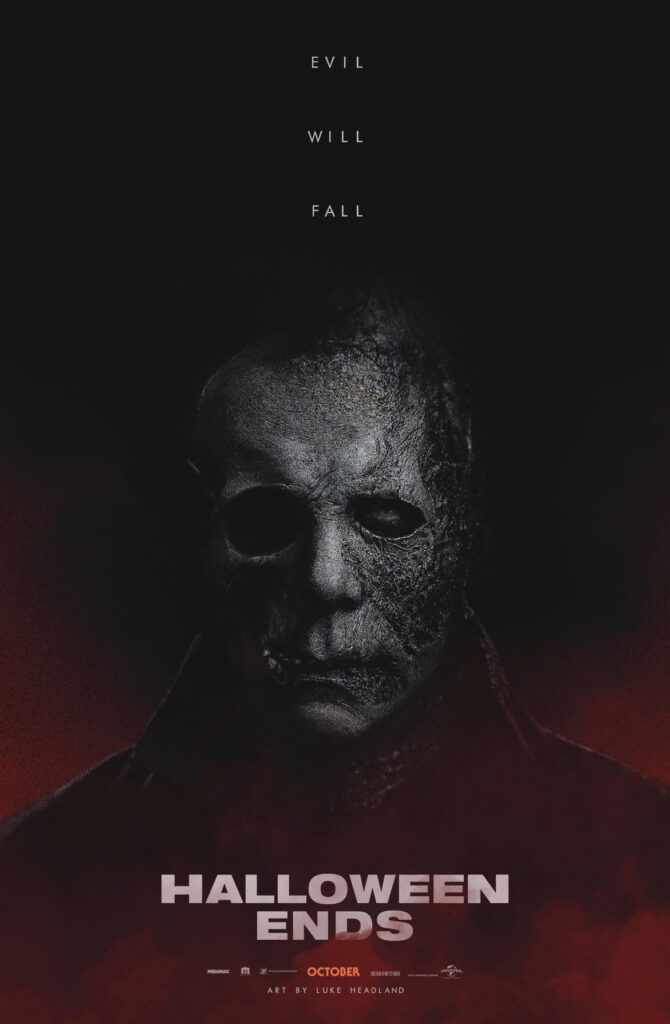 Halloween has not only sparked an interest for horror amongst younger audiences, but it has also generated a more than pleasant reception for die hard Michael Myers fans. The final instalment within this reboot trilogy is set to be released this October, meaning that it's not long until we get to see the conclusion of this riveting battle between Haddonfield residents and 'The Shape'. Direct plot details surrounding Halloween Ends have been kept extremely hushed, and considering how merciless Halloween Kills (2021) was, anything can happen next. What we do know is that in the film (unlike the previous two) the events will not take place on the same night, instead there will be a time leap of four years where issues surrounding the pandemic will be covered. Although this decision of focusing on incorporating a sense of grounded reality is beyond a risk, hopefully David Gordon Green will pull it off.
Something in the Dirt (Directed by Justin Benson and Aaron Moorhead)
Release date: TBC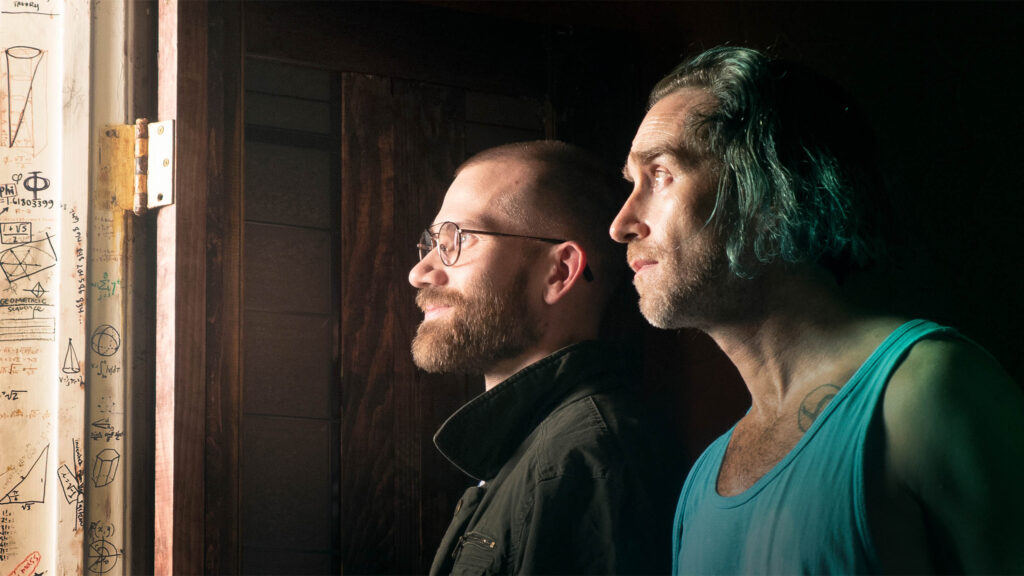 Justin Benson and Aaron Moorhead have collaborated many times before to create some truly amazing cinema, particularly Spring (2014) and The Endless (2017). Once again they are expected to deliver yet another visually impactful and emotionally rich film in their latest project Something in the Dirt. The ominously named film acquires the acting talents of Benson and Moorhead as they play the characters of neighbours John and Levi who witness supernatural occurrences in their apartment complex. Upon realising that their ghostly haunts could earn them some serious internet wealth and fame they begin to document the events, only to voyage down a much darker rabbit hole. The duo have proven in previous works that they have a natural talent for showcasing complex relationships with the self, all the while forgoing cliches and predictability.
Texas Chainsaw Massacre (Directed by David Blue Garcia)
Release date: 18th February
Back in the early 1970s Tobe Hooper was an assistant film director at university doing documentary work on the side, hoping for a shot at cinematic success. Little did anyone know that he would become one of the biggest horror icons in filmic history all thanks to The Texas Chainsaw Massacre (1974). The franchise has spawned a further eight films with the latter being released in February this year. This take revolves around Melody (Sarah Yarkin), her sister Lila (Elsie Fisher), and their friends Ruth (Nell Hudson) and Dante (Jacob Latimore), as they travel to rural Texas to set up a new business venture. But, the harmony doesn't last for long as they land in Sawyer's territory, encountering Leatherface himself. Their only chance of survival comes from the return of Sally Hardesty (Olwen Fouéré), who's been waiting for a chance at vengeance all along. David Blue Garcia serves as director, whilst Fede Álvarez and Rodo Sayagues wrote the original story. Texas Chainsaw Massacre will be a direct sequel to the original, discounting all of its predecessors. There have already been multiple attempts at resetting the series, yet not all tries have been well received, Texas Chainsaw 3D (2013) only holds a mere 19% rating on Rotten Tomatoes. Fingers crossed Garcia's talents will ensure that this anticipated sequel will be a triumph.
Fresh (Directed by Mimi Cave)
Release date: 20th January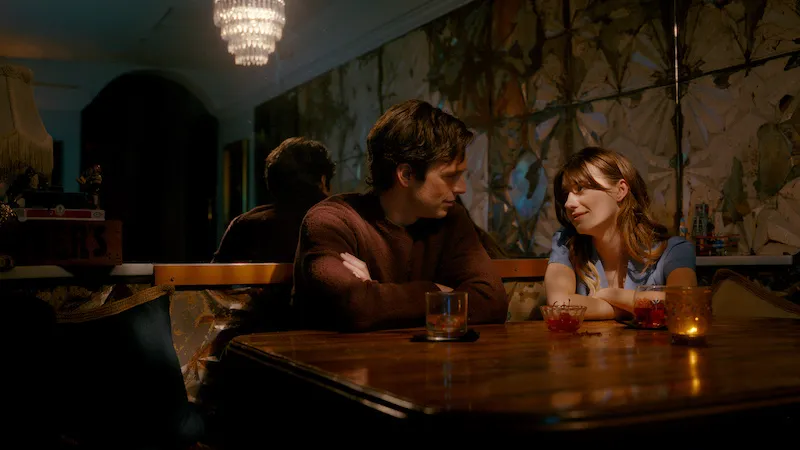 Mimi Cave's feature film debut titled Fresh delves into the tribulations that innately infest the dating scene for women in the modern age. Daisy Edgar-Jones will play Noa, a singleton tired of scrolling on dating apps. On a whim, she goes on a date with the shy charmer Steve (Sebastian Stan). From the first date, their chemistry is fiery, leading to Noa becoming smitten, seeing a potential partner to settle down with, but an impromptu weekend away with prince charming unveils his unusual "appetite''.The coverage surrounding Fresh has been sparse, but if that electrifying synopsis is anything to go by, then we're definitely in for a treat.
All of Us Are Dead (Directed by Lee Jae-kyoo and Kim Nam-su)
Release date: 28th January
All of Us Are Dead surrounds itself with one of the most famed movie monsters of all time- ZOMBIES! The undead (as gruesome as they are) always makes for great entertainment material, with old-time classics such as Night of the Living Dead (1968) to modern staples including Shaun of the Dead (2004) being considered as two of the best horror movies out there. To add to the ever expanding sub-genre is the highly anticipated South Korean TV series, All Of Us Are Dead which will follow a group of students trapped in their high school whilst a savage zombie apocalypse roars throughout society. The series is based upon the popular Naver webtoon titled Now at Our School created by Joo Dong-geun.
Archive 81 (Directed by Rebecca Thomas)
Release date: 14th January
Colliding a daring blend of truth and fiction is Archive 81, a convoluted series combining found footage, cult activity, cold cases, and demonic activity, The series is co-produced by the one and only James Wan, the force behind the Insidious franchise, the Conjuring Universe, and most recently the opinion dividing Malignant (2021). Archive 81 will take us on a menacing journey with Dan Turner (Mamoudou Athie), an archivist who is employed to restore a horde of damaged videotapes dating back to 1994. On the tapes is the work from documentarian Melody Pendras (Dina Shihabi), who went missing under suspicious circumstances 25 years ago after investigating a shady cult. Archive 81 is a semi-original piece, with the inspiration coming from a real-life, found footage podcast of the same name that explores the fictionalised mystery of cults and rituals.
This weeks article comes via Grace from Film Overload, you can check out more of her work here.
Share this story