The Ultimate Guide to Dead Northern Horror Film Festival 2023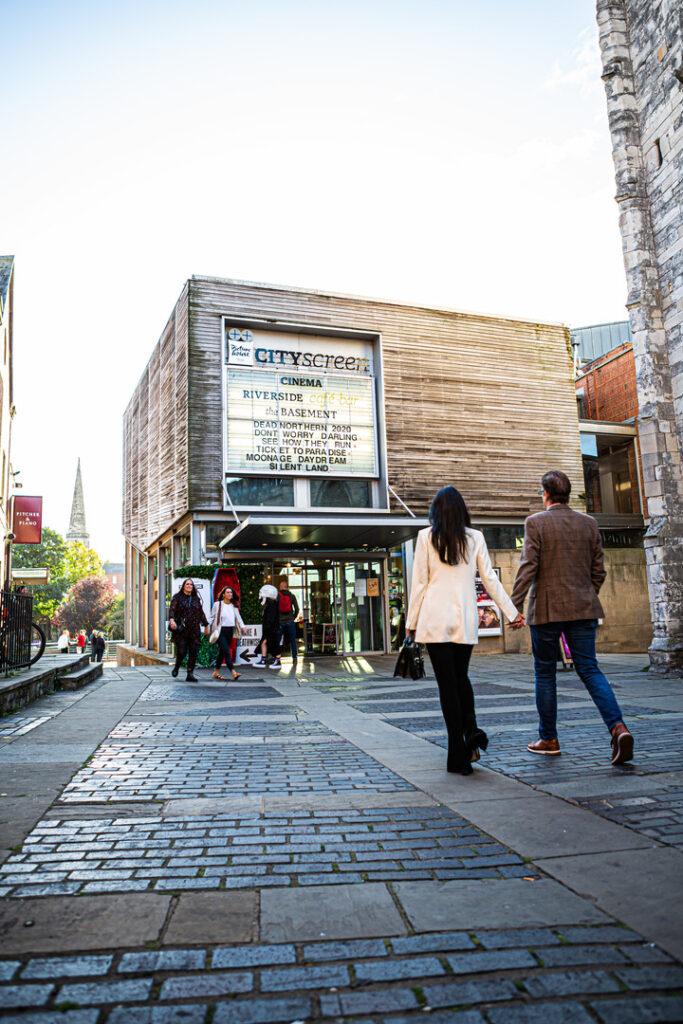 Here's your guide to every screening, event and dark delight at this years Dead Northern Horror and Fantasy Film Festival 2023!
Friday – 29th September
As you join the queue in to the city screen with your fellow horror lovers, check in at our front desk with Josh, Gareth and Dave and grab your festival pass.
Head through to the main lobby and pick up any provisions you need with Cath and the team at City Screen Picture house, and head up to Screen one for your first day of spooky screenings…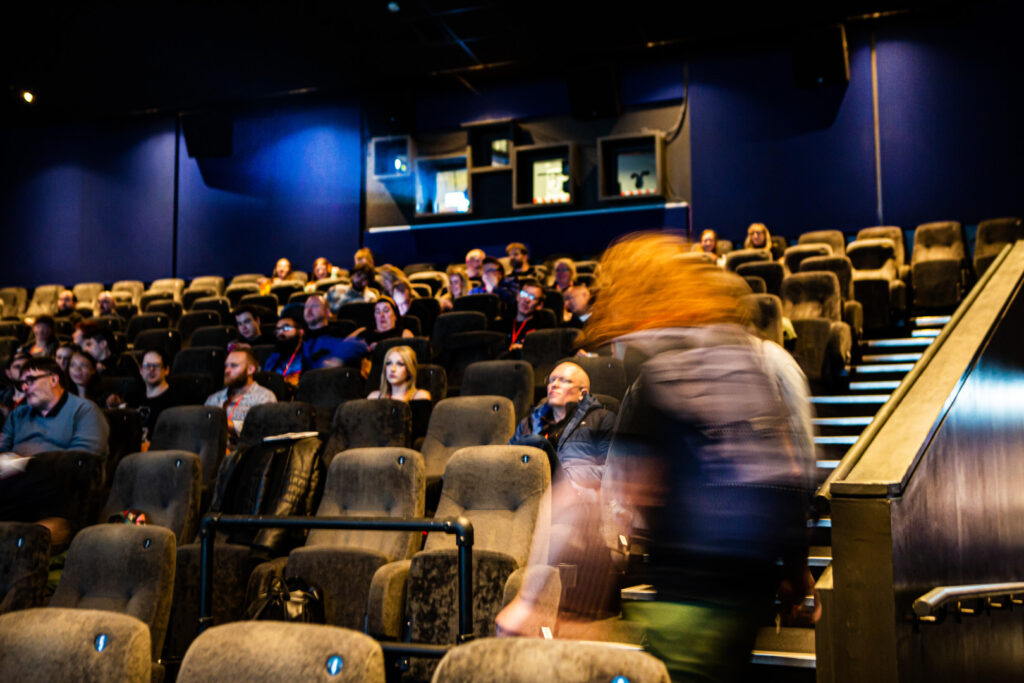 11:00am – Student Short Films
A King in Yellow -A brother attempts to bring his sister's sense of hearing back by performing an occult ritual involving vinyl records.
…And Again, And Again – Opening right amidst the action, a knife wielding maniac pursues his terrified victim home. Bloodshed ensues, but things are far from what they appear to be…
Serpentine Petrol Product reel No.7 "Skin Cream" – A snake oil salesman with the latest in beauty products: A skin cream that melts away your skin.
Swine – Witness the death of society as two powerful men, driven entirely by their greed, gorge themselves on pork and wine before revealing their true nature.
Ariane's Baby – Ariane is a single and lonely woman who craves love after a history of abusive relationships. The birth of her child represents a chance to start everything anew and form her own happy family, but she worries about not being up to the task.
Morto Rossa – A dance school organizes a mysterious casting to select a dancer for a future show. Suzie, after passing the audition, will be chosen as the lucky one.
The Machine – Alexis is a college student in her early 20s. One night while gathering with her friends she takes interest in the pinball machine in the arcade room…
Lucid – Lucid follows a protagonist, Wes, who becomes obsessed with the concept of lucid dreaming and spirals into a chase for power in his sleep.
Yokai In My House – Miyako a girl in her 20's inherits a house in Japan. Unbeknown to her it is haunted by the Mokumokuren. Will she survive the night or will she succumb to the same fate as her predecessor?
12:30pm – ISAAC (Feature film) -Sci-fi Horror – Northern Premier with Q&A
In the near future a company specialising in cellular meat trial its synthetic technology in a bid to create the perfect child. Nicholas and Sarah are guinea pigs to this trial and are provided with a seemingly healthy son, after losing their own child to a genetic disease. As their new son, Isaac, develops he becomes increasingly violent and dangerous, leaving the parents with no choice but to lock him away and keep him hidden while they try to uncover the truth as to what is driving him insane.
2:30pm – The Good Times (Mini Feature) – Post Apocalyptic Horror
Fantastic short feature film, made by brilliant local talent and filmed in and around York!
A young man lives alone in a dystopian future, trying to survive a post-apocalyptic world and his own conscience.
3:15pm – Free Spirits (Mini feature) – Horror Comedy
One bashful vicar… One haunted nudist camp… Prepare to get the willies. In this paranormal comedy from the makers of 2018 festival-hit Paul Is Dead, BAFTA-nominee Spencer Jones leads a star cast (alongside veteran actors from 'Hot Fuzz', 'Game Of Thrones' & 'Spaced') as Rev Howard Lee Jr, a bashful local vicar who is called upon to save a haunted nudist camp from the prudish poltergeist covering their privates.
4:00pm – Folk Horror and Mystery Short Films
Kicking off our Folk Horror themed afternoon is a mixture of eerie short films…
Kiddo – On a rickety bus trundling through wilting countryside, a mysterious older woman named 'Kiddo' and a cohort of overexcited teenagers meander towards Wonderland, a theme park like no other. Sinister secrets await as Kiddo and her compatriots face off with their hosts and draw closer to discovering the truth of their journey.
Creulon – High in the mountains above the sleepy town of Creulon, a charismatic Radio DJ and a malicious Serial Killer share a sinister connection.
No Such thing – An obsessed alcoholic and his reluctant grandson search the Mourne Mountains for the fabled Banshee. Synopsis: Decades after his Father's death, Paddy's search for the mythical 'Banshee' is unwavering. Conor loved his grandfather's stories when he was a child, but now an adult, he's tired of the camping trips and the unhealthy obsessions. As the two set off into the mountains, their real struggle isn't a ghost story, but their own decayed relationship.
The Wyrm of Bwlch Pen Barras – Early one winter morning in the rural town of Rhuthun in North Wales, three men are called upon once again to carry out a terrible assignment on the Bwlch Pen Barras mountain pass. Shot on 16mm by cinematographer Sean Price Williams (Good Time, Her Smell) and featuring a score by Cian Ciaran and Dafydd Ieuan from The Super Furry Animals, The Wyrm of Bwlch Pen Barras is a Welsh language folk horror film about modern Wales, rooted in the country's rich mythology.
The Lure – Late at night, a lone fisherman discovers he is not the only one hoping to hook something.
Find You Here – Find You Here is a gnarly piece of folkloric horror about what happens when a toxic couple find themselves at an abandoned scare event built on evil land. Will they survive the night?
My Dreams Have Been Dark of Late – A knight finds himself at the mercy of his armour.
BREAK
A chance to come out of the darkness and find nourishment before the second half of day one…
6:00pm – Folk Horror Panel (Hosted by London Horror Society)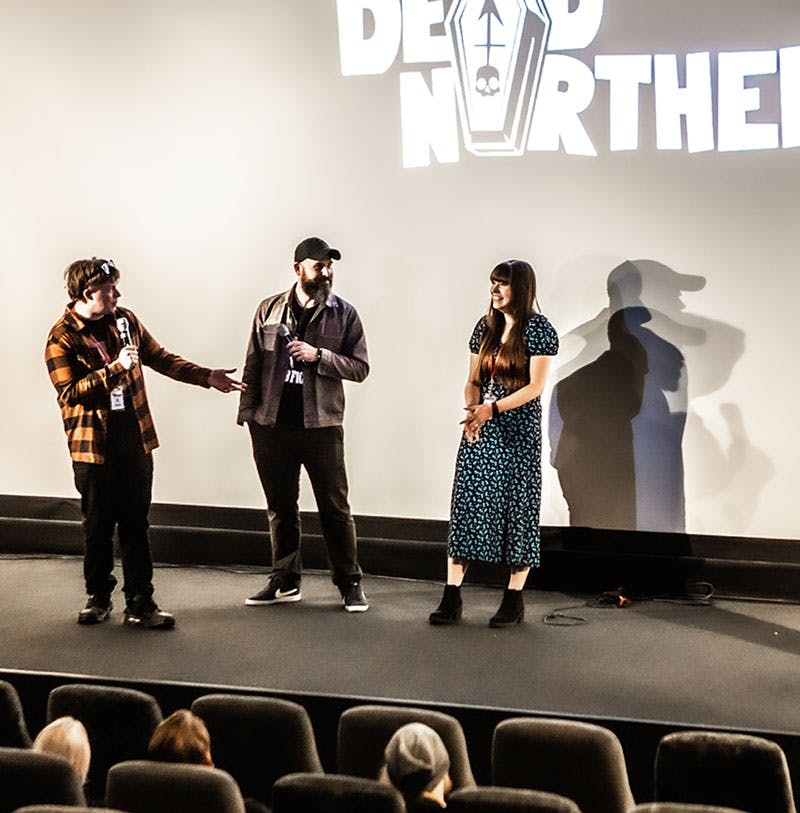 Chris and the team from LHS will be joining us all weekend and bringing some special guests from across the film industry for a good old chat about Friday afternoons theme ' FOLK HORROR'.
7:00pm – Sins of the Father (Feature Film) – UK Premiere – Folk Horror
After the death of his father, Aden and his mother, Sarah, find themselves responsible for the sale of his family home – a place they thought they'd left behind. When Sarah's friends arrive to help, the task seems almost manageable. However, as they clear out the house, they uncover secrets in Sarah's past and the sinister nature of the cultivated community Aden was raised in…. And his father's family is not so eager to let the sins of the past go unpunished.
9:00pm – The Wicker Man (50th Anniversary Screening)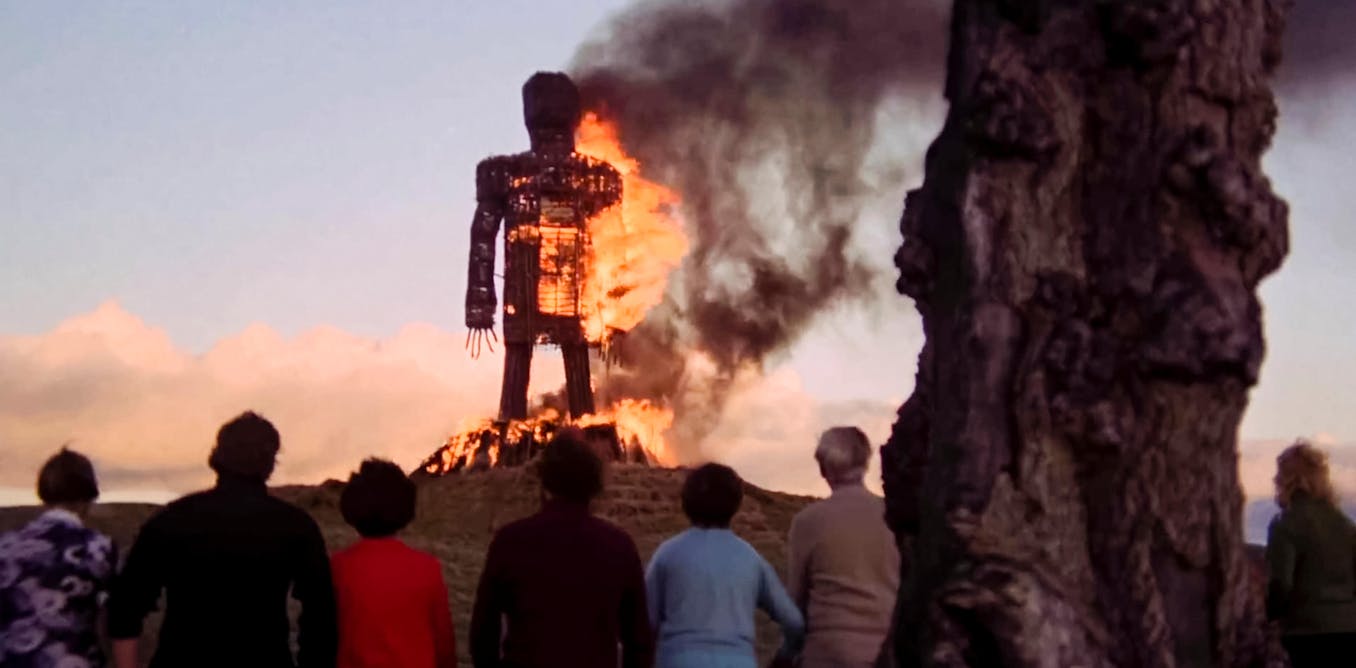 One of the original trilogy of British Folk Horror films that established the sub genre, join us in a celebration of the iconic film on a very special anniversary.
The plot centres on the visit of a police officer, Sergeant Neil Howie, to the isolated Scottish island of Summerisle in search of a missing girl. Howie, a devout Christian, is appalled to find that the inhabitants of the island have abandoned Christianity and now practise a form of Celtic paganism. The Wicker Man is well-regarded by critics. Film magazine Cinefantastique described it as "The Citizen Kane of horror movies", and in 2004, Total Film magazine named The Wicker Man the sixth-greatest British film of all time. It also won the 1978 Saturn Award for Best Horror Film. The final scene was number 45 on Bravo's 100 Scariest Movie Moments, and during the 2012 Summer Olympics opening ceremony, it was included as part of a sequence that celebrated British cinema. The film brought the wicker man into modern popular culture.
10.00pm – Till Late – Welcome Social with London Horror Society (Pitcher and Piano)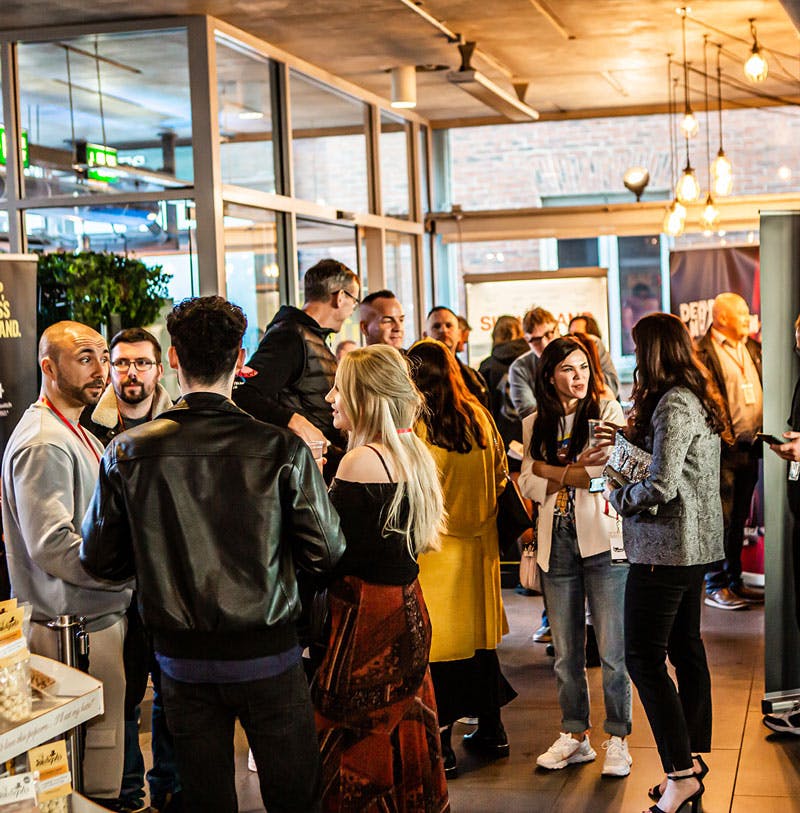 For those ready to party and meet some like minded horror folk, head just 30 seconds across the road to Pitcher and Piano where we welcome horror fans to the 2023 festival!
Whether you're a seasoned horror aficionado or a curious newbie, at our indie horror mixer you'll have the perfect opportunity to connect with friendly and talented people, and share your passion for all things spooky!
The mixer will run from 10:00pm till late, giving you plenty of time to grab a drink, mingle and make new friends in the horror community.

See you there!
Hosted with our friends from London Horror Society!
Saturday – 30th September
Freshly bleary eyed from day 1, we'll be welcoming you back to the City Screen (Bloody Mary in Hand) for day 2 of the fest!
11:00am – Satanic & Spooky Short Films
Opening Saturdays is a fantastic group of short films celebrating everything ghostly and demonic!
La Nueva – Maria is the new teacher who arrives at an old religious school. On her first day, she will have to teach a group of rebellious kids who are part of a punishment class. An unexpected event will turn the classroom into a real hell.
Death Date – Boy Meets Girl on the Day of His Death
Fuse – An electrician finds himself stalked by a ghostly presence as he attends a night call at an elderly woman's house.
Sylvie Made it – In hell, the dead work in call centers under the illusion of earning a place in heaven by satisfying the living. This is not worth the money for some, except when their loved ones suddenly disappear for heaven…
The Unquiet Dead – A therapist treats an unstable young woman who claims to be harassed by an assortment of malevolent spirits – who are demanding something from her.
Ghost Insurance – Stressed about the supernatural? Paul is selling ghost insurance policies, but one family isn't convinced.
12:30pm – Haunted Ulster Live (Feature film) – Norther Premiere with Q&A – Paranormal Mockumentary
On Halloween night 1998, TV veteran Gerry Burns, teams up with popular children's presenter Michelle Kelly to investigate poltergeist activity in a haunted house in Belfast. A seance causes the broadcast to descend into chaos. When the youngest child is mysteriously abducted by an unseen force, the two presenters must face their greatest fears on live TV.
2:30pm – Creature & Body Horror Shorts
The Heritage – After growing up adopted, a man makes a gargantuan discovery when meeting his biological father.
Dead Skin – Disgruntled teenager Jess has an itch she just can't scratch and she's willing to do whatever it takes to be rid of it.
Wormies – In 1980s suburbia, a distant family is forced to come together when the Summer's hottest new toy, a cute aquatic pet, mutates into a repulsive monster.
Dinghy – After barely making it ashore onto the English coastline, a refugee and the man who smuggled him seek safety after a treacherous channel crossing, both pursued by and summoned to a place of darkness.
Growing Horns – On the verge of adulthood, Alva is studying meat cutting at a butchering school. Alva is severely bullied and her fellow students turn her daily life into torment. To control at least one aspect of her life, Alva has stopped eating. As the bullying escalates and her hunger grows, Alva begins to lose control of herself and sees red.
Forever – Shani and Amar are two half-dead girls, being sex-trafficked with a high price tag. When the thugs transporting them head to get food, the pair are hungry too and escape. They dodge the men in the shadows, but with hunger and dawn rising something has to give.
4:00pm – Video Shop Tales of Terror (Feature film)- Northern Premiere – Anthology Horror
A sinister video shop holds the key to a collection of terrifying VHS related tales, told by a collective of the best UK indie horror filmmakers including MJ Dixon (Pandamonium), Michael Fausti (Exit), Andrew Elias (The Numbers), Tom Lee Rutter (Day of the Stranger), Sam Mason Bell (The Millenial Killer) & Alexander Churchyard (The Allotment). With fake trailers from Tony Mardon & Geoff Harmer.
Horror legends Dani Thompson (My Bloody Banjo), Laurence R. Harvey (The Human Centipede II) join the cast, along with Martin W Payne (Monstrous Disunion), Hannah Paterson (Horrorscopes: Vol 1), Ayvianna Snow (Vampire Virus), Annabella Rich (Hacker), Chris Mills (Terror at Black Tree Forest), Cy Henty (Cleaver: Rise of the Killer Clown), Eve Oliver (Mask of Thorn), Charlie Bond (Powertool Cheerleaders vs The Boyband of the Screeching Dead), James Hamer-Morton (Dead Air) & Glyn Angell (Tales From the Great War).
BREAK
Saturday is all about pacing yourself so have a wonder around our Bizarre Bazaar marketplace in the City Screen basement and refresh your eyes for some unmissable evening events!
7.30pm- Spirits with Spirits (Live event) Sponsored by Sinners Gin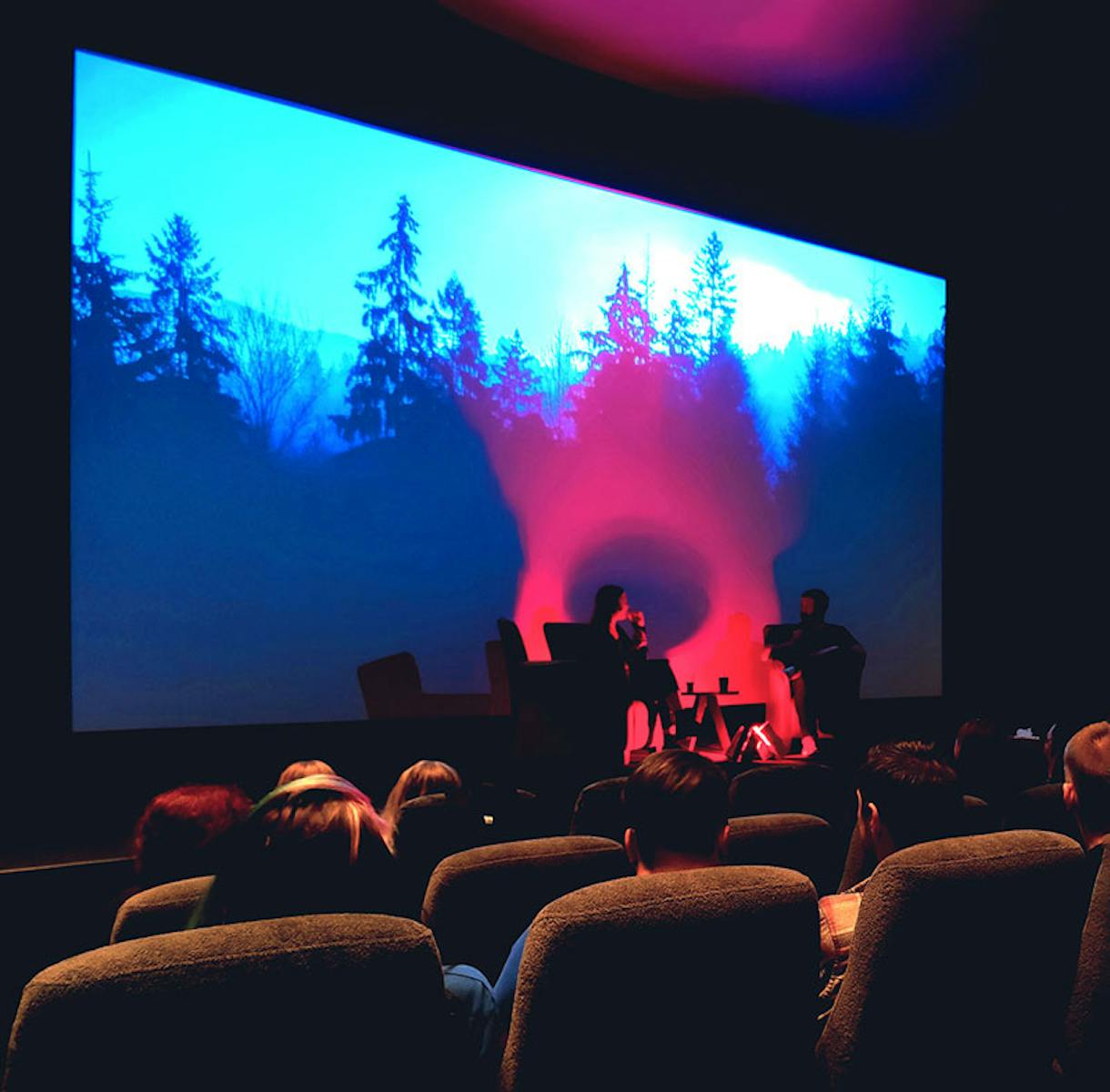 Back by popular demand Dead Northern's resident ghost whisperer Paul Forster will be sharing some of York's dark secrets and spooky stories and invite the audience to tell some of their own.
Partnered with a campfire cocktail courtesy of our sponsor Sinners Gin, who will have mixologists creating you delicious drinks throughout the spooky event.
9:00pm – How to Kill Monsters – Northern Premiere with Q&A (Feature film)
Our first ever fully sold out feature at the festival, and a brilliant gore fest to round of the second day of screenings!
The sole survivor of a blood-drenched massacre must team up with a rag-tag bunch of rookie cops and lawbreakers to fight off an invasion of monsters from another dimension. With a menagerie of monsters realised entirely with practical effects and buckets of fake blood and guts thrown in for good measure, HOW TO KILL MONSTERS will scratch the itch of horror fans craving a throwback popcorn horror movie that delivers thrills, kills and laughs in equal measure.
11:00pm – Awards party
Fresh out of the sold out screening and Q&A, VIPs and filmmakers will head down into the main lobby to celebrate all the amazing creators at this years festival for one hell of a party!
Awards, live music and lots of new horror pals made, you'll stumble home after (just about) surviving day two of Dead Northern 2023.
Sunday – 1st October
For festival goers looking to recover from Saturday night or just fuel up, there will be some amazing brunch available to keep you going for the final day!
11:00am – Thriller Short Films
Suspense filled thrillers kick of our final day, and are sure to keep you on the edge of your seat!
Caterpillar – Luke's world is rocked when a stranger shows up claiming to be his partner. Luke descents into madness as he struggles to get the bottom of who the imposter is while also experiencing his own terrifying metamorphosis.
Shut – When Jonas visits his father after a long time, he's shocked to find him in a confused state. Has his father's mental state badly deteriorated or is something more sinister going on?
Morgue – Working the late shift at an old city morgue, the night porter passes the time playing pranks on the corpses. His usual party tricks come to an horrific end when after a delivery of eight new bodies earlier in the day, they vanish in the middle of a power cut…
Illusion – A delicious dinner, a stage, a magic show – what can go wrong? When Lisa accompanies the nice magician home after the show, she has to learn that some tricks are better not to be questioned.
The Family Man – Roger is the perfect Family man, but he keeps secrets , secrets that must be buried deep.
12:45pm – Dead Talks (Live Event)
Way back when we first started Dead Northern in 2020 we wanted to bring our own live horror podcast to the event, finally 4 years later we pilot 'Dead Talks'.
Talks from industry professionals on spooky subjects, all will be revealed when you take your seat…
1:30pm – Dead on the Vine (Feature film) – Northern premiere with Q&A – Thriller
As two men leave a small rural town one of them has a seizure forcing the other to pull into the nearest place – A vineyard. The women owners are deep into prep for a make or break wine tasting but the men are welcomed in. But after recovering from his seizure one man throws a violent spanner into the works, leaving his friend and the women with choices that may destroy not only their business but themselves.
3:30pm – It be an Evil Moon (Feature film) – UK Premiere with Q&A – Werewolf horror
Brilliantly endearing feature from first time director Ben Etchells.
Set in the highlands of Scotland and Northern England, a disgraced scientist develops a hair growth formula derived from pickled wolfsbane which turns him into a bloodthirsty werewolf.
5:30pm – Music Videos
Crooks Heart of Vengance – The story of a scientist inventing the key to eternal life. A couple of thugs steal his invention and leave him and his daughter for dead. In order to come back to life he sells his soul to the devil. Armed only with a heart of vengeance, and an Axe, he hunts down the crooks one by one. . . . They picked the wrong man to kill!!
Hoodie On – The fantasies of a serial killer. A car driver going fast on the highway. A murder has been committed.
Old Flames – A haunting portrayal of a recovering addict learning to live with her demons.
Subvisions – Flesh – Joshua is walking his dog into a dark tunnel and is attacked by a gang of carnivorous old people. They want his flesh.
The Windstorm
Candlestick Maker – Alien Chicks
BREAK
Almost reaching the end of Dead Northern 2023 and your final chance to enjoy the fantastic venue and city we call home for the weekend. Grab yourself some scran and then settle in for a brilliant final double feature!
7:00pm – Perfectly Good Moment (Feature film) – UK Premiere – Sci-fi Thriller
This psychosexual thriller asks the question: what happens when the things that make your relationship passionate and exciting are the same things that make it toxic? Ruby and David have been together on-and-off for 8 years, since she was 19 and he 34. Six months after Ruby last ran out on him, she has returned. Once the initial bliss of the reunion wears off, old toxic patterns re-emerge. Is David too demanding and controlling or is Ruby just too sensitive? Is Ruby as delicate and demure as she appears to be…or is there something more sinister behind the surface? Why did Ruby really come back? Perfectly Good Moment is Lauren Greenhall's narrative directorial debut. It features Broadway star Stephen Carlile in his cinematic debut and Amanda Jane Stern (1 Angry Black Man, Lifetime's Amish Witches). It marks Stern's first feature screenwriting credit, and boasts an original score by Mdou Moctar's Mikey Coltun.
8:30pm – Puzzle Box (Feature film) – UK Premiere – Found Footage Horror
Puzzle Box follows the story of a struggling drug addict, Kait (Boyé), and her younger sister, Olivia (Denne). Running from a violent incident in her past and not wanting to go back to rehab, Kait flees to a remote house in the woods to self-rehabilitate, where Olivia joins her to document the process. But they quickly find that the house isn't what it seems and the internal layout is constantly changing, trapping them inside an inescapable puzzle box of a house. As they attempt to solve the mystery and find a way out, they discover there are far worse things in this house to be afraid of.
We hope you brought a spare pair of trousers… DN Alumni Jack Dignan returns with a punchy found footage horror leaving you terrified just before we send you back home on Sunday night!
Check out the full festival programme and get your tickets here!!
Share this story