Review- Firestarter (2022)
Stephen King needs no introduction. The man himself parades his legendary status in horror with pride, authorising nearly one hundred of his stories to be made into on-screen adaptations, many of which excel, including horror classics such as Carrie (1976), The Shining (1980), and Pet Semetary (1989). One of his lesser known adaptations when compared to others is Firestarter (1984) directed by Mark L. Lester and starring a young Drew Barrymore. The film achieved a decent amount of success, but it has become somewhat forgotten over the last 38 years. Therefore, when it was announced that this fiery flick was receiving the remake treatment from Blumhouse Productions, King fans were praying for a breath of fresh air to be breathed into the Firestarter legacy.
With higher budgets, graphic special effects, and a decent cast the remake was deemed a recipe for success, however, Keith Thomas's retelling is unfortunately lacklustre, cold, and completely devoid of passion.
The film opens with a promising beginning, setting up a cushty environment for horror and chaos to thrive as we see the fire-raiser herself Charlie McGee (Ryan Kiera Armstrong) spontaneously igniting the room around her into flames thanks to her nifty gift of pyrokinesis– the ability to conjure a fire simply using the mind. Although the introduction radiated a sense of originality and the promise for exhilarating territory to be explored, the film slowly travels downwards from this point on.
As the film progresses, the audience learn that Charlie's powers derive from a clinical experiment that her mother Vicky (Sydney Lemmon) and her father Andy (Zac Efron) participated in. The focus of Firestarter surrounds the battle between the same secret government agency (known as the DSI) chasing after Charlie to kill her before her abilities get too strong for their own good. Coupled with the endless fleeing from this clinical clan, the film at heart follows Charlie and Andy's struggle with grief and the internalised acceptance of being capable of pure destruction. 
However, the seemingly limitless amounts of assasination attempts, daily tragedies, and the struggle of maintaining family values after loss is simply way too much to unravel in a 94 minute timeframe. Andy and Charlie's X-Men-like capabilities is unique enough on its own without all of the jargon. And desperately, Firestarter seems to abandon fleshing out the true horror of Charlie's powers in favour of pointless scenes filled with over simplified exposition and unimaginative effects that lack any essence of believability of life.
Whilst the constant thrills and chases may slightly get the adrenaline pumping, the excitement is truly kept at a minimum, entirely avoidant of maintaining an ounce of tension thanks to the paint by numbers antics. The potential for success was there, with Thomas being responsible for one of 2019's most unique and exhilarating horrors The Vigil, but Firestarter's aesthetic seemed to have taken precedence over the actual substance.
These hyper stylized visuals are at least appealing to the eye on account of the vivid fire steeped frames and the grand settings that go from the average suburban home to the experimental compound where the McGee's powers originated. Despite the eye-candy, it's not far fetched to view Firestarter as a cleverly timed profiter whose release coincides with the plethora of recently released darker Marvel films that tackle alternative superhero tactics such as Doctor Strange in the Multiverse of Madness (2022) and Morbius (2022). Additionally, the entire premise of Andy nursing Charlie's uncontrollable powers whilst re-patching a father-daughter bond rather aptly mimics the relationship between Hopper (David Harbour) and Eleven (Milly Bobby Brown) in Stranger Things (2016-), which is 'coincidentally' released later this month.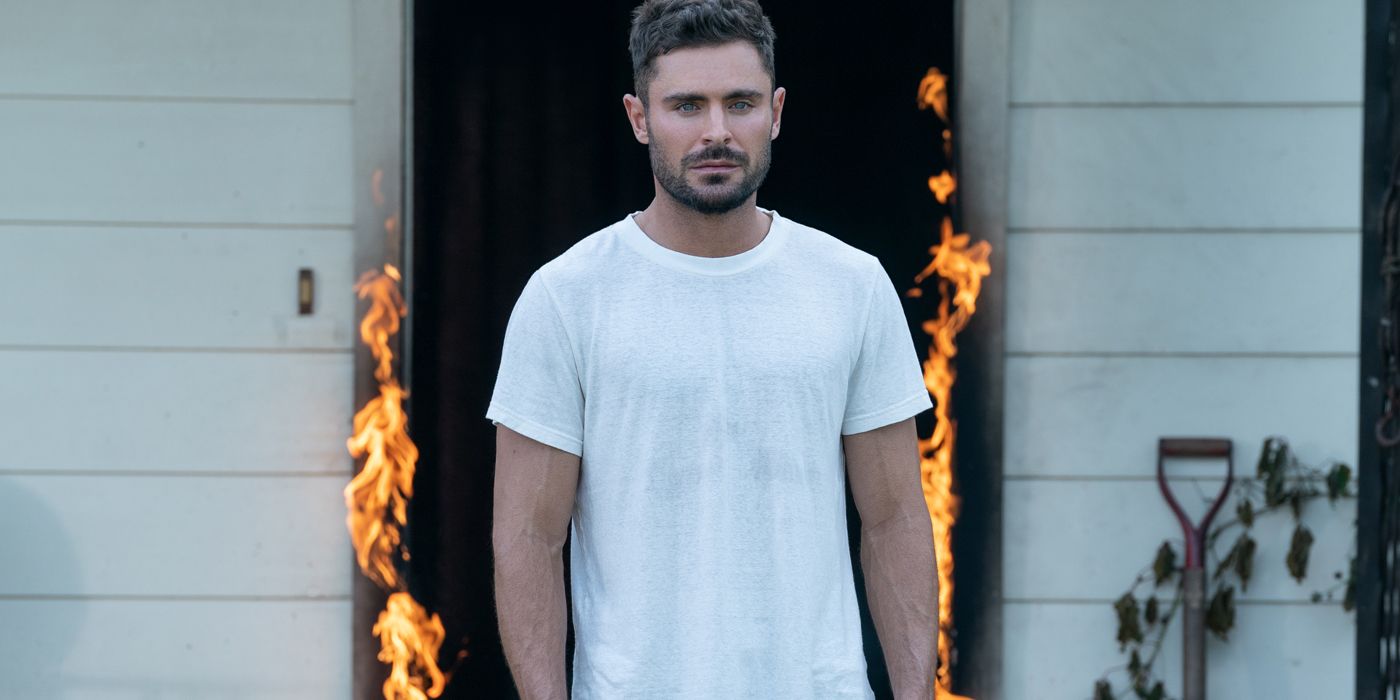 The neverending criticism Firestarter seems to be receiving reflects the poor box office figures as it has only grossed $6.5 million so far (coming in at half of the film's budget). However, amongst all of the negativity a light at the end of the tunnel is still found. Efron has been in the limelight for a fair amount of time now, with his acting abilities continuously going from strength to strength, from raunchy comedies such as Mike and Dave Need Wedding Dates (2016) to portraying the devil himself Ted Bundy in Extremely Wicked, Shockingly Evil and Vile (2019), Efron does seem to pick them well. And Firestarter is no exception as his talents truly save the film.
The script may not withhold the most riveting experience to date, but Efron's portrayal of a father fighting to save his daughter with an unimaginable amount of pressure is what amps up the stakes and allows for a level of depth to be explored in an otherwise shallow experience. To add to this is the attempt at switching the Firestarter origin story up. The 1984 adaption tells its tale through flashbacks, very much controlling the audience as we are only spoon-fed one bit of backstory at a time. However, the remake dives right into the background, allowing for a full, open understanding to be achieved right away. 
Overall, Firestarter is certainly not the most opinion dividing horror in recent years, I think James Wan's Malignant (2021) takes the crown for that! Nor is Thomas's efforts entirely in vain, it may not be exciting or bountiful, but at least a chuckle or two is ensured. The true burden that Firestarter holds relies upon its own misfortune. As aforementioned, Thomas's The Vigil was an astonishingly amazing piece of work that managed to properly explore a contextualised terrain surrounding religion and loss of faith through grief, whilst additionally keeping the fright factor burning throughout. In this case, it seems that something must have slipped. 
Looking for more top horror lists and reviews? Check out our blog here..
Share this story