Review – Danni and the Vampire
Grace from Film Overload takes a look at our Saturday international feature screening of  Danni and the Vampire, available to watch at this years festival on 31 October 2020 at 13.30pm.
'Endearing indie vampire flick breathes new life in to saturated genre'
Danni and the Vampire tackles the saturated vampire genre, with a fresh perspective on horror comedy. To mix habitually alternate genres is a brave decision. However, it's one that writer and director, Max Werkmeister handles with a clear sense of direction. In a film drenched with a neon glow and warm characters comes a unique tale of acceptance told through a morbidly charming lens.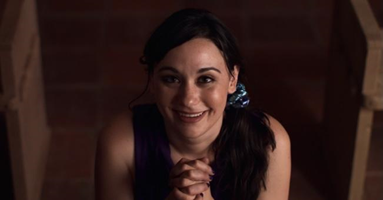 We follow Danni (Alexandra Landau), a seemingly heroic creature-catcher who can't escape her legacy as the famous Jersey Devil slayer. However, behind her bold persona lies a much deeper want for confirmation and steadiness. Her true unravelling identity is discovered when her past catches up with her when she meets two cryptic organisations hunting down the bloodthirsty vampire Remy (Henry Kiely).
From the offset a satirically macabre sense of humour is established, with purposefully exaggerated characters that quickly leave the audiences hooked from the very beginning. The comedy is not overtly theatrical, but instead well timed and appropriately dark. With this being said, Werkmeister steadily transitions the narrative to not solely focus on the horror comedy aspect, with a gradual thematic shift that focuses on the blossoming dynamics between Danni and Remy.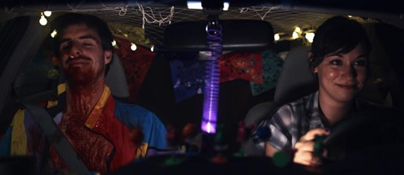 Vampire films pair perfectly with human relationships, however after years of tiresome 'immortal versus mortal' bonding stories, the whole aspect of vampiric enamour has worn dry. Yet, the bond between Danni and 'the vampire' runs deeper than the bloodlust tales of the past, with their dynamics remaining unexploited and somewhat wholesome. Dripped in a neon light, we see this unlikely relationship grow into something that we actually care about, our compassion lies within their understanding of each other's inner intentions, not just their tough exteriors. Danni and Remy's obvious chemistry is significantly transparent throughout.
With the performances from Kiely and Landau coming across so fluidly; we truly connect and root for them, rather than simply watch their actions unfold. Combined alongside their like-ability is their endearing self-discovering journey, that is portrayed as authentic, rather than overtly cliche. In fact this avoidance of familiarity and typicality is something that runs across the entire film, with the audience constantly left unaware of what's around each corner.
All these boundless subplots could be easily distracting and overzealous, yet Werkmeister cannily holds our attention via the visually engaging imagery, with vibrant neon lit atmospheric tones and impressive effects that successfully reel the viewer in. Despite the bright exterior, there are still lingering moments of suspense that balances out the sporadic humour, all the whilst keeping in time with the zesty aesthetic. It's this quick paced fun vibe of the film that not only adds to its rewatching power, but also it's memorability for being an obscure comedic take on the classic vampire tale.
Catch Danni and the Vampire at this years festival on 31 October 2020 at 13.30pm.
Share this story