Review – Chestersberg – Make. Murder. Legal
Grace from Film Overload takes a look at our Saturday local feature screening of CHESTERSBERG, made right here in Yorkshire. Watch this horror comedy gem at this years festival on 31 October 2020 at 17.00pm. (some spoilers ahead!)
'Hilariously gruesome mockumentary with one of the most unique plots to come out of this year'
Bearing tonal resemblance to Edgar Wright's Hot Fuzz (2007) and the bloodiness of gory slasher flicks, comes a brilliant tale from Jamie McKellar. We are introduced to the enigmatic Chester Mapleforth (Andy Love), who after procuring a hefty fortune forms the village Chestersberg. But the quaint Yorkshire cul-de-sac holds something quite dark within its territory; murder is entirely justified and legal within the lands' threshold.
McKellar brings us a hilarious but gruesome mockumentary, with one of the most unique plots to come out of this year. It's not often that mockumentary cinema works without constant twists and turns, but Chestersberg has a certain simplistic charm that doesn't confuse and run off topic, with a steady comedic pace and macabre motives that delivers exactly what it says.
Chestersberg brings the best of dark British humour to its forefront, even the most heinous scenes are brought to life with perfectly timed jokes and hilariously surreal characters. In fact this aspect of surrealism is a running theme throughout. The plot is crafted in such a realistic fashion that we almost forget this is entirely satire, plenty of familiar circumstances are strewn out such as town hall meetings and debates about outsiders invading the community. But of course with it being set in Chestersberg, beheading's, mutilation and gouging constantly comes into play.
McKellar combines the two typically polar opposites of village conundrums with murder to create a hard to fathom surreal environment, yet you can' stop watching due to its cleverly crafted story.

Chestersbergs distinctive mockumentary disposition works perfectly with the unparalleled distorted reality that plays across the whole run-time. The deliberately exaggerated tone captured in a documentary fashion forms a purposefully raw quality that enhances the aforementioned realistic atmosphere. One of the more prominent aspects that the documentary composition highlights is the wonderfully gross kills and violence.
Within the first introductory minutes we are a witness to a bloody beaten man with one of his eyeballs loosely dangling, nevertheless the humour taps in when Chester interrupts his suffering with the offering of a battenburg slice and a lecture about the importance of sleeping bag togs. Despite the hilariousness seeping in each scene, the impressive special effectsstill remain quite potent.
Now, with quite a rambunctious story comes natural questions 'how would a town like this actually work?' Fortunately McKeller soothes our intrigue, with scoping out further than the village boundaries to introduce our secondary group of characters – the law. DI Matthews (Alexander King) plays a rageful officer, disgruntled at the legal loopholes that Chestersberg has played. However, due to the consistent character development and their charismatic personas we somehow are completely on their side. It's these brief interludes of seemingly more 'normal characters' that prevent the film from dragging and keep the absurdity of Chestersberg fresh and charming.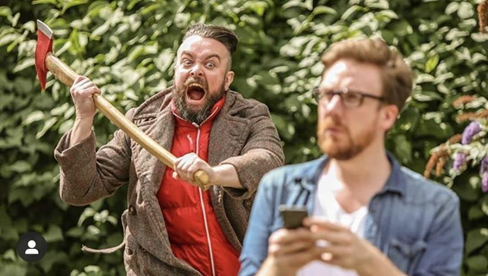 Of course these aspects come to life quite frequently throughout, they even form a large part of the build-up within the film; although a successful job is done at making Chestersberg seem slightly conceivable in a mad sense, it is when the other British murder towns enter the picture does the bloodshed and carnage really come to life. Who would have thought that the inner politics of killing towns would be so interesting?
McKellar delivers an overall exciting watch, with equal amounts of tomfoolery and bloody gags to both disrupt audience expectations, slightly disgust and to more importantly entertain.
Watch CHESTERSBERG at this years festival on 31 October 2020 at 17.00pm.
Share this story