Gore, guts and allegories: Horror's love of the B-movie
Horror has a habitual allowance for exhibiting the obscure and overall freakish nature of human behaviour. The genre can exaggerate and create controversial and unusual content. Due to this it's often the case that some films may not obtain a wide release or gain critical acclaim. This is where the B-movie comes in.
Originally the B-movie was used to define the less publicised film from a double feature during the Golden Age of Hollywood. Soon double feature promotions died off, yet the term B-movie would still be used to describe lower budget independent films. In the horror genre B-movies can be prolific and eventually gain massive success, with many of these films becoming cult classics. The horror genre is rife with B-movies, with many of the best arising from the 1960's to the 1980s and what makes them so unique is their amusing way of illustrating odd and at times unfathomable narratives.
B-movies have been criticised as lacking emotive and philosophical reasonings, with expectations for the films to be rotten with gore and violence. However the narrative structural composition for a select few films delves deeper than what arrives on the surface. In fact the B-movies of Horror have gone on to define and influence some of the greatest films of the genre.
With this being said, here is a list of gems emerging from the dark depths of horror that quintessentially explore alluring subject matters.
(SPOILERS AHEAD)
Spider Baby (Jack Hill, 1967)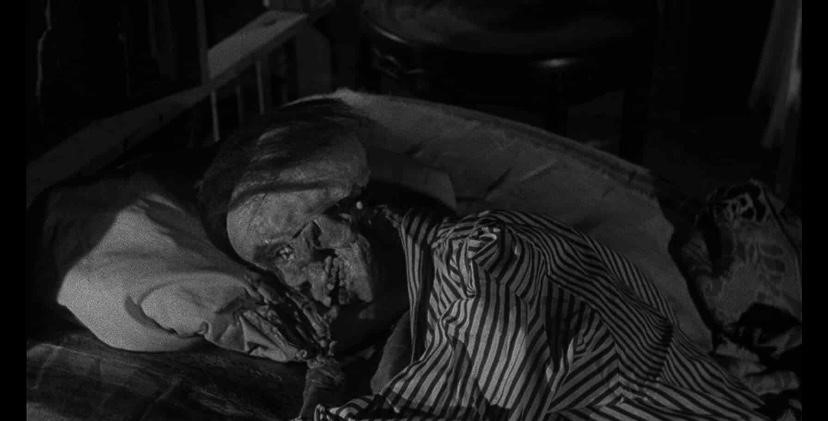 Starring Lon Chaney Jr., Spider Baby follows the Merrye family who suffer from a genetic disorder causing them to exhibit feral cannibalistic tendencies. The three Merrye children Virgina (Jill Banner), Ralph (Sid Haig) and Elizabeth (Beverly Washburn) are cared for by the families chauffeur Bruno (Chaney) since their parents passed. However their concerning equilibrium is jeopardised when their distant family pay a visit to inherit the estate.
Spider Baby is a cunning film that preys on the narrative's intrinsic terror to conjure a creepy and dark atmosphere. Although the film is equipped with the word 'spider' within the title the actual focus on the film is not insects, but instead Virgina, Ralphs and Elizabeth's menacing movements and actions; Virgina acts like a spider with delicate movements before she kills her prey, Ralph is an animalistic young man who succumbs to his carnal desires and Elizabeth lunacy seems to be the least developed, with her frequently reprimanding Virginia's behaviour.
The true beauty within Spider Baby is the cruel catharsis that Hill treats his characters with. The eerie setting of a broken down manor laden with cobwebs and dark crooked rooms is naturally haunting, yet the horror derives from the unexpected.
Bruno is sullen and softly mannered, but technically evilly motivated. Bruno has promised the Merrye children's father that he would keep their secret and care for them. However by doing so he harbours the knowledge that the house holds a cannibalistic tribe beneath. Bruno is aware of the distant families fate, it's the inevitable that they would fall into the children's trap, but he allows them to carry on furthering the disorder.
Spider Baby is an underrated film of the 1960s possibly due to it being withheld from having a UK theatrical release until 2000. But let's not forget the notorious cast, Lon Chaney Jr. is a horror legend within his own right and then we have Sid Haig who would later feature in several Rob Zombie pictures and become a horror icon.
The Hills Have Eyes (Wes Craven, 1977)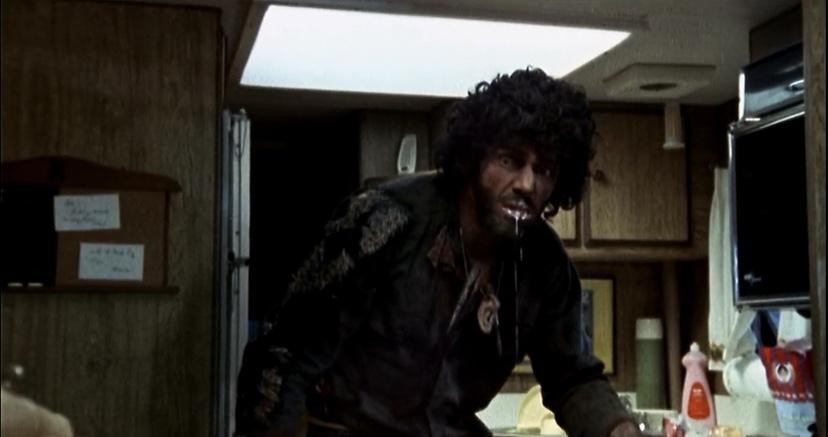 Wes Craven is known for both A Nightmare on Elm Street (1984) and Scream (1996), but prior to this he focused more on exploitation horror, with both The Last House on the Left (1972) and The Hills Have Eyes becoming cult classics.
The Hills Have Eyes follows the middle class American family (the Carter's) as they battle against an unfortunate group of cannibalistic mutants. On first look the film bleeds the traditional archetype of an innocent family being savaged by a rural mob. However beneath this is a devoted allegory for human depravity, with Craven paralleling the story between the Carter's and the cannibals.
The cannibal group originated from Jupiter (James Whitworth) who after being supposedly left for dead by his father started a family with a crazed prostitute aptly named Mama (Corey Clark). Jupiter and his family attack to survive, their feeding of human flesh is agreeably distasteful and macabre, but so is the Carter's family's revenge.
Yes, the cannibals are the vicious enemy and the Carter's are simply retaliating from the heinous crimes, but when you strip back who's right and who's wrong what you have left is a tale of basic humanistic tendencies- revenge and attack. Craven also seems to tackle deeper meanings regarding Americanised government influence; the Carter's road trip shortcut has brought them to a dessert area with off-limits military signs strewn across the land, with it being heavily implied that Jupiter and his families deformities are the result of radioactive testing via the US forces.
This metaphor is washed throughout the film through imagery reflecting the damage inflicted by treacherous conflicts. In sight with this it's possibly not a coincidence that this film was made after the end of the Vietnam War. In effect the Carter family are on Jupiter's turf, obstructing his being. Technically they are the intruders.
Despite the philosophical analogy there is of course a glorious amount of gore and violence that pours throughout the film, with Craven providing his fair share of burnings, stabbing and disembowelments. But lurking beneath the brutality is a conscious effort to depict war torn society.
Demons (Lamberto Bava, 1985)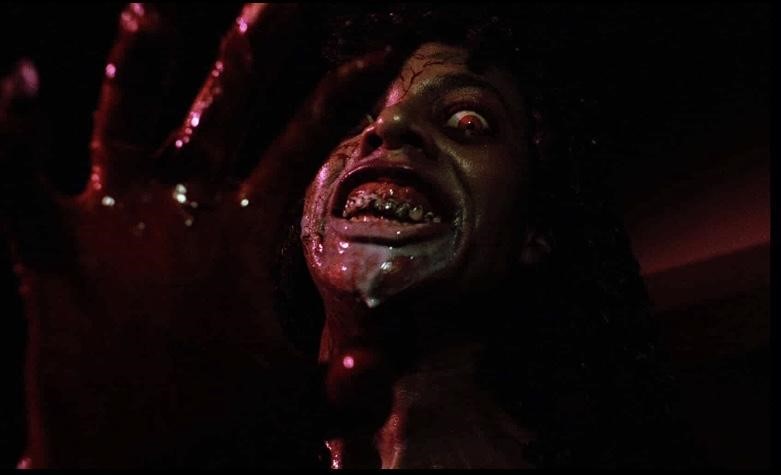 It's no surprise Lamberto Bava directed a cult hit with the infamous Mario Bava as a father. In tune with being raised surrounding cinema, Lamberto directed Demons with the intentions of it being an allegory for subjective films. The age old argument involving horror being the cause of real life inflictions is heavily implied within Demons.
The film follows a random group of people invited to a mysterious movie screening at an empty theatre, however it's not long until they find themselves becoming trapped and possessed by demons.
At first glance the film rings rather typical of an 1980s gore-fest, but Bava uses heavy gore and impressive practical effects to further the metaphorical motive. After the chaos has ensued the survivors attempt to kick down the doors to the projection room believing that the film is a curse causing demon manifestations.
In fact the line "Now the movie can't hurt us anymore" is uttered in response to the film being destroyed. However after another demon attack they reason that "It's not the movie, it's the theatre". At the time the Video Nasty scandal only occurred one year prior to Demon's release where many horror films were deemed unsafe for consumption. Perhaps Bava was commenting upon the idea that films were believed to have caused such wreckage that people urged for them to be destroyed.
Quite ironically in Demon's after the film is destroyed no effect is taken with the monsters still running riot, just as the videos in the scandal did not prevent or change the course of destructive behaviour.
Sleepaway Camp (Robert Hiltzik, 1983)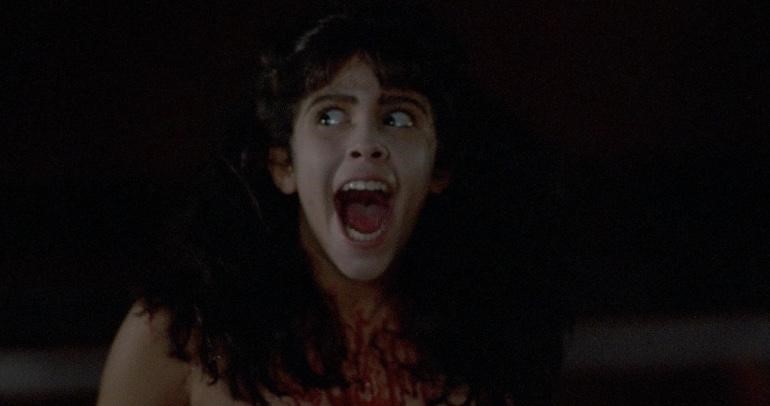 Sleepaway Camp is ultimately an entertaining slasher that successfully utilises a summer camp setting to its best ability. The film follows Angela (Felissa Rose) as she accompanies her cousin Ricky (Johnathan Tiersten) to Camp Arawak. Angela's family died in a tragic accident leaving her traumatised and quiet. This is something her fellow camp mates struggle with as they deem her shy demeanour weird.
To discuss Sleepaway Camp it's necessary to spoil the ending, as much of the connotations derive from that particular scene. For anyone who has not seen it, Angela is revealed to be the killer who has been ferociously murdering her peers. The imagery that lingers during the reveal scene has gone down in horror history as being completely unexpected and shocking as it's revealed that Angela is in fact a boy.
Angela has been forced by her aunt (who is now her guardian after her parents passed) to be a girl as she always wanted a little girl. In present time Angela is constantly bullied for not wanting to unrobe and swim in the lake like her peers, she also doesn't overly express either feminine or masculine attitudes as she herself is lost and confused as to what she identifies as. This pent up frustration from bullying, teasing and misinformation builds up an inner rage that unleashes Angela's uncontrollable internal beast.
Sleepaway Camp suggests that Angela's loss of identity and harsh treatment from others causes her to snap and harm anyone who belittles her.
Dawn of the Dead (George A. Romero, 1978)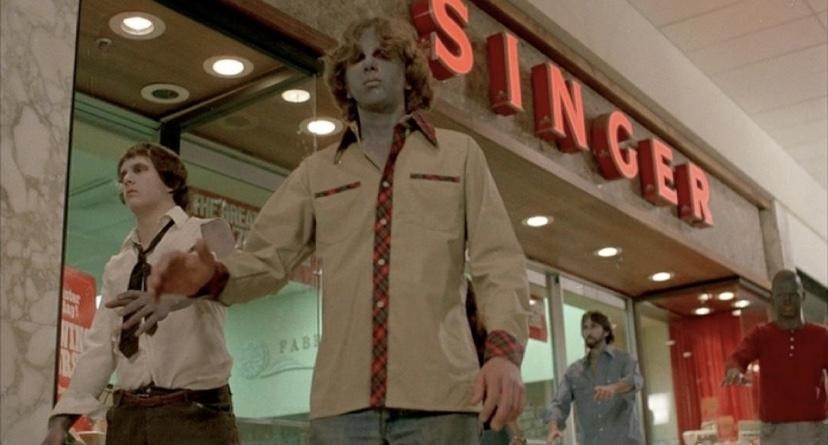 Dawn of the Dead is the second in George A. Romero's Night of the Living Dead series. The film naturally takes inspiration from its predecessor through showing a group of people trapped in a location as they determine how they will survive the zombie outbreak.
Dawn of the Dead uses a shopping mall as it's hideout, a familiar place to most people. A major theme throughout the film is consumerism, with the survivors still finding time to play dress up, donning expensive clothes and admiring priceless jewellery despite the threat of zombies looming.
"A zombie film is not fun without a bunch of stupid people running around and observing how they fail to handle the situation."
― George A. Romero
The social commentary is explained via the human condition. The zombies are entirely devoid of emotion, they are only intrinsically wired to feast upon their prey, they lack empathy and have no regard for others. In return the living characters in the film are not necessarily too different in the sense that they are entirely out for their own well being and do not care about the survival of others. This is particularly prevalent during an end scene involving a wandering biker gang attempting to conquer the mall with zero regard to the remaining humans alive inside.
What this aims to expose is that the humanistic side of behaviour surrounding empathy and fairness ceases to exist, with the zombies acting as a representative figure illustrating humans to be walking aimlessly through life with only their own needs being lived for.
This weeks article comes via Grace from Film Overload, you can check out more of her work here.
Share this story