Unusual Horror – Underground Horror Apparel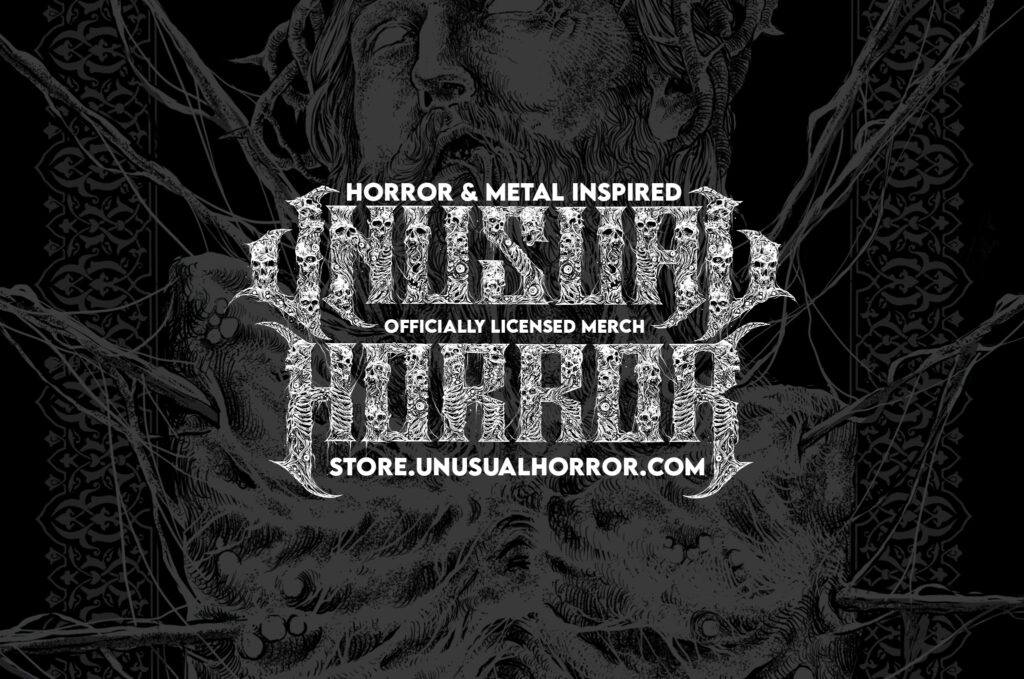 Created in 2020, 'Unusual Horror' has been bringing the brutality of underground horror and metal to market, giving fans of slam, death metal and extreme horror a means to express themselves. The brainchild of someone whose two obsessions of extreme metal and horror have culminated in the creation of brutal apparel and accessories for the community.
'Unusual Horror' focuses on 3 main areas: Horror inspired prints, slam & death metal merchandise and underground/extreme horror licensed merchandise. Through collaborating with underground bands, directors and independent artists, you are guaranteed to get a once in a lifetime piece of merchandise. From the likes of t-shirts, hoodies and other apparel donning edgy death metal script and independently designed artworks, those in the alternative community have a new way to express themselves.
Initially starting with a handful of pieces that donned edgy prints of Nuns in illicit situations and other quintessential metal-like prints, like Baphomet at a ritual, etc, the brand has grown significantly. With popular designs such as the 'Sisters of …', 'Ritualistic Offering' and 'GoreChrist' being repeatedly re-printed due to high demand – the want for more extreme prints is simply growing. It appears that people in the alternative circle are sick of the tame designs from the likes of Killstar and are now hunting down these sorts of designs, which 'Unusual Horror' are serving up to the masses. They pride themselves in collaborating with independent artists to offer the best quality and unique pieces, which give the buyers a unique item and the artist more exposure for their work. With new designs very much on the way, 'Unusual Horror' fans are in for a hell of a ride with their new signature collections and not to mention new additions to the 'Sisters of…' collection.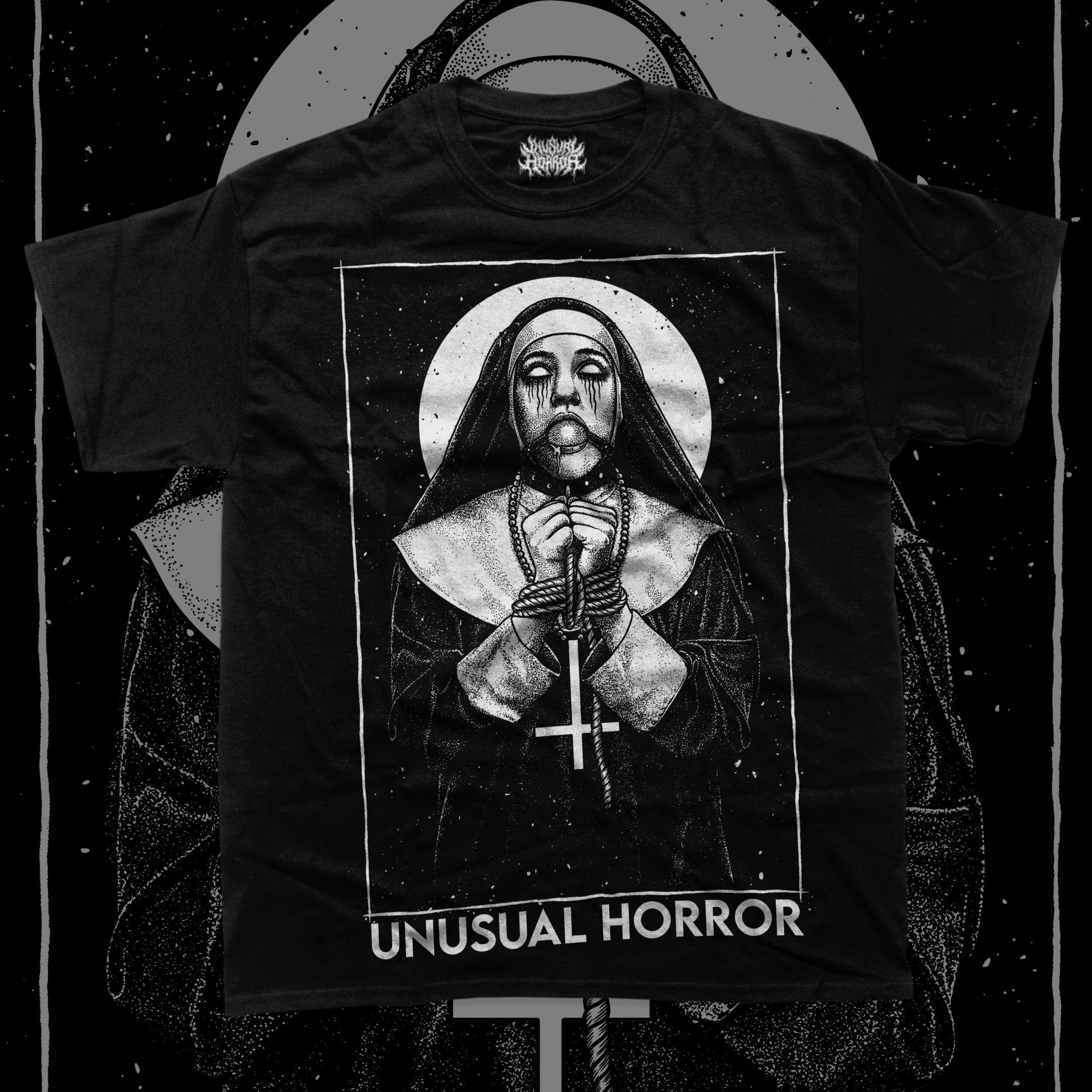 On top of their signature pieces, 'Unusual Horror' also gives a home to those fans of extreme & underground horror; creating licensed collections of some of cinema's most controversial titles. With titles like 'Deathgasm', 'Septic', 'Nekromantic' & 'American Mary', the store's collection only seems to grow with each release. Boasting a huge accomplishment with their latest release, their 'A Serbian Film' collection is classed as the only licensed merchandise collection for the film (worldwide) and has received a huge amount of interest since its pre-order release.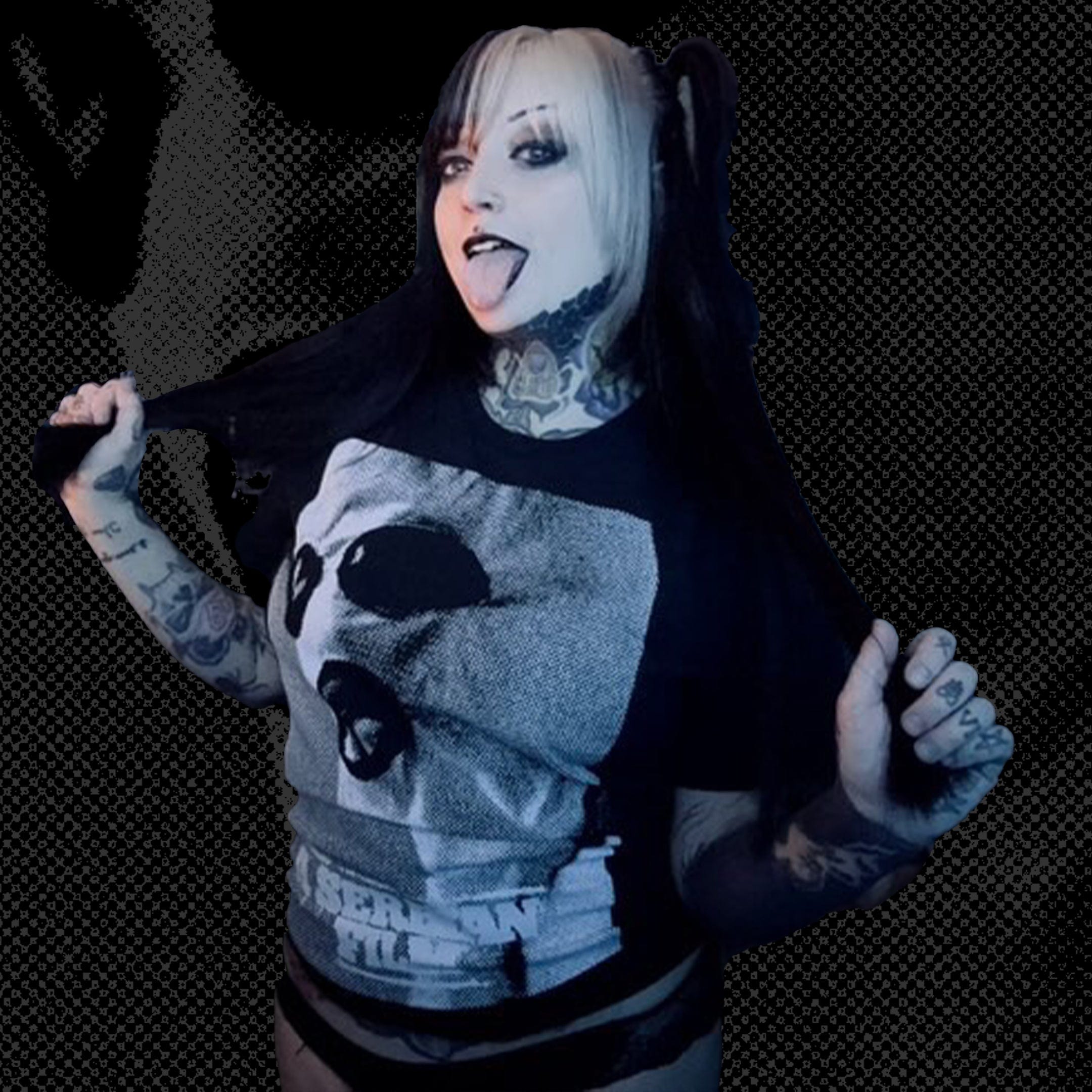 'Unusual Horror' prides itself in collaborating with these underground and extreme film makers, to allow them to have the same type of platform that the more mainstream horrors get. Regardless of backlash from people who aren't fans of the extreme side of horror, it appears that, thanks to 'Unusual Horror', the world of extreme horror is simply growing, simply due to people wearing the merchandise and boasting their interests in this type of film – something that many fans have had to suppress due to lack of representation in clothing and also the fear of judgement.

It isn't just licensed merch that they are passionate about on the front of extreme horror, their newest venture will see them distributing new underground/extreme horrors. They have recently received the distributing rights to up and coming Italian, queer extreme horror films
'ELDORADO' and 'La Perdición' by renowned director Domiziano Cristopharo, who directed films like 'House of Flesh Mannequins' and 'Xpiation'. Filmed in Gran Canaria, Director Cristopharo boasts that these films are the quintessential watch for any extreme horror fan that has an interest in queer cinema. These are aiming to be released in December 2023 with a brand new range of merchandise for each film that should tantalise any extreme horror fan.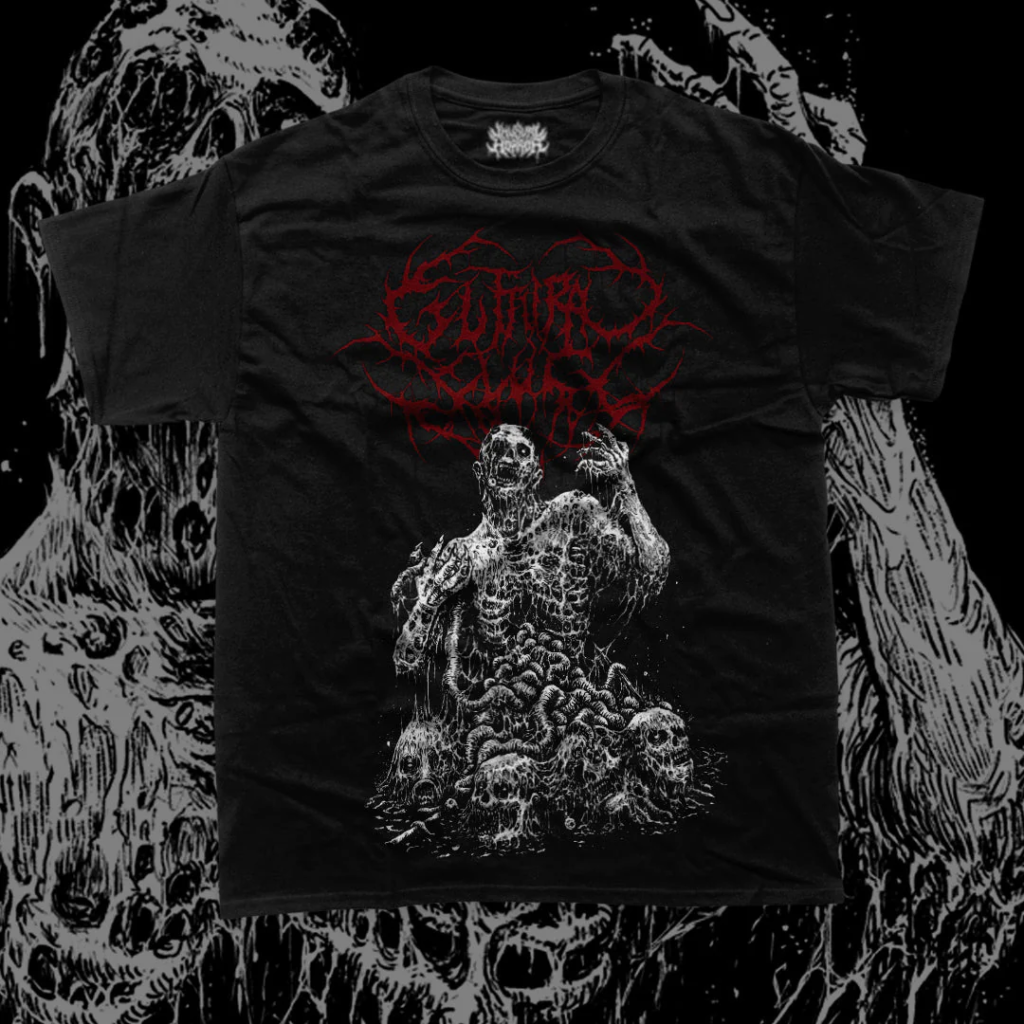 It's clear that 'Unusual Horror' doesn't just make merchandise, but have now expanded their options by creating distribution options for underground extreme horror; a feat many small brands couldn't accomplish. Their final pillar of interest is mainly focussed on the slam/death metal/deathcore scene; this has always been a focus for the brand, with their logo invoking similarities to a lot of death metal band logos. This passion for underground music has been a catalyst for the brand, with them creating merchandise for local and home-grown death metal bands and allowing fans to show off their favourite underground metal bands, while also letting these smaller bands have the option to promote themselves. They have created merch for bands like 'Guttural Slug' and 'Devourment', while also showcasing smaller local bands by the likes of 'Coprocephalic Mutation' and '357 Homicide'.
'Unusual Horror' have been at the forefront of providing good quality pieces with brutal designs that have satisfied the masses of slam and death metal fans world wide, but their efforts to preserve and support the community don't end with merchandise creation and distribution.
'Rancid Offal Promotions' was set up in 2022 by a member in the scene, as a means to get these underground slam, death metal and grindcore bands on stage and touring; there was a knowledge there that there was a huge fan base, who simply didn't have the opportunity to see these bands live.
'Unusual Horror' began to collaborate with the original team of RxOx, in the way of merchandising and advertising and soon was adopted under the brand after the success of their first event. Thanks to RxOx and the collaboration with 'Unusual Horror', underground metal has a home for live performance. Starting with their first ever festival 'Offal Fest' in March 2023, the event showcased bands like 'Crepitation' and 'Twitch of the Death Nerve', while also bringing over 'Guttural Slug' to perform 'Megalodon' in full.
This was a huge moment for the scene, as this was 'Guttural Slug's' debut live show, with them also playing one of the most influential albums in the scene. This event was not some local affair, patrons from overseas came from the likes of America and Canada just to check out the first ever 'Offal Fest'. Since its creation RxOx has been planning and creating more events for the community to feast their eyes on. They have many upcoming events, like 'Goremageddon' and 'Cannibalising the UK', showcasing bands like 'Torsofuck' and the reunion of 'Pivorapist'. RxOx are now the heart of the community and are bringing these brutal lineups to the masses, and their reign of terror will not end, as the next 'Offal Fest' is looming over the horizon.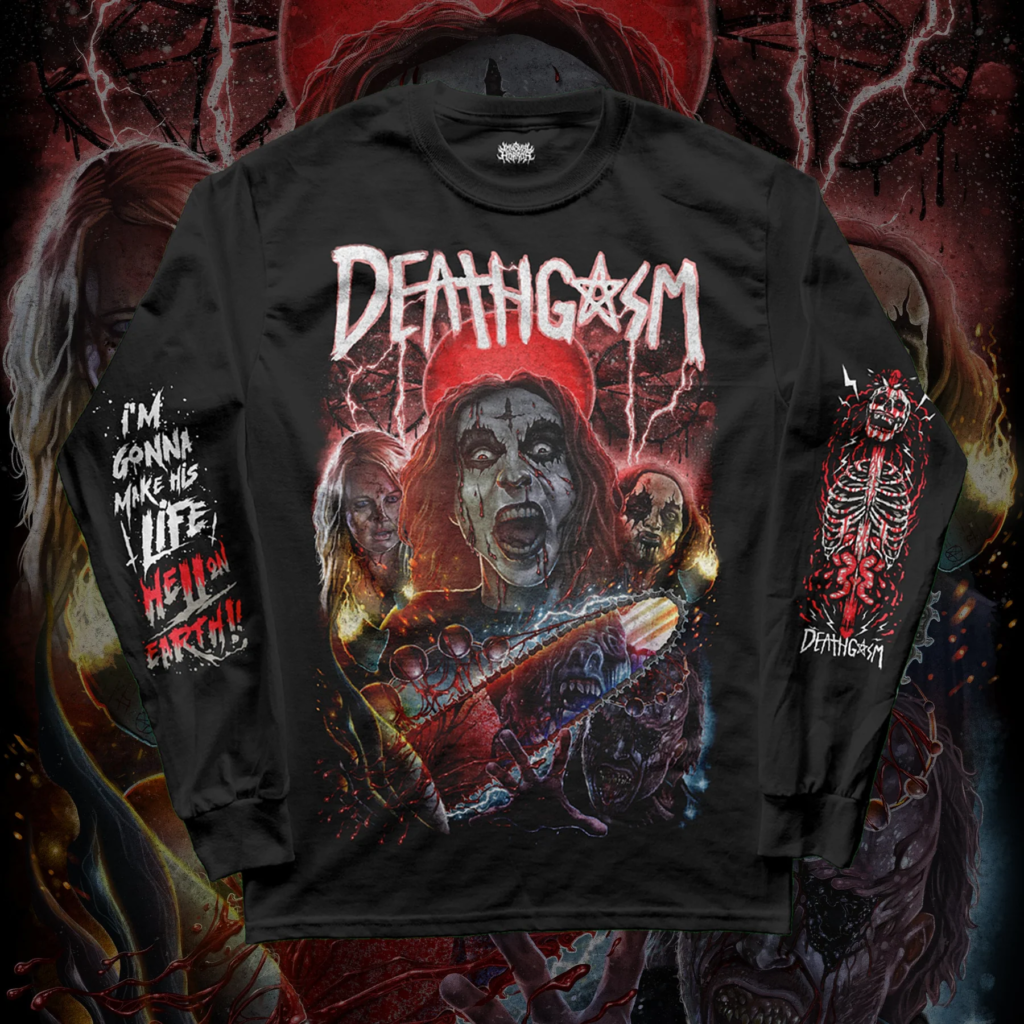 In short, 'Unusual Horror' is a home for those who have been ostracised because of their interests in extreme horror and music. Their space and apparel are for those who stray between the lines of brutality and extremity, who don't wish to align with societal norms. Whether you are an extreme horror or music fan looking to showcase your favourite niche band or film, or an alternative person looking for something just a bit more heavy to wear out and about, 'Unusual Horror' has it all for you. This is only the beginning for them, not just merchandise wise, but also in the sense of live music and film distribution.
When you buy your first piece from this incredible small brand, you will not just be holding a piece of merchandise, you will now be a part of an ever-growing community of fans who walk to their own beat. Make sure to keep an eye on both 'Unusual Horror' and 'Rancid Offal Promotions', as you are in for a treat and don't want to miss out on what's coming.
Buy online at https://store.unusualhorror.com/
Instagram instagram.com/unusualhorrorstore
Facebook facebook.com/unusualhorrorstore
Share this story