2021 Festival Review – From Dusk Till Dawn (25 Year Anniversary)
(Warning some spoilers ahead!)
Hellbent on mashing the barbarism of westerns with the seductive appeal of vampires, topped with a slew of brutal action and profanity is Robert Rodriguez's 1996 superb horror film 'From Dusk Till Dawn'. 
In the wake of a heist with multiple deaths, fugitives Seth Gecko (George Clooney) and his brother Richie Gecko (Quentin Tarantino) further their crime spree as they take Jacob Fuller (Harvey Keitel) and his two teenage children hostage to help them over the border to Mexico to escape from their misdeeds. But their quick stop at a truckers bar turns into bloody carnage as the bar is riddled with thirsty vampires.
From Dusk Till Dawn has taken center stage in the 1990s horror scene ever since its release, partly due to the top tier casting. Featuring is an ample level of star power as we see Danny Trejo, Fred Williamson, John Saxon, Juliette Lewis, and special effect royalty Tom Savini join Clooney, Keitel, and Tarantino.
The film plays out as two acts. The first half is a tense action-thriller with guns and reckless thieves fuelling the narrative. Seth smoothly portrays the 'good-guy-bad-guy' role, with his villainous actions being pushed to one side as his slight moralistic touch puts him in our good books. Whereas Richie is a nihilistic psychopath with perverted tendencies. Coupling the rogue brothers' feisty persona's is the quintessential conventions that action films relish in, including quick pacing, power divides, and deadpan humour. 
It's evident that the witty dialogue and lack of sensitivity is due to Tarantino's input as the screenplay writer, but what strikes a cord the most throughout this purposefully misleading first half is its necessity and importance. The film manages to do the impossible as it brews a slow build up, taking its time to generate a familiarity with the characters, almost forcing us into submission where we just have to carry on watching to find out who stays alive. With the foreboding story delaying a release we sort of relax, allowing Rodriguez to pull the rug out from underneath us and shock us with a sexually amped world of slaughter. 
We become comfortable in what we know, thus when the vampires attack it's quite a shock to the system. However, instead of being confused and put off by the sudden change we revel in the delight of nonsensical violence. 
Granting From Dusk Till Dawn's fluidity from action to horror is a combination of eccentric characterisation and the outlandish setting, which is indisputably a feast for the eyes. After the Gecko's and Fuller's reach Mexico they reach their final stop before freedom as they plan to meet a contact that will take them to a hidden fugitive hideout. However, the aptly named "Titty-Twister" doesn't just house drunken dirty men ogling over the bar's strippers, but also a coven of lusty vampires. Rodriguez didn't just name the bar crudely for a quick giggle, the dive' truly wallows in titillating essences, particularly through the erotic dancing and bawdy egos of the bikers in attendance.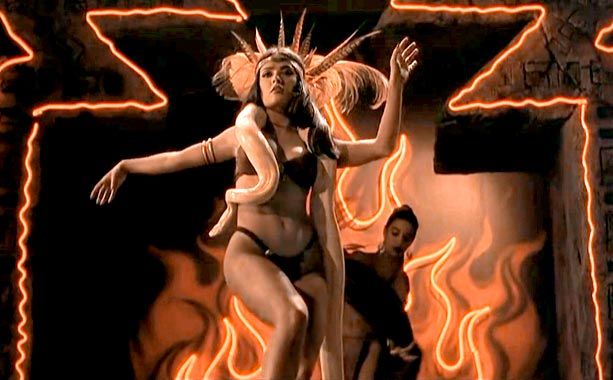 Vampires naturally exude a bodily charm that both fascinate and repel. From Dusk Till Dawn understands this power and uses it as a comical guise to accelerate the action. After watching Santanico (Salma Hayek) perform, the tantalisation reaches a peak, but within minutes the gawking crowd are ripped to shreds as the vampires transform into frightful reptile-like beasts baring their fangs and feasting on whoever they please. Similarly to the disturbance of the genre change half-way through, the sudden vampire attack on the mere mortals proves that Rodriguez is not here to play.
The erupting second half explicitly displays as much gratuitous violence as possible (the film was even banned in Ireland for eight years!). Decapitations, impalements, stabbings, shootings, and bodies being set on fire are just some of the film's most lawless moments. Inducing the B-movie aesthetic even further is the quasi neo-western elements that prove the unruliness of the film's ambience, such as violent gang mentality, border crossing, bar fights, dusty tonal palettes, and vast desert settings. Rather than this mashup of themes becoming excessive, it simply adds to the chaos and sheer pandemonium that is From Dusk Till Dawn. 
The constant switching of events encompassed by an abundance of splatter and violence is not only cinematically impressive, but also a wild take on the typical creature feature that you are sure to not forget…
We'll be screening From Dusk Till Dawn on Saturday 25th September 2021 at this years fest, tickets and details here.
Share this story