10 brutal body horror films you need to see
1- Tusk (Directed by Kevin Smith, 2014)
Wallace Bryton (Justin Long), a conceited podcast host travels to Canada to interview a viral celebrity, but when plans change he ends up interviewing a peculiar man with an odd obsession for walruses.
Although body horror relishes in the display of the absurd, at times what is actually more effective is a slow build up that takes its sweet time in revealing ludicrous shocking imagery that the genre is known for. Tusk is one of the most misleading films in the sense that director Kevin Smith constantly pulls in humour instead of resorting straight to horror, delaying the films 'grand reveal' and ensuring that our jaws are dropped when Wallace meets his fate. Tusk is no stranger to its fair share of criticism, with many early screenings delivering lackluster feedback. However, like all good things, Tusk has aged well. Now, it has a major fan following and is the first part of the True North trilogy, which also boasts Yoga Hosers and the upcoming Moose Jaws.
2- Slither (Directed by James Gunn, 2006)
Slither follows the humdrum locals of Wheelsy, South Carolina, as they battle an alien parasite that threatens to destroy every living being on Earth.
James Gunn may now be renowned for his work in the Marvel Cinematic Universe, but back in 2006 he made Slither, a grossly preposterous tale reminiscent of B-movies and pure schlock. It is not uncommon for many horror films to either have a well crafted narrative with a weak exposition (and vice versa), but Slither has a unique trait of having equal amounts of visual galore and excellent storytelling. With Night of the Creeps and The Brood being major inspirations for Gunn you can be rest assured that Slither is not for the weak stomached. Slither dares to test its audience. Blood, guts, and gore is not anything out of the ordinary for an average horror viewer, but Gunn turns it up a notch by creating these 'larger than life' human-based beings that embody the gnarly beasts of great Troma classic's, including The Toxic Avenger.
3- Society (Directed by Brian Yuzna, 1989)
Bill (Billy Warlock), an everyday teen uncovers his family's involvement in a ghastly orgy cult exclusive to the socially elite.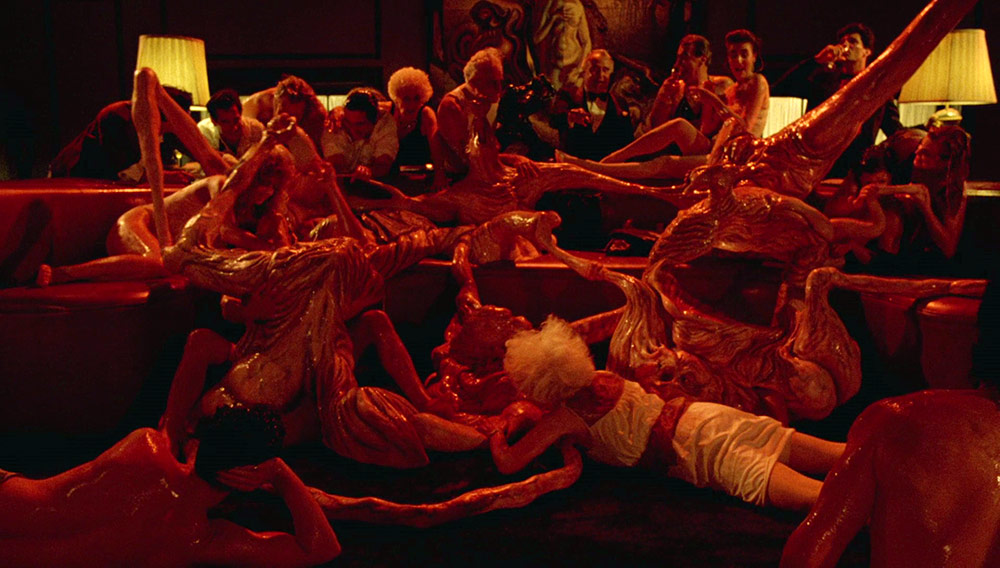 It is genuinely impossible to create a body horror list without acknowledging Brian Yuzna's fascinatingly gruesome Society. Yuzna was a producer for the infamous Re-Animator, and with this in mind he bargained for a two-picture deal, with the first being Society. With such a brazen display of monstrous chaos it's no surprise that the film still holds the trophy for being utterly surreal. As with all great films prior to the influx of CGI, Society delivers a spectacular venture made using practical effects. The final scene which has been dubbed "The Shunting" showcases a slimy limb-tastic orgy where nothing is left to the imagination. These effects came from the visionary Screaming Mad George, a renowned special effect artist known for his long-time collaboration with Yuzna. The giant puppet replicating dozens of slimy writhing bodies melting together stole the show, with the film even being shelved for a couple of years thanks to distributors being unsure whether audiences would really want to view something so disturbing.
4- Uzumaki (Directed by Higuchinsky, 2000)
The locals of Kurouzu-cho, a small Japanese town, begin to act strange as they become obsessed by spiral patterns.
Uzumaki may not be as openly obscure as other films featured on this list, but do not be fooled as this Japanese sleeper hit has a distinguishably freakish third act that loiters in the depths of your subconscious for days after watching. Based on the manga of the same name, Uzumaki is unlike any other film, in the same sense of how Eraserhead and Hausu are inimitable. And within those same lines the film is entirely disconcerting and devoid of any reality, with the most grounded scenes such as a character walking along a street, or even a family dinner becoming completely illogical. Each scene is caked in a grungy, seasick light, accompanied by uncomfortably close shots and ill-natured characters.
5- Altered States (Directed by Ken Russell, 1980)
Dr. Eddie Jessup (William Hurt), a research scientist, investigates the altered states of human consciousness through the use of hallucinogenic drugs to determine whether the various states of consciousness are as embedded in reality as our waking state.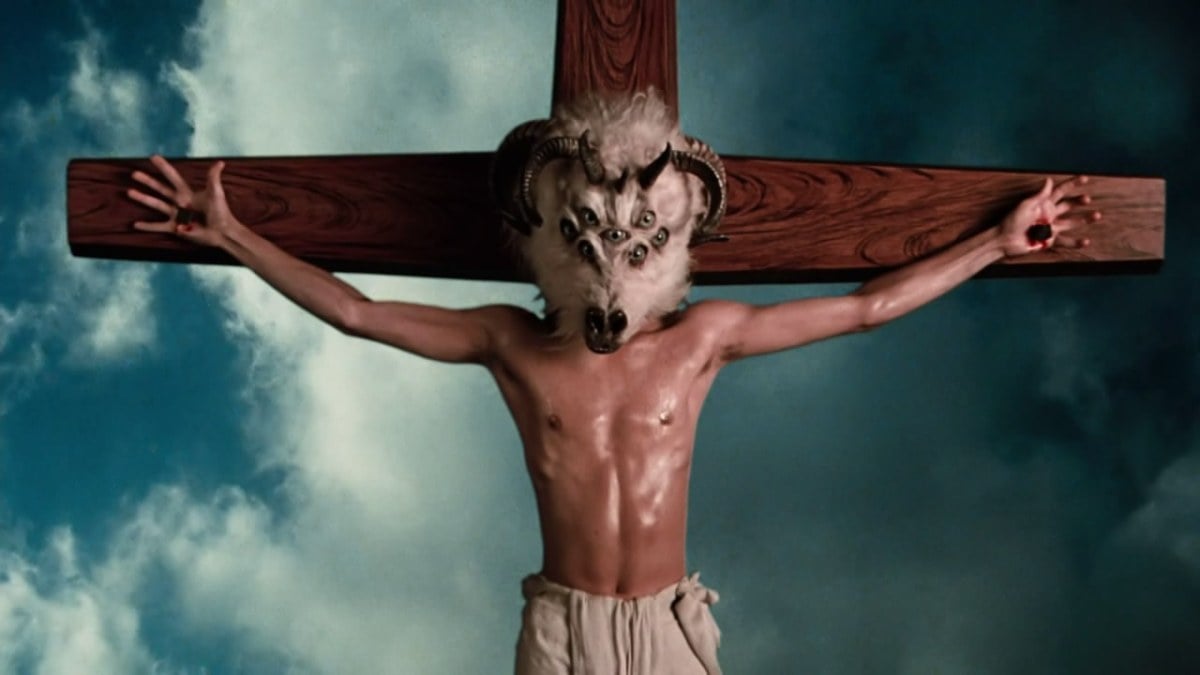 Ken Russell may appear all across media reference books thanks to his work on Women in Love and The Devils, but for an unbeknownst reason Altered States remains fairly untackled by mainstream cinema. The film aims to be both as alien and as personable as possible, as we go back in time to the creation of man followed by the progression of earth and the body. Altered States is not without its plummy oscentasciousness, but rather than become a journey into the ego, the film savours its own psychological influences. Through disavowing a sense of normality, Russell captures our attention and uses it to both daze and dazzle.
6- The Thing (Directed by John Carpenter, 1982)
In Antarctica, an American research team discovers an extraterrestrial life form that can take the shape of whoever or whatever it chooses.
John Carpenter's The Thing has held a renowned reputation for decades now, as this riveting exploration into paranoia and mistrust through the body still remains just as disturbing and delirious as it was back in 1982. When body horror is mentioned many will automatically visualise the assimilating dogs, or the gangling human-spider creature from The Thing, with Rob Bottin's effects being nominated for Best Special Effects by The Academy of Science Fiction, Fantasy and Horror Films. Carpenter is no stranger to the world of horror, but The Thing has a special zing that makes it entirely stand out. Within the weird and wild landscape of the film we are isolated and confined to a secluded zone where terror hides amongst the crowd, forcing not only a massive sense of vulnerability, but also an exploration into the 'great unknown'.
7- Cabin Fever (Directed by Eli Roth, 2002)
Five friends take a trip to a cabin in the woods to unwind and have a good time. Unbeknownst to them their shindig is about to meet a fatal end as a flesh eating disease begins to spread amongst the group.
Cabin Fever still remains a rocky entry amongst many audiences, as this rather coarse journey showcasing incredibly gnarly effects is often labelled as being gory just for the sake of it. Yet, Cabin Fever has this undeniable quirk that manages to get under your skin. Eli Roth has always been open about his inspirations, and for anyone who takes a closer look at the film the copious nods to genre classics such as Evil Dead, The Texas Chainsaw Massacre, and The Blair Witch Project is beyond obvious. But instead of creating a carbon copy of the overused cliché of a bunch of 'twenty-somethings in a forest cabin', Roth creates a rambunctious world where irreverence is dialed up to the max, and crude sensibilities radiate.
8- The Fly (Directed by David Cronenberg,1986)
Seth (Jeff Goldblum), a renowned scientist, has successfully created a working teleporting invention, but after a terrible accident he slowly begins to mutate into a grotesque fly-like creature.
David Cronenberg and body horror is a literal match made in heaven, it could even be said that his work within cinema has helped shape the sub-genre, especially with films such as The Brood, Scanners, and Videodrome lying in the midst of his extensive filmography. The Fly harbours a rich history that is now ingrained in cinema culture, with the film's tagline "Be afraid. Be very afraid" having become repeatedly used in television and advertising. What allows The Fly to excel is the delicate balance of humanising a naturally abject matter. Seth's declining wellness throughout the film is slow, but stark. Instead of him going to bed as normal and then suddenly waking up as a monster, special effects artist Chris Walas introduces the creature gradually, as we witness at least eight stages of mutation. Accompanying this slow transition is the film's subplot of Seth's aggressive mutations excising his own psychological wellbeing, unmasking the dark grittiness of humanity.
9- Tetsuo: The Iron Man (Directed by Shinya Tsukamoto, 1989)
A businessman (Tomorowo Taguchi) and his partner (Kei Fujiwara) accidentally kill 'The Metal Fetishist' (Shin'ya Tsukamoto), who as a strange act of vengeance transforms the couple into malformed metal-flesh hybrids.
Tetsuo: The Iron Man dares to be brave. Even in its most simplistic form, the film remains berserk. As with many other body horror ventures, there is no point in trying to search for reasoning over the film's events. Alternatively, you have to just sit back and revel in the allegorical chaos that is Tetsuo. With all this being said, the transhumanistic qualities and the metal-urbanised aesthetics are entirely captivating and beyond cathartic. Shinya Tsukamoto exhumes a twisted cyberpunk-esque structure that forces the film's hypersexualised aura right into the limelight, making sure that the visceral execution is inescapable. Although the film's acclaimed reputation is primarily owed to its cult fandom, Tetsuo was also one of the first Japanese films that gained attention from large film festivals, resulting in Japanese cinema experiencing a boom within the independent film market.
10- Spring (Directed by Aaron Moorhead & Justin Benson, 2014)
Spring takes us on the fantastical journey of Evan (Lou Taylor Pucci), as he travels to Italy in hopes of clearing his mind. However, on his journey he meets Louise (Nadia Hilker), a mysterious woman who harbours a treacherous secret.

Spring is an enigmatically charged horror which equalises the body and the monstrous, all wrapped up in a romance film. Spring is entirely unique in its own right. Although the core motifs of the story are not unfamiliar, the flourishing execution is as visually stunning as it is emotionally warming. In spite of the fundamentals of body horror, Spring metamorphosis's the sub-genre through creating something that isn't repulsive to look at, or caked in slime. Opposingly, we are enthralled by the visually abject. One of those most transfixing elements of the film is the contrast between the picturesque Southern Italian landscape and the beastly creature that lurks within society. Spring is one of those films that is not plastered on every top ten list, nor did it receive plenty of media attention, truly matching the definition of a hidden gem. 
This weeks article comes via Grace from Film Overload, you can check out more of her work here.
Share this story